Omnipod® gives you more with less
Omnipod provides non-stop insulin delivery through a tubeless, waterproof insulin pump called a Pod—all with no multiple daily injections. Get 3 days (up to 72 hours) of continuous insulin delivery and freedom with these innovative features:
Wearable: Place the Pod almost anywhere you'd normally inject
Waterproof*: Take your insulin anywhere life takes you, even while swimming
Tangle-proof: Forget the tubes of traditional insulin pumps
Pod Therapy: the building blocks of Omnipod
Omnipod offers waterproof†, concealable insulin management through Pod Therapy. An alternative to traditional insulin pumps, Pod Therapy consists of two primary parts: the tubeless Pod and the handheld Personal Diabetes Manager (PDM), kept nearby to wirelessly program insulin delivery. No multiple daily injections, tubes, or tangles to hold you back.
† The Pod has an IP28 rating for up to 25 feet for 60 minutes. The PDM is not waterproof.
97% would recommend Omnipod to a friend
SOURCE: In a November 2019 satisfaction survey of 2,481 Omnipod DASH and Omnipod System users, 97% of respondents, if given the opportunity, would recommend the Omnipod System to a friend or colleague.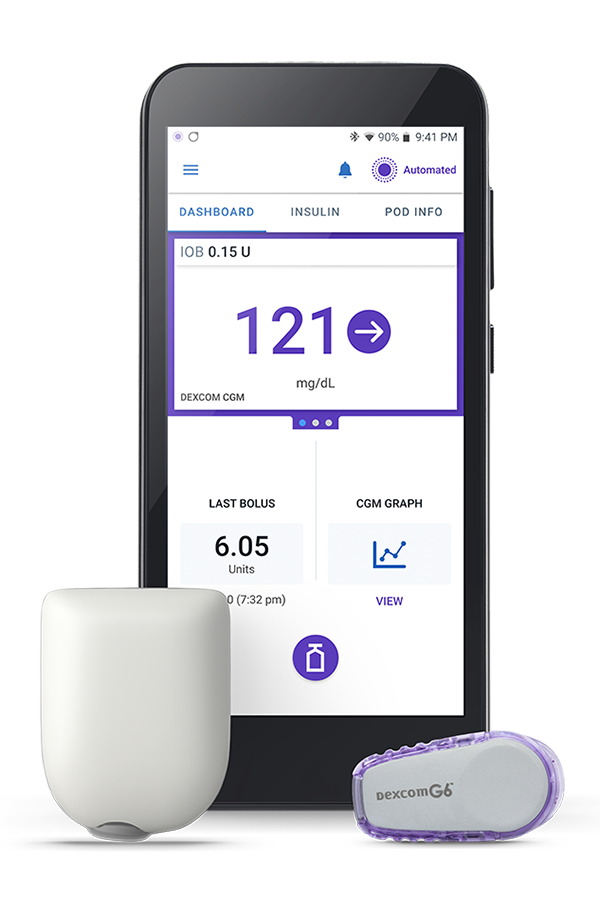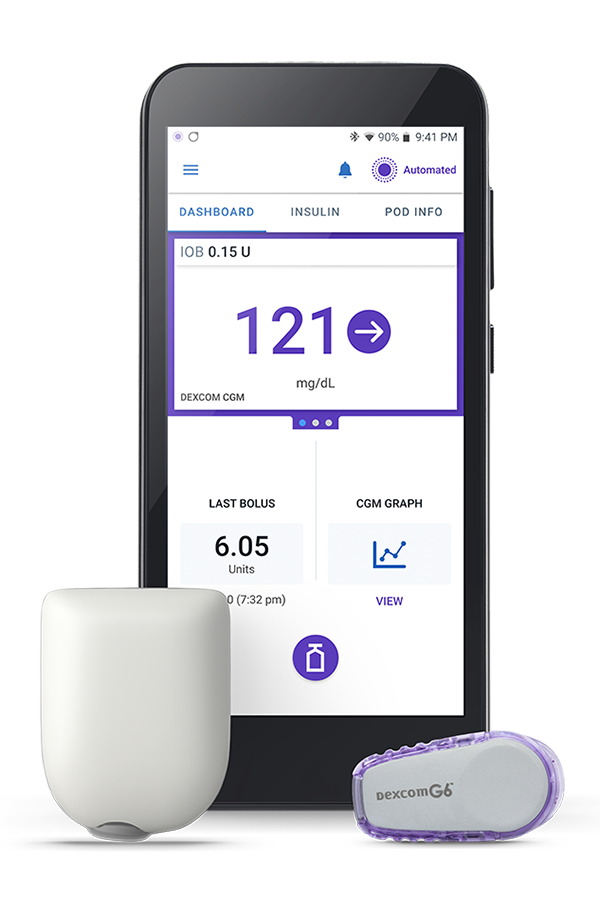 Pod and Dexcom G6 shown with the necessary adhesive. Dexcom G6 sold separately.
Omnipod® 5:
All systems go
With Omnipod 5 Automated Insulin Delivery System, your diabetes devices are in sync without tubes to tie you down. It's everything Omnipod users love about DASH‡—waterproof†, wearable, tubeless—and so much more: 
SmartAdjust™ technology automatically increases, decreases, or pauses insulin every 5 minutes, based on your customized target—helping to protect against highs and lows, day and night. 1 

Activity feature when enabled, reduces insulin delivery when glucose typically goes low, like when exercising. 

SmartBolus calculator, the only AID system with a built-in bolus calculator that automatically incorporates your CGM data and trend, so you don't have to. 
You will still need to bolus for meals. With Omnipod 5, this is done with the Omnipod 5 App or Controller. 
†The Pod has an IP28 rating for up to 25 feet for 60 minutes. The Omnipod 5 controller is not waterproof.

‡Omnipod 5 is cleared for Type 1 diabetes, 6 years and older. DASH is cleared for type 1 and type 2 insulin requiring diabetes, 2 years and older.
Omnipod DASH®:
The crowd pleaser
A tubeless, wireless insulin management system that lets you experience more freedom with fewer daily hassles. Wear the Pod for 3 days (up to 72 hours) of continuous insulin delivery, without multiple daily injections. And the convenience doesn't stop there. Get it all through the pharmacy, with no commitment. Even the Personal Diabetes Manager (PDM) comes at no charge to you‡. 
Tubeless: No more tubes tangled on door knobs. The tubeless Pod can be worn discretely without having to clip anything on.  

Waterproof*: Wear the Pod in the shower, the ocean, or running in the rain. Just keep the PDM dry. 

Integrated Food Library: Remove yourself from the equation with an integrated bolus calculator, presets, and the CalorieKing® library of 80,000+ foods (English only).
‡Omnipod DASH® System customers will be eligible to receive one free PDM every four years with the purchase of Pods subject to certain conditions including, but not limited to, verification of insurance.  

*The Pod has an IP28 rating for up to 25 feet for 60 minutes. The PDM is not waterproof.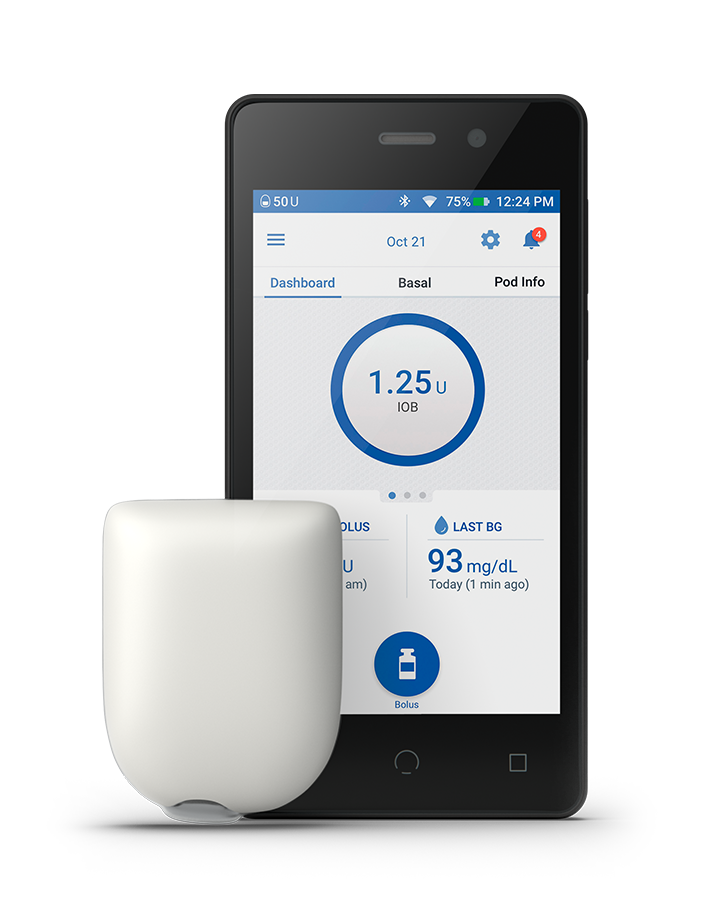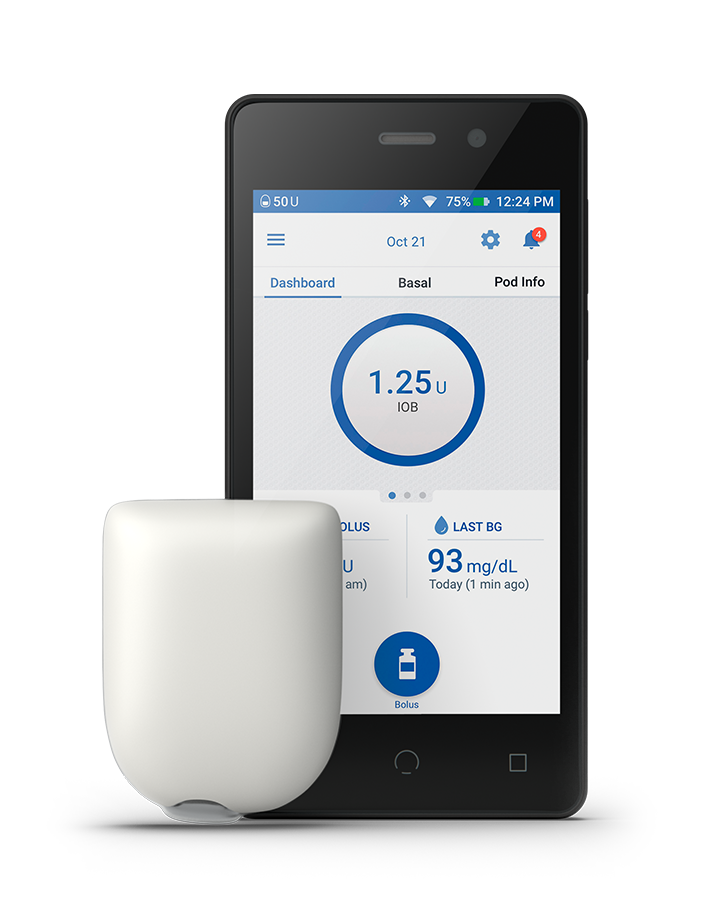 Pod shown without the necessary adhesive.
A 37-year road to freedom
Clare was diagnosed with type 1 diabetes over 40 years ago. After decades of multiple daily injections, blood glucose swings, and dangerous lows, Omnipod helped her simplify life with diabetes.
I don't have to spend as much time thinking about diabetes.
Clare F.
Podder® since 2013

Like what you see?
Now that you've learned a little about Omnipod, you might be ready to take the next step. To get more information on whether Omnipod is right for you, connect with an Omnipod Specialist for more information. Or, if you're ready to take the Pod for a spin, you can give Omnipod DASH a try with the free 30-day trial§.
§ To be eligible for 30 Days of Freedom Trial Program, you must complete and sign Program Enrollment and Personal Information Forms and may be required to submit additional documentation. Patients must have been prescribed Omnipod DASH for an FDA-approved indication. For new Pod Therapy patients coming from multiple daily injections or tubed pumps only. Free Omnipod DASH trial program is not available to beneficiaries of Medicare, Medicaid or other federal health care programs, or to members of certain commercial health plans. You agree not to sell, trade, return for credit or seek insurance reimbursement for the PDM or free Pods. After the 30-day trial, your out-of-pocket cost for Pods will depend on your insurance coverage. Other restrictions may apply. Cancel at any time. 30 Days of Freedom Trial Program terms and conditions are subject to change.