Stay ahead of the curve and upgrade your Omnipod®
Omnipod technology is constantly advancing, and you deserve to have the latest and greatest, when you want it. No one wants to be locked into a contract and here at Omnipod, we agree. That is why we are proud to offer OmnipodPromise™. Our OmnipodPromise™ allows new and existing users to start on Omnipod® 5 Automated Insulin Delivery System, Omnipod DASH® Insulin Management System or any future technology with: 
No contract, commitment or obligation

Free upgrades to future Omnipod technology regardless of existing contract, when covered by insurance and product indications for use*.

FREE Controller/PDM with your first prescription of Pods
Don't wait, upgrade to Omnipod 5, Omnipod DASH or future Omnipod technology at any time*. 
Upgrade your Omnipod with a few keystrokes
Upgrading your Omnipod System is easy. After connecting with your doctor and determining if a newer version of Omnipod is right for you, you can upgrade by following these 3 easy steps: 
Visit our portal via the link below and sign in with your Omnipod account information 
Confirm your doctor and insurance information to verify your eligibility and coverage, and to obtain a new prescription.  
Once your coverage is confirmed, pick up your new Omnipod at your nearest pharmacy or have it shipped directly to your home if delivery is available to you.
We've got you covered
Omnipod is the only pump available through the pharmacy. When you visit the portal and provide your health insurance information, we'll contact your insurance provider(s) to determine your benefits and next steps. Omnipod 5 and Omnipod DASH come with the same no-commitment benefits as always: 
No 4-year lock-in period, contract or obligation as there is with most other insulin pumps 
No switching restrictions—if you don't love your new Omnipod, you can switch at any time 

No cost for the Omnipod 5 Controller or Omnipod DASH PDM with your first prescription of Pods.  
Start your upgrade today by checking your coverage for Omnipod 5 or Omnipod DASH. 
Discover the latest Omnipod systems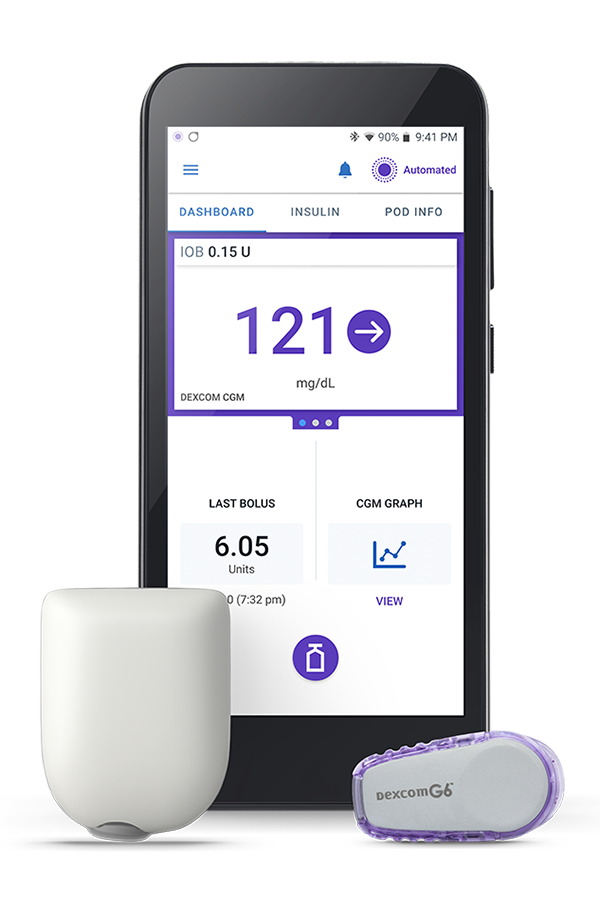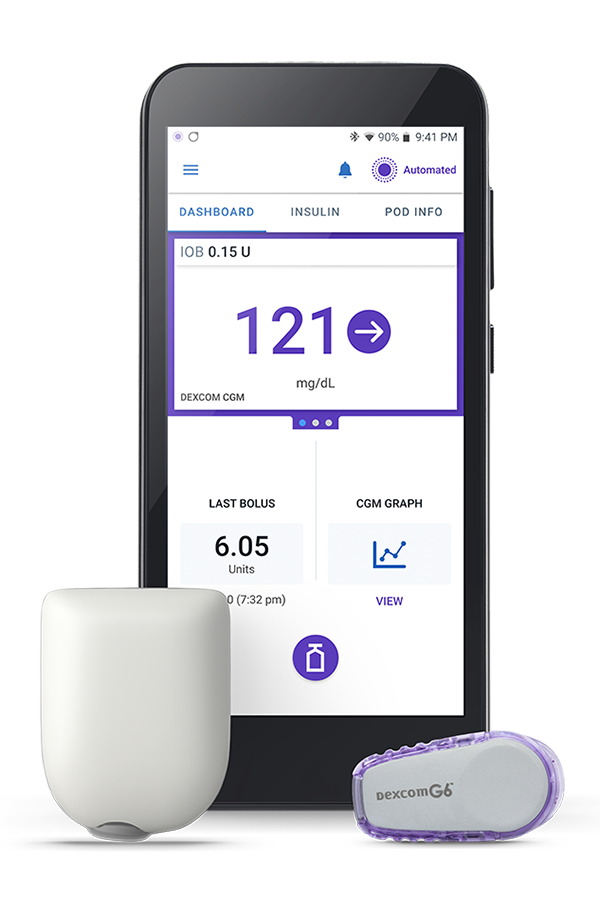 Pod and Dexcom G6 shown without the necessary adhesive. Dexcom G6 sold separately.
Omnipod 5 Automated Insulin Delivery System*
With Omnipod 5, your CGM and pump are in sync without tubes to tie you down. It's everything Omnipod users love about DASH and then some: 
Integrated with Dexcom G6 continuous glucose monitor (CGM) to provide constant and automatic insulin delivery, helping control glucose levels to help keep you in range, day and night.  

When using the Activity feature, Omnipod 5 reduces insulin delivery when glucose typically goes low, like when exercising. 
The SmartBolus Calculator simplifies mealtime math, using your glucose readings and trend to calculate a bolus 
You will still need to bolus for meals. With Omnipod 5, this is done with the Omnipod 5 App or Controller. 
*Omnipod® 5 is indicated for type 1 diabetes, 6 years of age and older.
Omnipod DASH® Insulin Management System*
No multiple daily injections. Simplified mealtime math. Built-in dosage calculations. The Pod can be worn almost anywhere you'd inject and carries up to 3 days (72 hours) of insulin. Features include: 
Tubeless, wearable, waterproof† 

Wireless touchscreen controller 

Software updates over WIFI—stay plugged in without the plug 
*Omnipod DASH® is indicated for anyone with insulin-requiring diabetes.

†The Pod has an IP28 rating for up to 25 feet for 60 minutes. The personal diabetes manager (PDM) is not waterproof.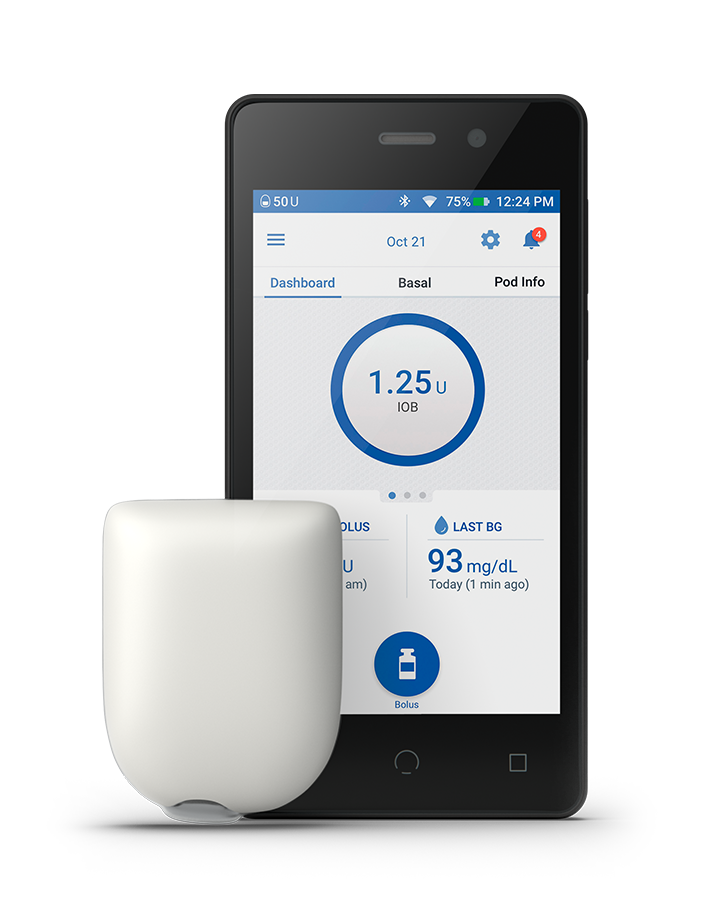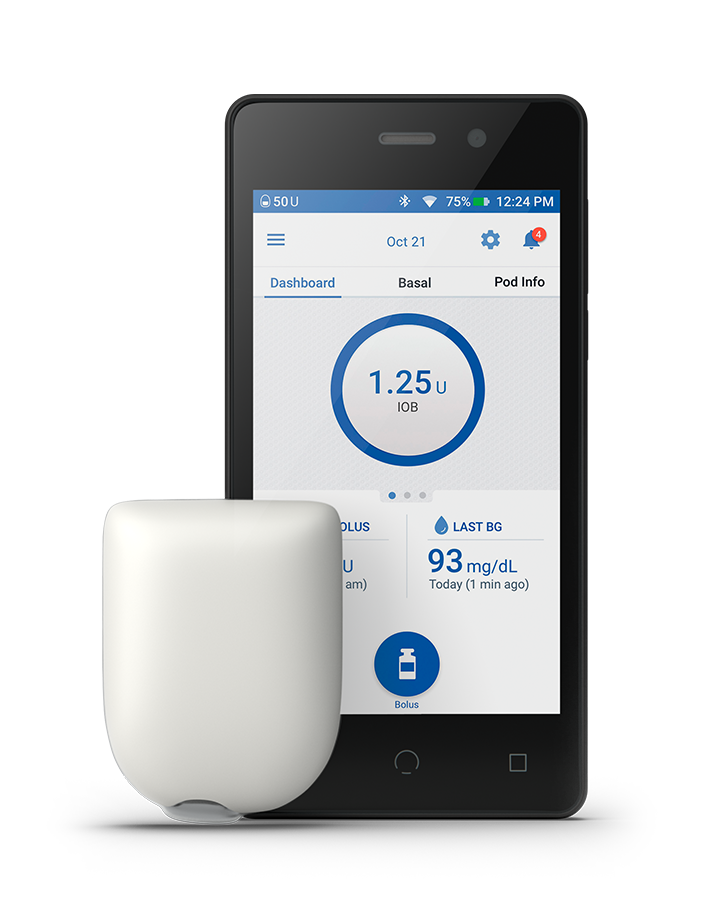 Pod shown without the necessary adhesive.
Ready to upgrade?
Join other Omnipod users who have chosen to replace their existing system with the latest innovative technology from Omnipod. Whether your doctor recommends and prescribes Omnipod 5 or Omnipod DASH, we'll help you make upgrading easy. 
Or, if you have questions, our team is here to help. Speak with an Omnipod Specialist by calling 1-800-591-3455, option 2 (Monday through Friday, 9:00am to 8:00pm ET).