Take control of your Type 1 diabetes.
Omnipod®: A Tubeless, Waterproof Insulin Pump for Type 1 Diabetes.
Type 1 diabetes doesn't take a break. But managing your insulin therapy with Omnipod® can give you one. Omnipod is different from traditional insulin pumps—it's tubeless and waterproof*. And Omnipod can be worn almost anywhere you would inject insulin. A virtually painless cannula is inserted automatically once the Pod is placed on your skin, and insulin delivery is controlled wirelessly by your PDM/Controller that's small enough to be stored in a pocket, backpack, or purse. Say goodbye to multiple daily injections and say hello to Omnipod.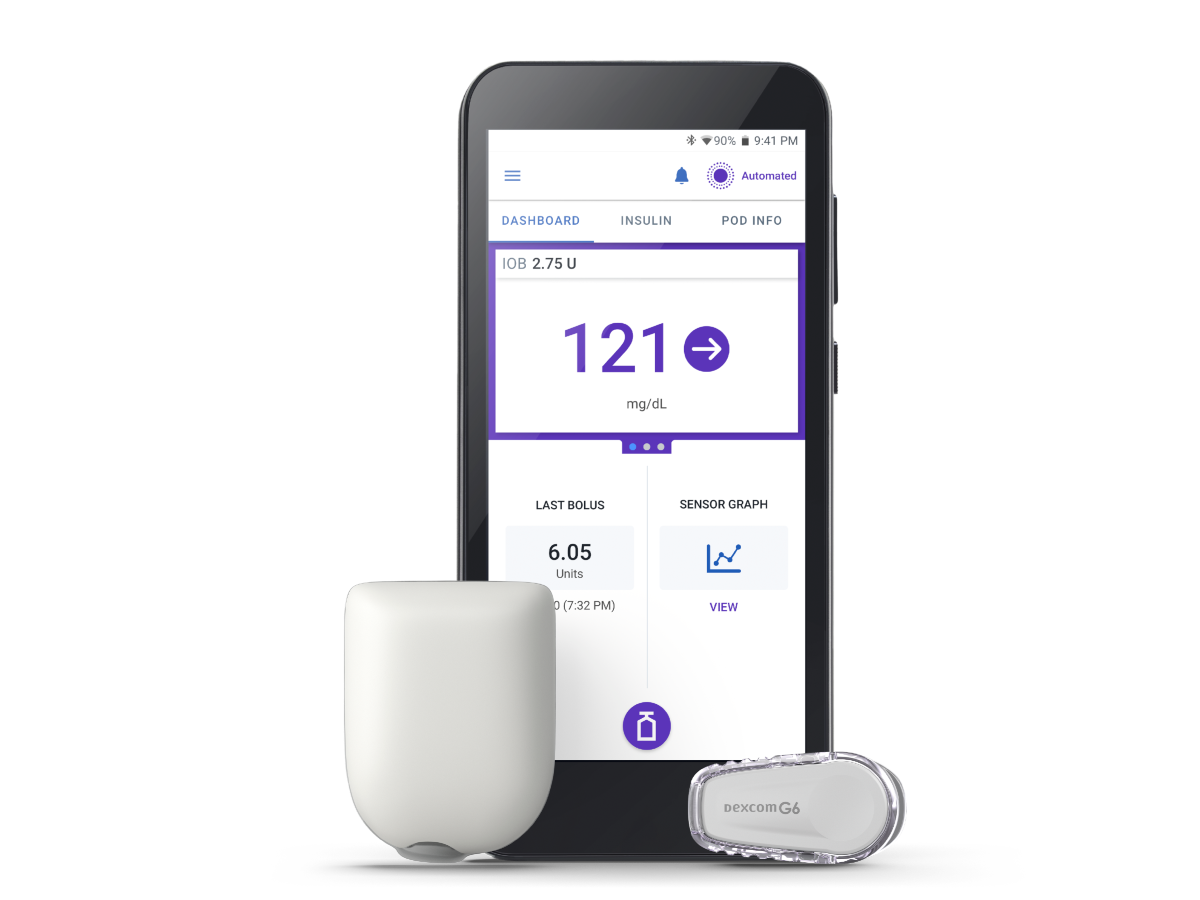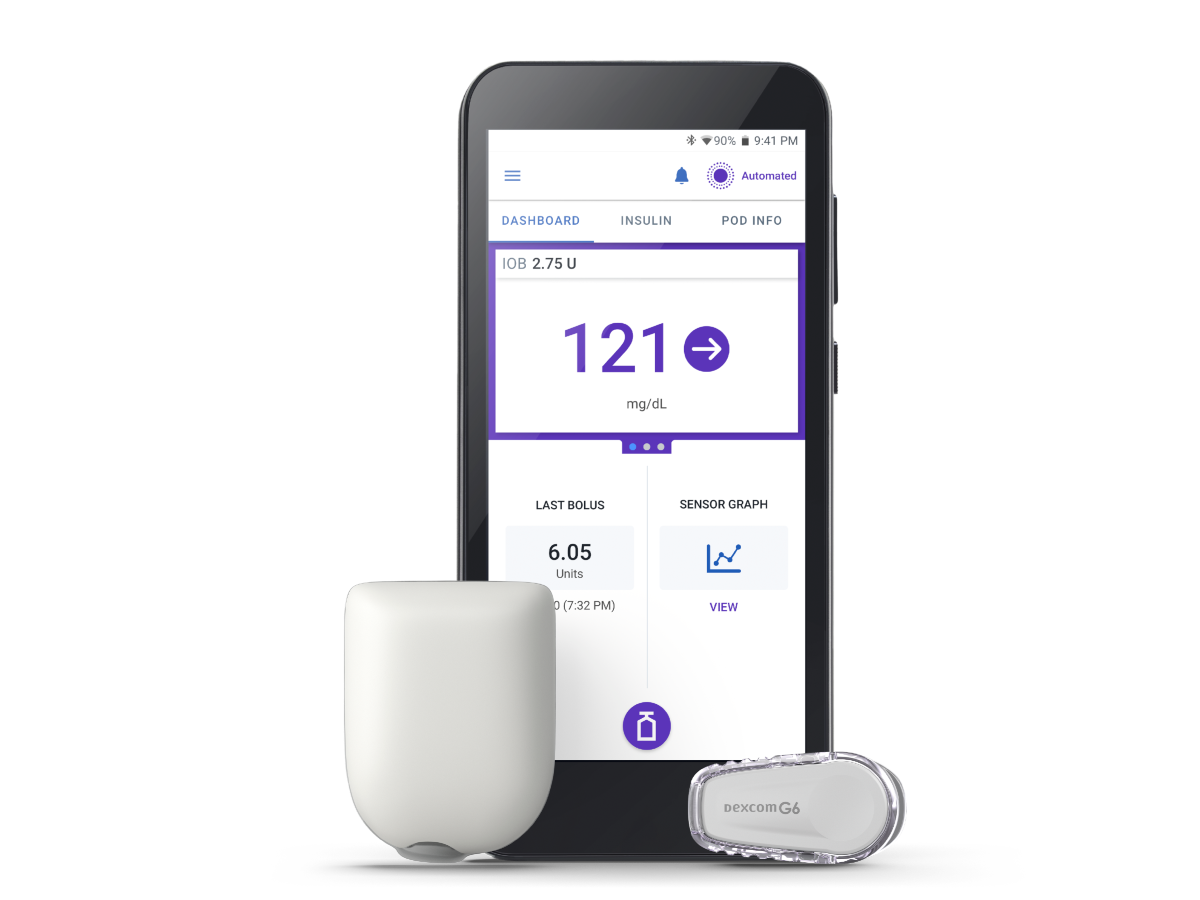 Pod and Dexcom G6 shown without necessary adhesive. Dexcom G6 sold separately
Omnipod® 5 Automated Insulin Delivery System, integrates with the Dexcom G6  Continuous Glucose Monitor (CGM) to automatically adjust insulin and based on CGM value and trend, manage blood glucose levels to keep you in range.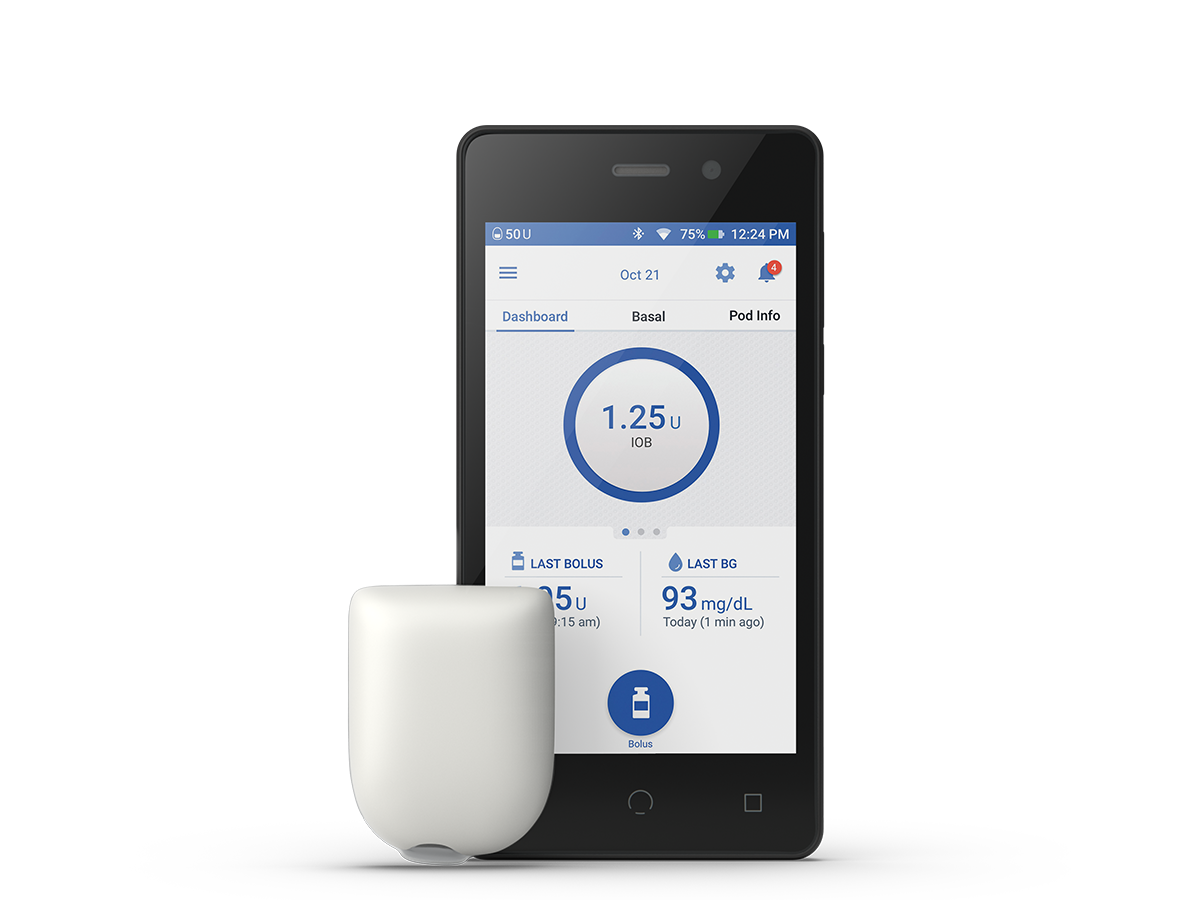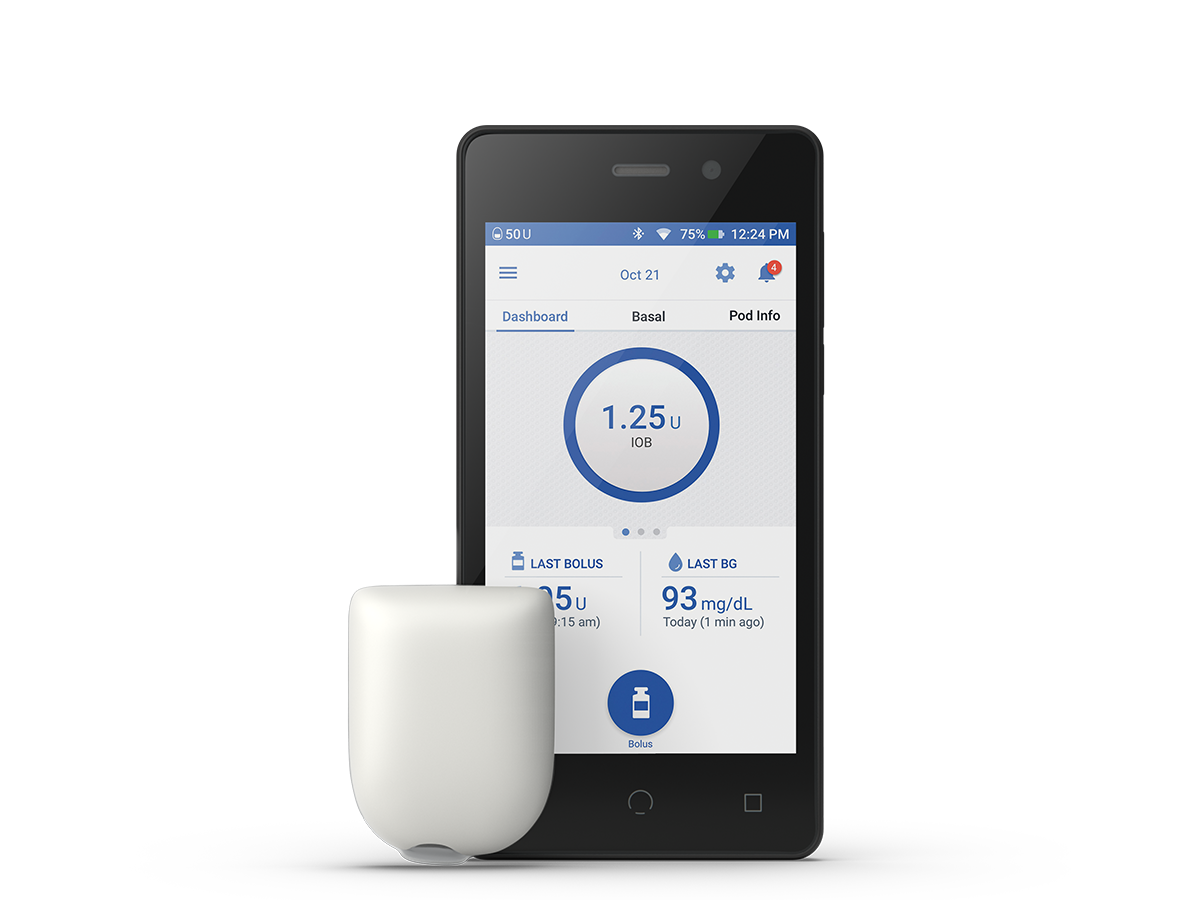 Pod shown without the necessary adhesive.
With Omnipod DASH® Insulin Management System, you simply enter your blood glucose reading into the bolus calculator, and the system automatically calculates the insulin needed for a correction bolus. You can simplify mealtime math even further with the integrated food library. 
Omnipod can help you regain your freedom with 3 days (up to 72 hours) of tubeless, continuous insulin delivery.
Simplify your everyday life.
Whether you're a parent or caregiver of a child with type 1 diabetes or living with type 1 diabetes yourself, Omnipod's innovative, wearable insulin therapy can help lighten the load of day-to-day diabetes management. Omnipod users all over the U.S., and their families, experience the benefits of this tubeless delivery system every day. Unique features and benefits of Omnipod: 
Eliminates the need for multiple daily injections—Each Pod delivers insulin nonstop for 3 consecutive days (up to 72 hours) 

Tangle-proof, waterproof*, and durable—Ideal for the physical demands of day-to-day life 

Tubeless— Walk freely through every open door, leaving doorknobs in the dust. No belts, fanny packs, or pockets required 

Easy to use—Omnipod is easy to apply, insertion is quick and virtually painless, and the wireless PDM or Controller offers the flexibility to manage your insulin treatment in the palm of your hand 

Lifestyle compatible—Omnipod is small enough to be worn discreetly under clothing, almost anywhere you'd give yourself an injection, and the wireless controller is small enough to fit in a purse or pocket. Plus, Omnipod 5 can even be controlled from a compatible smartphone! See our full list of compatible smartphones. 

Convenient—Available through the pharmacy channel and covered by most insurance plans, including Medicare Part D with no commitment and no contract 
*The Pod has an IP28 rating for up to 25 feet for 60 minutes. The Omnipod 5 Controller and DASH PDM are not waterproof.
How does an insulin pump help?
An insulin pump is a small medical device that delivers a continuous amount of fast-acting insulin 24 hours a day to match your insulin needs. It's an innovative alternative to injected insulin therapy, which means that on pump therapy you can say goodbye to multiple daily injections. 
Learn more about how insulin pump therapy can help with the management of your diabetes in this helpful article. 
Omnipod is covered by most insurance plans, including Medicare Part D
Unlike traditional tubed pumps, Omnipod may be covered by your private pharmacy plan or Medicare Part D and is the only pump eligible by Medicare for people with Type 1 diabetes. And with Omnipod, there are no commitments or long-term contracts. The Omnipod DASH® PDM comes free with your first box of Pods.
Omnipod DASH® is the #1 prescribed insulin delivery system for kids*.
There is a lot to juggle when managing a child's Type 1 diabetes. Omnipod lets kids be kids, while giving you the tools to keep their blood glucose levels in check. Whether at school or at home, with a sitter or at a friend's house, parents and caregivers continue to choose Omnipod for kids because of: 
The Pod: It's durable, waterproof†, tubeless, and discreet, so kids—and their friends—can forget all about it. 
The PDM: Wireless control means you can deliver insulin from the kitchen, the front seat, the Man Cave, or the She Shed‡
The Apps: Omnipod VIEW™ lets the parents, school nurse, soccer coach, and other caregivers monitor a child's insulin.
*dQA US Q3 2020 Diabetes Connections Patient Panel Report
† The Pod has an IP28 rating for up to 25 feet for 60 minutes. The PDM is not waterproof.
‡ The DASH® PDM must be within 5 feet of the Pod to give a bolus.
Ready to take the next step?
If you're ready to take control of type 1 diabetes, get started with a no-commitment benefits check or connect with an Omnipod Specialist to learn more about Omnipod. You can also talk to your doctor about which Omnipod product might be right for you or your child.