Take the Pod for a test drive.
Ready to ditch the daily injections or send your pump packing? It's time to try Omnipod®—the tubeless, wireless, continuous insulin management system. The first step is checking your insurance benefits. Whether you're looking to make the switch or just get more information, we're here to help. Use the forms below to connect with our team of Omnipod Specialists.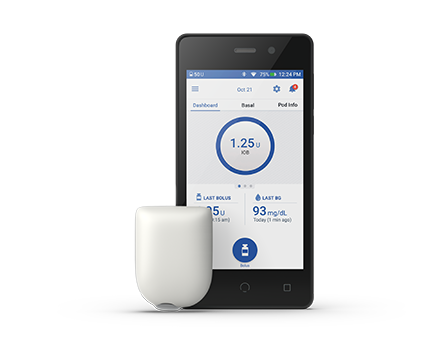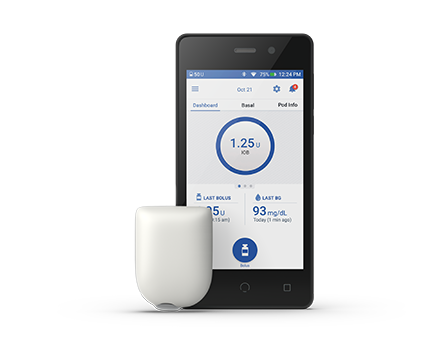 Pod shown without the necessary adhesive
No more multiple daily injections
Deliver insulin through the wearable Pod.
No tubes to get in the way
Leave doorknobs in the dust, no fanny-packs or pockets required.
Available at the pharmacy
Most Omnipod DASH® users pay less than $50/mo. co-pay through the pharmacy.**
Check Your Eligibility and Coverage
Before you get started, our team will check your eligibility for a free Omnipod DASH® 30-day trial† and take a close look at your benefits to see what your insurance will cover after the trial is complete. Fill out the form below and we'll send you a secure link to electronically sign. An Omnipod Specialist will reach out to your insurance provider(s) and give you a call back within 3 business days.

If you are not eligible for the free trial, your insurance may still cover Omnipod DASH® so we encourage you to still check your benefits using the section option below. Free trial program is not available to beneficiaries of Medicare, Medicaid, or other federal health care programs, or to members of certain commercial health plans, and current Omnipod® customers. Learn more about Medicare coverage.
Let's Trade Info
Drop us your details below and we'll send simple, helpful information right to your inbox. Learn about the Omnipod DASH® System, all the perks of Pod Therapy, and any exciting Omnipod® news as it becomes available. Also, look out for an exclusive offer for a free trial.
Talk to an Omnipod Specialist
Still have more questions about the Omnipod DASH® System? Enter your information below and one of our Omnipod Specialists will call you in 24-48 hours for a one-on-one chat.
**Calculated based on a consumption of ten (10) Pods per month.  Majority defined as at least 70% of patient co-pays under $50 per month. 131,049 paid claims between January 1st, 2020 and December 31st, 2020, both for commercial plans and Medicare, were analyzed. Actual co-pay amount depends on patient's health plan and coverage, they may fluctuate and be higher or lower than the advertised amount on a monthly basis. Source: Data on file.