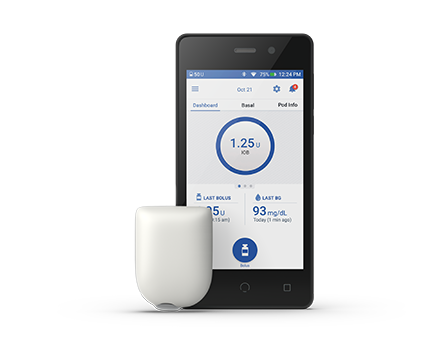 THE PERSONAL DIABETES MANAGER (PDM)
Wirelessly manage diabetes from this locked down, touchscreen smartphone.
THE POD
Wear the Pod proudly, or tuck it under your clothes. It can go almost anywhere you'd inject.
Discover Omnipod DASH®
A tubeless, wireless insulin management system that lets you experience more freedom with fewer daily hassles. Wear the Pod for 3 days (up to 72 hours) of continuous insulin delivery, without multiple daily injections. And the convenience doesn't stop there. Get it all through the pharmacy, with no commitment. Even the Personal Diabetes Manager (PDM) comes at no cost with your first box of Pods†.
† Omnipod DASH® System customers will be eligible to receive one free PDM every four years with the purchase of Pods subject to certain conditions including, but not limited to, verification of insurance.
Is Omnipod right for me?
Thousands of people with Type 1 and Type 2 insulin requiring diabetes are using Omnipod and living life without tangled tubes or multiple daily injections. 97% of Omnipod DASH users would recommend it to a friend‡, and it's the #1 prescribed insulin management system for kids§. It may even be covered by your private pharmacy plan or Medicare Part D.
‡ In a November 2019 satisfaction survey of 2,481 Omnipod DASH and Omnipod System users, 97% of respondents, if given the opportunity, would recommend the Omnipod System to a friend or colleague. Insulet data on file.

§ dQA US Q3 2020 Diabetes Connections Patient Panel Report
Most Omnipod DASH® users pay on average less than $50/mo. co‑pay through the pharmacy.**
Find out what your insurance will cover with a no-commitment benefits check. First, our team will talk to your insurance provider(s) for you. Then, we'll walk you through the details, whether you have coverage or not, so you'll have a clear view of your costs moving forward.
**Calculated based on a consumption of ten (10) Pods per month.  Majority defined as at least 70% of patient co-pays under $50 per month. 131,049 paid claims between January 1st, 2020 and December 31st, 2020, both for commercial plans and Medicare, were analyzed. Actual co-pay amount depends on patient's health plan and coverage, they may fluctuate and be higher or lower than the advertised amount on a monthly basis. Source: Data on file.
Hear from others like you
See why thousands of people are using Omnipod to simplify their insulin management.
I am a big fan of Omnipod DASH for this reason: it makes life easier.
Kate Hall
Sponsored Podvocate
Podder™ since 2012
Get going from home
You can start Omnipod from the safety of your home. With personalized virtual training♢  and helpful online resources, getting started is as simple as it sounds.
♢ Do NOT attempt to use the Omnipod System before you receive training from your healthcare provider. Inadequate training could put your health and safety at risk.
Looking for the next step?
Connect with an Omnipod Specialist, or start with a no-commitment insurance benefits check to see if your plan covers Omnipod. If you're still not sure if Omnipod DASH is right for you, our guide can help you start the conversation with your doctor.
*To be eligible for 30 Days of Freedom Trial Program, you must complete and sign Program Enrollment and Personal Information Forms and may be required to submit additional documentation. Patients must have been prescribed Omnipod DASH for an FDA-approved indication. For new Pod Therapy patients coming from multiple daily injections or tubed pumps only. Free Omnipod DASH trial program is not available to beneficiaries of Medicare, Medicaid or other federal health care programs, or to members of certain commercial health plans. You agree not to sell, trade, return for credit or seek insurance reimbursement for the PDM or free Pods. After the 30-day trial, your out-of-pocket cost for Pods will depend on your insurance coverage. Other restrictions may apply. Cancel at any time. 30 Days of Freedom Trial Program terms and conditions are subject to change.