Meet Omnipod® 5
Omnipod® 5 automatically adjusts insulin delivery to manage glucose levels, helping protect against highs and lows,1 day and night. It's the system that never sleeps.  
With our SmartAdjust™ technology, every 5 minutes the system automatically increases, decreases, or pauses insulin delivery based on readings from the Dexcom G6 Continuous Glucose Monitor (CGM) and can be fully controlled by a compatible smartphone.*  
No tubes. No multiple daily injections. Zero fingersticks.† All to help simplify every day life with diabetes.  
Is Omnipod right for me?
Thousands of people with Type 1 and Type 2 insulin requiring diabetes are using Omnipod and living life without tangled tubes or multiple daily injections. 97% of Omnipod DASH users would recommend it to a friend‡, and it's the #1 prescribed insulin management system for kids§. It may even be covered by your private pharmacy plan or Medicare Part D.
‡ In a November 2019 satisfaction survey of 2,481 Omnipod DASH and Omnipod System users, 97% of respondents, if given the opportunity, would recommend the Omnipod System to a friend or colleague. Insulet data on file.

§ dQA US Q3 2020 Diabetes Connections Patient Panel Report
Meet the latest Omnipod lineup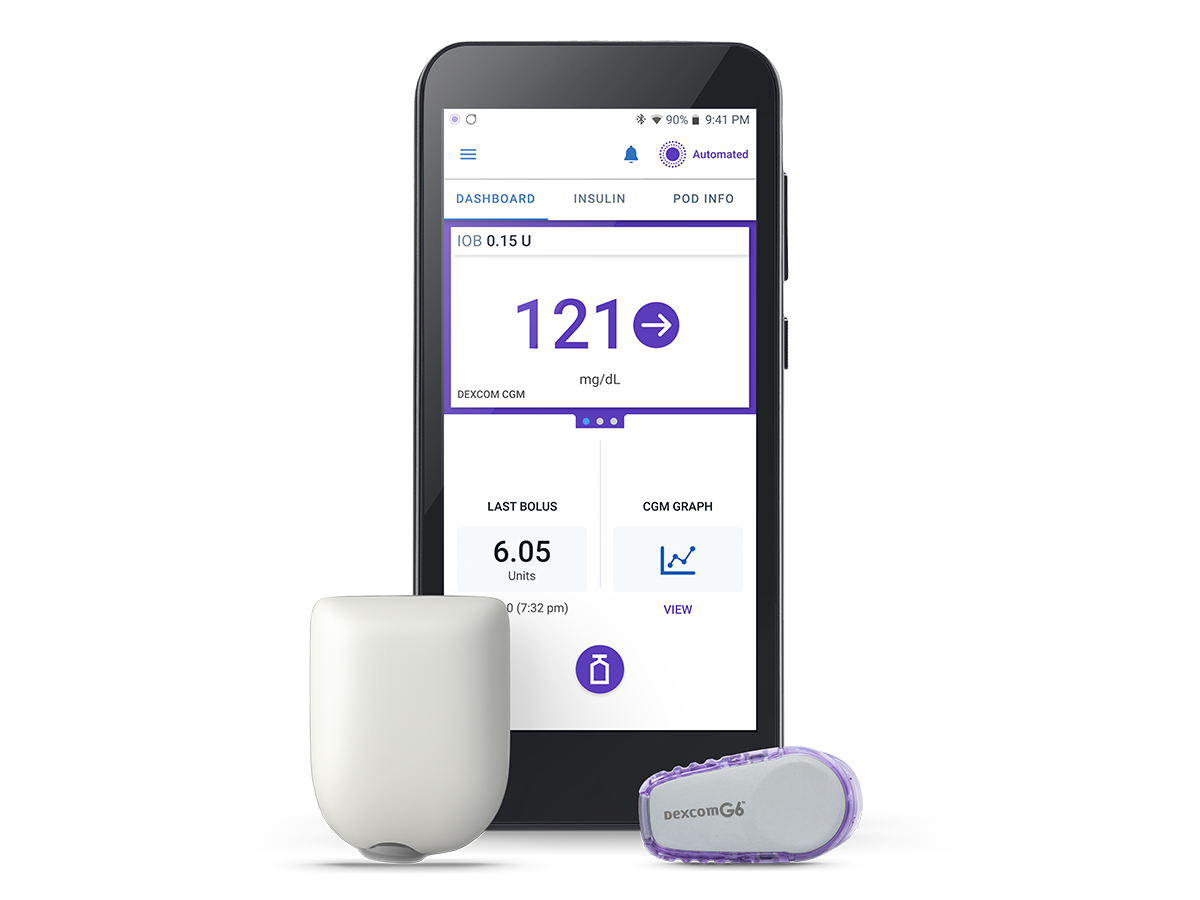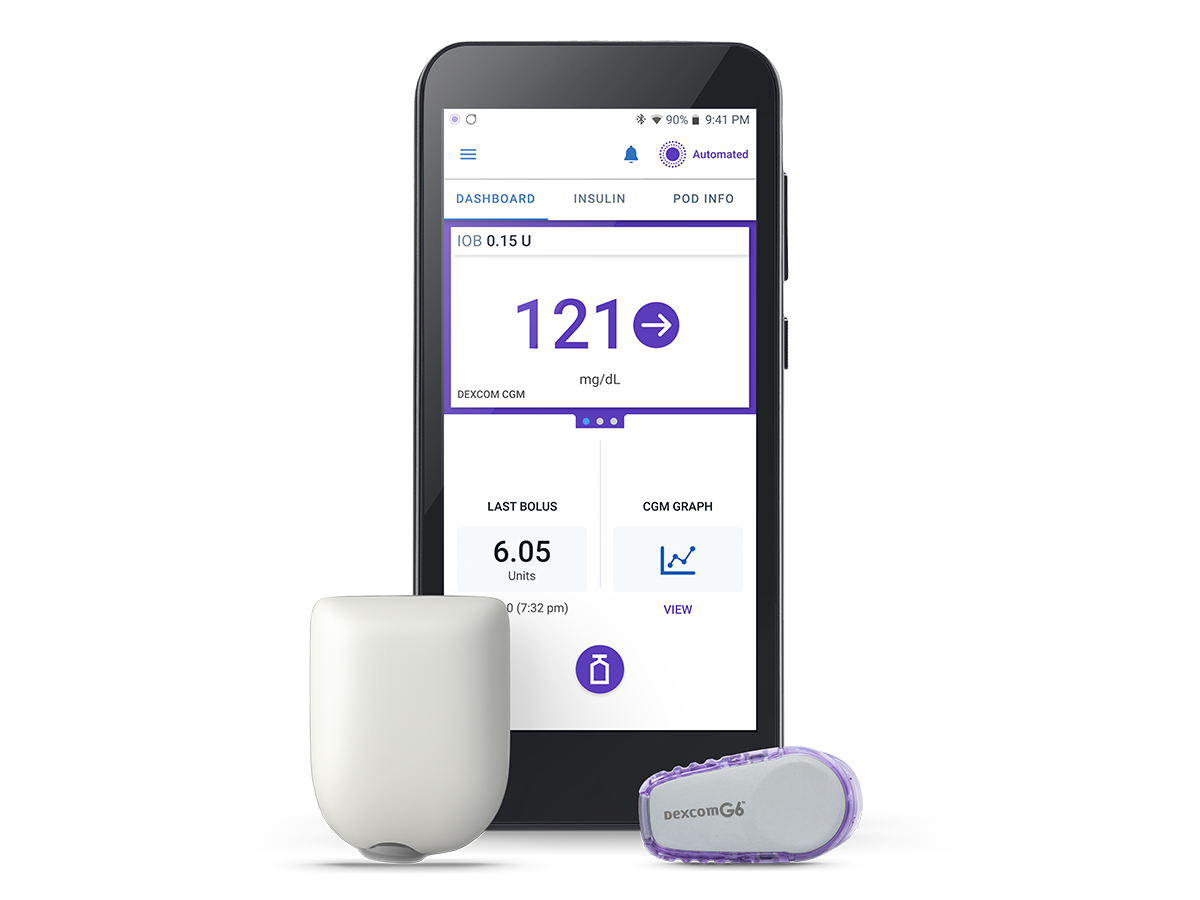 Pod and Dexcom shown without the necessary adhesive. Dexcom G6 requires a separate prescription and is sold separately.
Omnipod 5 Automated Insulin Delivery System
Now available! The first tubeless automated insulin delivery system in the U.S. All the greatest benefits of Omnipod DASH, and then some.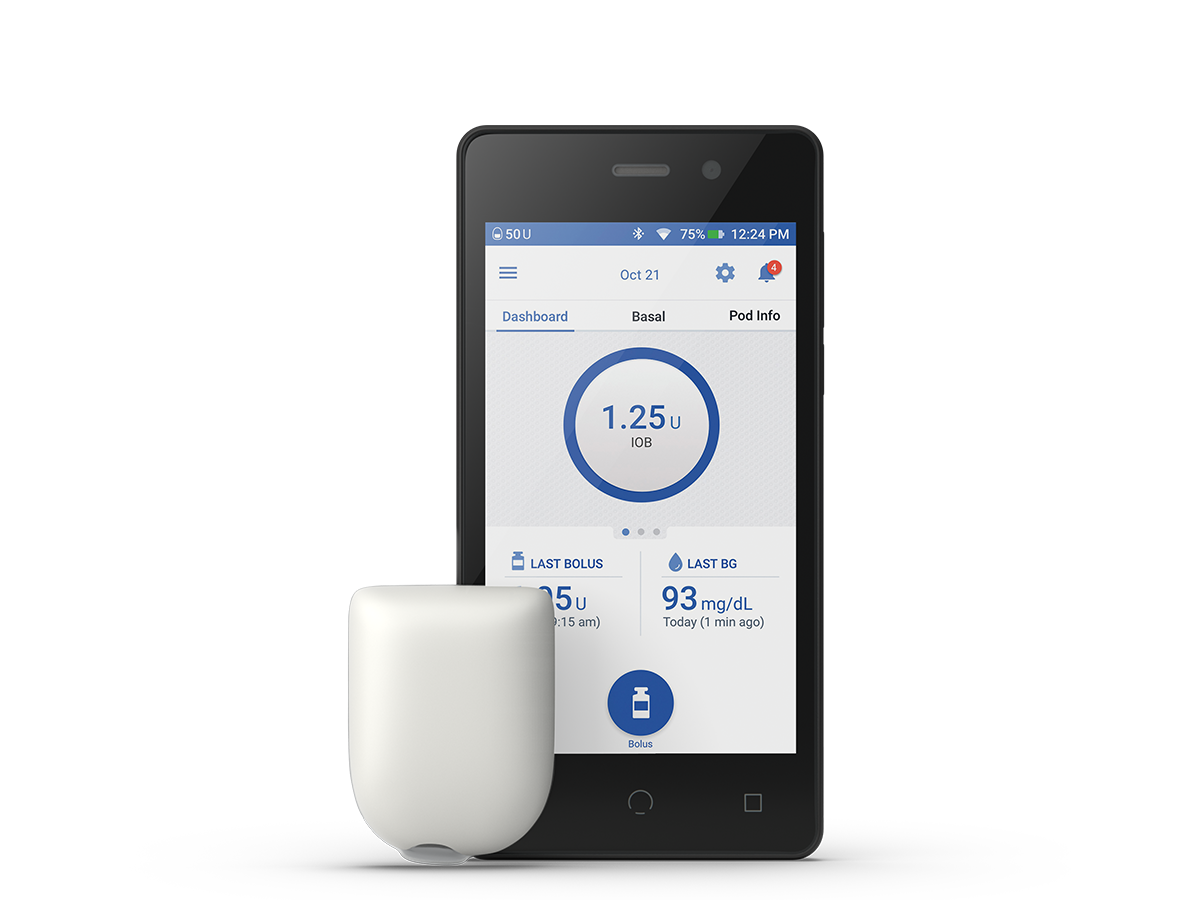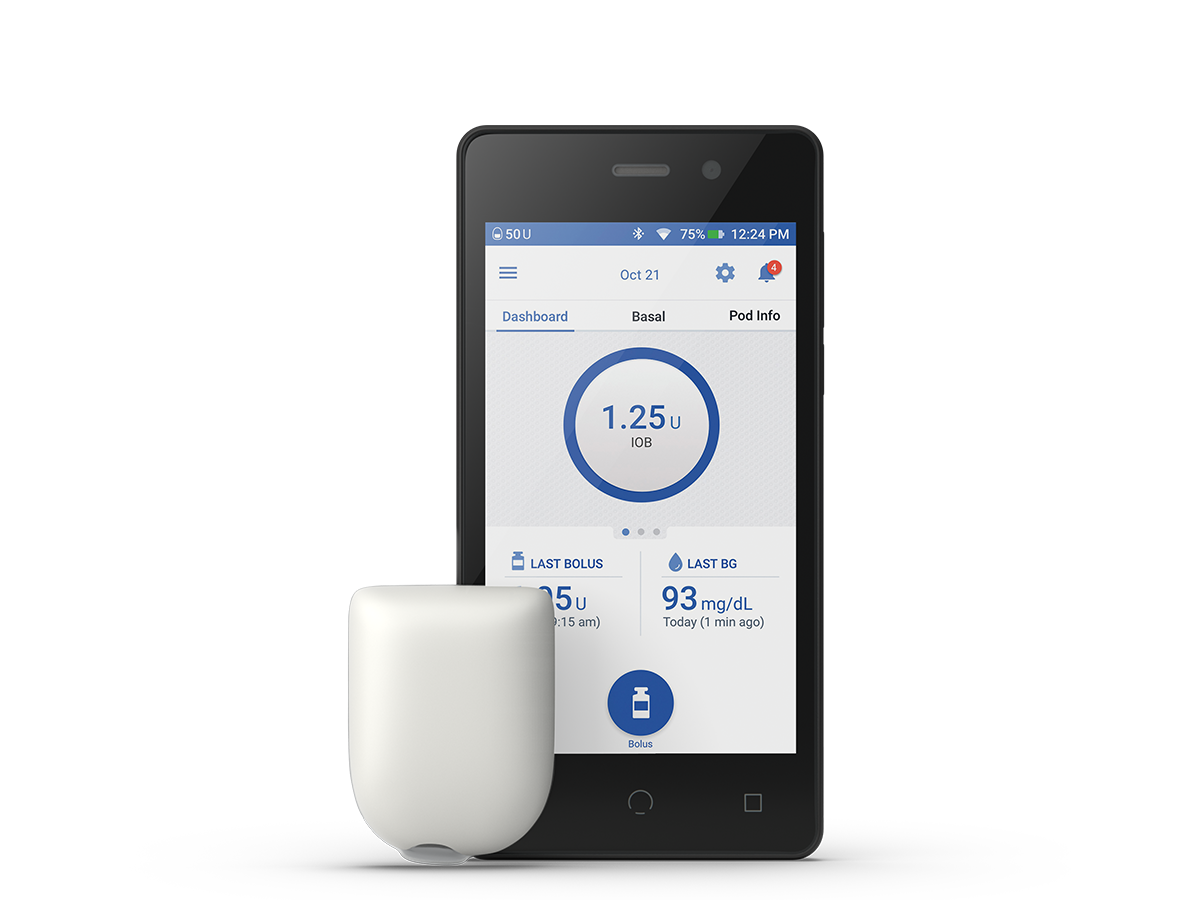 Pod shown without the necessary adhesive.
Omnipod DASH® Insulin Management System
Tubeless insulin delivery. Try it free for 30 days* to find out why it already has thousands of users. 
Start with a free Omnipod DASH® 30-day trial*
Take the Pod out for a spin for 30 days and find out what your insurance will cover with a no-commitment benefits check. While coverage varies, most Omnipod DASH® users pay on average less than $50 monthly co‑pay through the pharmacy.**
Hear from others like you
See why thousands of people are using Omnipod to simplify their insulin management.
Omnipod 5 has definitely allowed me to focus more on life and less on type 1 diabetes.
Get going from home
You can start Omnipod from the safety of your home. With personalized virtual training♢  and helpful online resources, getting started is as simple as it sounds.
♢ Do NOT attempt to use any Omnipod System before you receive training from your healthcare provider. Inadequate training could put your health and safety at risk.
Looking for the next step?
Connect with an Omnipod Specialist, or start with a no-commitment insurance benefits check to see if your plan covers Omnipod. If you're still not sure what's right for you, it may help to talk to your doctor about Omnipod.
*To be eligible for 30 Days of Freedom Trial Program, you must complete and sign Program Enrollment and Personal Information Forms and may be required to submit additional documentation. Patients must have been prescribed Omnipod DASH for an FDA-approved indication. For new Pod Therapy patients coming from multiple daily injections or tubed pumps only. Free Omnipod DASH trial program is not available to beneficiaries of Medicare, Medicaid or other federal health care programs, or to members of certain commercial health plans. You agree not to sell, trade, return for credit or seek insurance reimbursement for the PDM or free Pods. After the 30-day trial, your out-of-pocket cost for Pods will depend on your insurance coverage. Other restrictions may apply. Cancel at any time. 30 Days of Freedom Trial Program terms and conditions are subject to change.

**Average calculated based on a consumption of ten (10) Pods per month. 131,049 paid claims between January 1st, 2020, and December 31st, 2020, both for commercial plans and Medicare, were analyzed Actual co-pay amount depends on patient's health plan and coverage, they may fluctuate and be higher or lower than the advertised amount on a monthly basis. Source: Data on file.
Risk Statement
The Omnipod 5 Automated Insulin Delivery System is indicated for use by individuals with type 1 diabetes mellitus in persons 6 years of age and older. The Omnipod 5 System is intended for single patient, home use and requires a prescription. The Omnipod 5 System is compatible with the following U-100 insulins: NovoLog®, Humalog®, and Admelog®. 
The Omnipod 5 ACE Pump (Pod) is intended for the subcutaneous delivery of insulin, at set and variable rates, for the management of diabetes mellitus in persons requiring insulin. The Omnipod 5 ACE Pump is able to reliably and securely communicate with compatible, digitally connected devices, including automated insulin dosing software, to receive, execute, and confirm commands from these devices. SmartAdjust™ technology is intended for use with compatible integrated continuous glucose monitors (iCGM) and alternate controller enabled (ACE) pumps to automatically increase, decrease, and pause delivery of insulin based on current and predicted glucose values.  
The Omnipod 5 SmartBolus Calculator is intended to calculate a suggested bolus dose based on user-entered carbohydrates, most recent sensor glucose value (or blood glucose reading if using fingerstick), rate of change of the sensor glucose (if applicable), insulin on board (IOB), and programmable correction factor, insulin to carbohydrate ratio, and target glucose value. 
WARNING: SmartAdjust technology should NOT be used by anyone under the age of 6 years old. SmartAdjust technology should also NOT be used in people who require less than 6 units of insulin per day as the safety of the technology has not been evaluated in this population. 
The Omnipod 5 System is NOT recommended for people who are unable to monitor glucose as recommended by their healthcare provider, are unable to maintain contact with their healthcare provider, are unable to use the Omnipod 5 System according to instructions, are taking hydroxyurea as it could lead to falsely elevated CGM values and result in over-delivery of insulin that can lead to severe hypoglycemia, and do NOT have adequate hearing and/or vision to allow recognition of all functions of the Omnipod 5 System, including alerts, alarms, and reminders. Device components including the Pod, CGM transmitter, and CGM sensor must be removed before Magnetic Resonance Imaging (MRI), Computed Tomography (CT) scan, or diathermy treatment. In addition, the Controller and smartphone should be placed outside of the procedure room. Exposure to MRI, CT, or diathermy treatment can damage the components. Visit www.omnipod.com/safety for additional important safety information.
WARNING: DO NOT start to use the Omnipod 5 System or change settings without adequate training and guidance from a healthcare provider. Initiating and adjusting settings incorrectly can result in over-delivery or under-delivery of insulin, which could lead to hypoglycemia or hyperglycemia. 
The Omnipod DASH® Insulin Management System is intended for subcutaneous delivery of insulin at set and variable rates for the management of diabetes mellitus in persons requiring insulin. Additionally, the Omnipod DASH® System is interoperable with a compatible blood glucose meter to receive and display blood glucose measurements. The Omnipod DASH® System has been tested and found to be safe for use with the following U-100 insulin: NovoLog®, Humalog®, Apidra®, Fiasp®, Lyumjev®, or Admelog®. Refer to the Omnipod DASH® Insulin Management System User Guide at omnipod.com for complete safety information including indications, contraindications, warnings, cautions, and instructions.