Theme Park Fun, With Diabetes Along for The Ride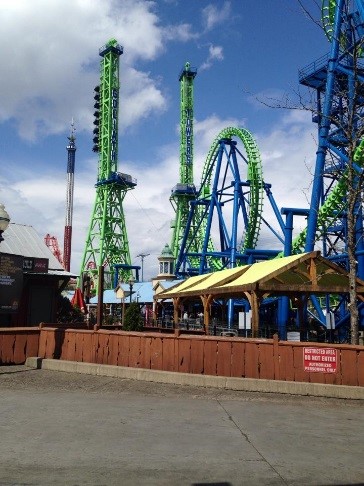 While so many people compare life with diabetes to a never-ending roller coaster ride, I'm proof that real-life roller coasters can be fun! When I visit my local theme park on a hot summer day, I always remember my sunscreen, water and most importantly, a bag full of diabetes supplies.
Here's how an Attraction Access Pass works at Six Flags:
Upon arriving at the park, it's standard operating procedure to have to face security, and likely your first line of the day. The staff poke and prod through guests' bags, tossing food and beverages in the trash and sending owners on their way. In my experience, when going through the security process, it's easier to announce that you have type 1 diabetes (T1D), so when security digs through your bag they are already aware that they will encounter medical equipment. I let them know they will find things like an insulin vial and extra Pods, and also that there is food and water in my bag and it has to stay with me. I've noticed in the past few years that when I tell security (regardless where I am) I have T1D, there are no further questions and I don't have to explain myself.
A lot of theme parks offer something similar to a line hopper pass free of charge to those who have a medical condition which makes it challenging to stand in long lines. I take full advantage of this offer! The theme park I frequent most often is Six Flags New England, where they offer an Attraction Access Pass which gives me (the person with the disability) and three guests access to the ride through the exit.
Here's how it works. Upon arriving at the park, I check in and they give me a tri-fold pamphlet in exchange for a doctor's note stating I have type 1 diabetes which interferes with my ability to stand in long lines. They then tell me the wait time for the day based on how busy they expect it to be (the last time I went, the wait time was 30 minutes). After picking up the pamphlet, you can head into the park and figure out what you want to ride first. As long as it has been 30 minutes from when I checked in, I can enter through the exit and ride the coaster. Before riding, the attendant signs and notes the time, and after I get off the ride I have to wait 30 minutes from that time to enter another ride through the exit. On busy, hot days, this accommodation definitely comes in handy. On days when the lines aren't terrible, I often just wait in line like everyone else.
Although most of these passes offered don't let you just hop to the front of the line without waiting, it'll make your day much more enjoyable because you don't have to stand in a stagnant line for what can be close to an hour. It is worth noting that the ride attendant will more than likely be the one to choose your seat, so if you're adamant about riding in the front of a roller coaster, don't plan on it when using a disability line hopper pass.
As well as offering the Attraction Access Pass, Six Flags New England offers guests with medical conditions the opportunity to carry their bag with them onto every ride. Normally when I enter the park, I ask the security staff to provide me with a medical bag tag which has the date on it and gets stuck somewhere visible on the bag so upon entering the lines on rides you don't have to lock away your belongings and can have them with you the entire day.
Using a medical bag tag works well for me personally in many ways:
I can keep all of my supplies with me at all times, which means I can get at them anytime I need to
I constantly have my food and drinks with me just in case I become low
It's WAY CHEAPER than renting a locker and better for people with type 1 diabetes, who can't just choose a locker and leave a bag and diabetes supplies in it all day.
While my experience is specific to Six Flags and I know their policies, I would always suggest calling your theme park beforehand to figure out all of your possible options as a person with diabetes. Some parks may require a doctor's note or something else proving you have trouble with lines, while others may not. Before I go to a new theme park, I always do this just to see what all my options are because more than likely they have a policy regarding special accommodations for people with disabilities and medical conditions like T1D. It never hurts to ask and it might save quite a bit of time and money throughout my day.
Written by Kayley Christian