Racing Toward the Cure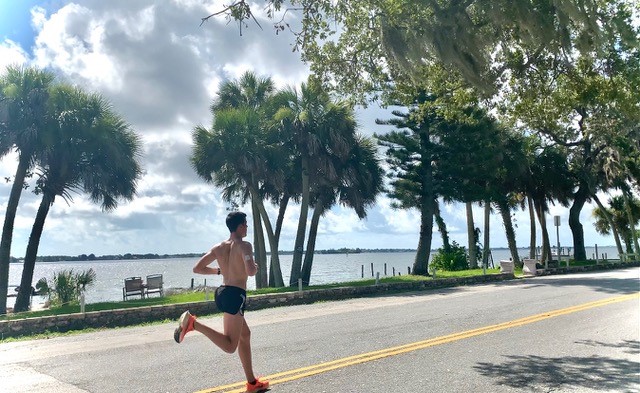 Have you ever had a goal or dream that you never thought was possible after your T1D diagnosis?
Many of those who are living with type 1 diabetes can find themselves questioning whether they could or would be held back from achieving something on their bucket list because of the daily life impacts that T1D can have.
With the ever-growing type 1 diabetes community in recent years, however — more and more T1D heroes have emerged and are sharing their stories of overcoming the unimaginable.
Finding his passion
John Wilcox, who was diagnosed with type 1 diabetes at the age of 9, has been an avid runner since he began earning his undergraduate degree at Florida State University.
"At the start, I experimented with running as a form of exercise to help manage my T1D," John says. "Once I learned that I could not only manage my diabetes with running, but also manage it well, I dedicated myself to more serious weekly training programs."
John continued to run and seek out races to participate in. He eventually completed his first marathon, as well as a 50K and 160-mile challenge to raise money for JDRF — a nonprofit organization that aids in the fight against type 1 diabetes and funds research toward a cure.
"I really enjoy running because it is not just a form of exercise," John says. "It is a lifestyle. You need to eat healthy, sleep well, and practice strong mental techniques to be a successful runner. Luckily, all of these things are applicable to T1D management as well."
The goal
The Boston Marathon is known as being the oldest annual race event in history. This year, John is training to run this very marathon that he regards as "iconic," and will be celebrating the race's 125th anniversary.
And 2021 holds particular significance, as it will mark a different kind of anniversary. One that holds a particular significance in diabetes history. Accordingly, John will once again be raising money for JDRF.
"Every year, JDRF hosts a Boston Marathon team that requires its members to raise $10,000," John says. "This year is the 100th anniversary of the discovery of insulin. I wanted to race the Boston Marathon during insulin's 100-year anniversary for JDRF, show that patients with diabetes can be 'Boston Strong,' and raise money in honor of all of those who have had, have, and will have (until there is a cure) type 1 diabetes."
Feeling supported
As John makes his way along the 26.2 miles that make up the Boston Marathon — he'll be wearing his Omnipod to manage his T1D as he does every day.
"In my opinion, Omnipod is the best insulin pump for runners," John says. "I have learned that I still need insulin delivery during the time it takes me to complete a marathon. While running with Omnipod, I am able to adjust my basal delivery for different parts of my runs."
John also enjoys the feeling of freedom and flexibility that his Omnipod affords him while he remains active during training and the marathon itself.
"Another obvious reason why Omnipod is a great pump is its lack of tubing, low weight, and ease of placement on the tricep so I don't feel the pump on my abs while my core stays tight for the duration of my marathon," John says. "I would not be able to run with a pump if I did not have Omnipod as a tubeless option."
A message
John has set his goal of crossing the finish line at the Boston Marathon to raise money for the T1D community and for his own personal growth as a runner. But he also has an important message that he wants to get across to people living with type 1 diabetes:
"Find what gets you motivated and moving!" John says. "For me, that is running, but for others, it could be something else. I strongly believe that having a hobby, sport, or activity that you love doing and that keeps you active will help you get over the challenges that arise with T1D management. Go out and find that thing and do it because you love it!"
To support John in his fundraising efforts for JDRF, visit his fundraising page here.
Post race Q&A with John
Q: How were you feeling the morning of the race? What thoughts were going through your mind?
A: I vividly remember feeling grateful to all the people who had supported me in my training and fundraising. Before I left, I wrote the names of the supporters on my arms and legs. Writing each of their names was very emotional and it really pumped me up before heading to downtown Boston. From that moment, I was locked in and very focused on accomplishing the logistics to get me to the start line.
This involved me dropping off my gear at the bag check, stretching, and hopping on a bus to drive out 40 minutes to Hopkinton where the race would begin. That's when my nerves began to mount. I got off the bus and walked about a mile to the start line. This year, the marathon had a rolling start, so runners could begin the race when they wanted to. Crossing the start line felt like jumping off a cliff, but I took a deep breath, remembered all the miles I had ran and all those behind me, and started my 26.2-mile journey.

Q: How long did it take you to complete the marathon?
A: My official time was ~3 hours and 50 minutes. This was longer than my goal time, but overall, I was happy that I was able to complete the race. Turning onto Boylston Street and seeing the finish line in the distance with thousands of people cheering for you was such a magical experience.

Q: Did you hit your goal of $10K?
A: Yes! I was able to raise $10,126 and our entire team raised $195,656 to support life changing diabetes research through JDRF!

Q: How did Omnipod help you during this race?
A: Having an Omnipod was a key factor in helping me cross the finish line. I was able to administer insulin through a reduced basal rate over the course of the pre-, during, and post-segments of the race. I kept the pod on my arm where it did not interfere with my movements while running.
Want to experience going tubeless for yourself? Take the Pod for a test drive with a 30-day free trial*.