Give Your Tubed Pump the Summer Off with the Omnipod DASH™ System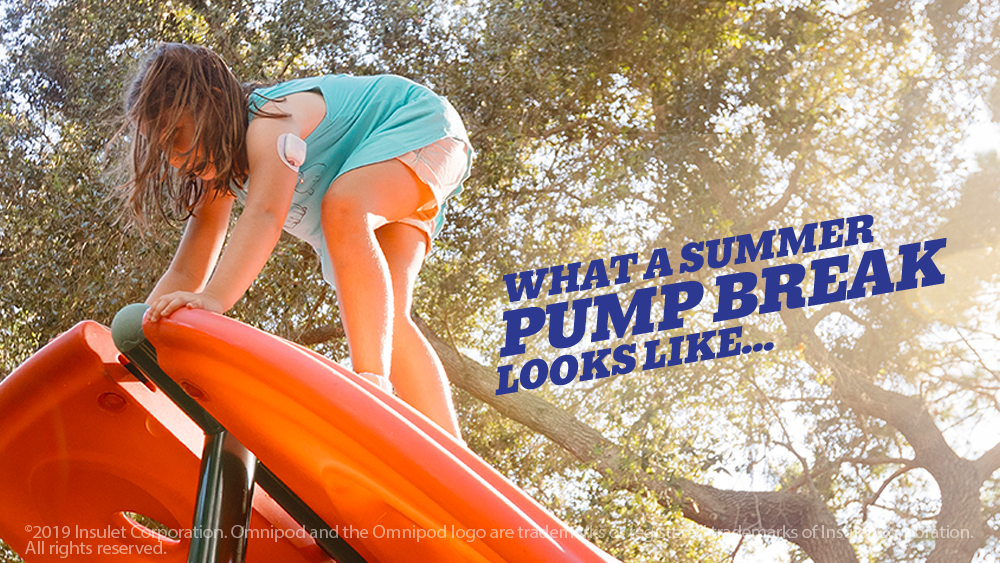 Summertime is here, and with it come more days spent at the pool, beach or enjoying other outdoor activities. Among people with diabetes, there's another summer phenomenon: going on "pump vacations," a deliberate break from insulin pumps and all of the hassles — including the awkward tubing — that traditional pumps entail.
There are tons of reasons why an insulin pump vacation might be a good option for you or your child with diabetes. Your pump might not be waterproof, which means disconnecting for swimming at the pool or beach. Or maybe you feel self-conscious wearing your tubed pump in a bathing suit.
You may also think a pump vacation would give you or your kid's infusion site a chance to heal completely and provide a well-needed break. Of course, there is no vacation from diabetes itself, but eliminating the tubed pump for several weeks or a few months may be just what you or your child needs to enjoy summer to the fullest.
Typically, the replacement for the tubed pump is to go back to injections, but while shots may seem like an easier alternative, MDI (multiple daily injections) represent their own forms of annoyance and aggravation. From carrying more supplies to losing the ability to fine-tune insulin delivery through temporary basal rates and other pump features, MDI may not provide the break that you are expecting.
Why not try the tubeless, waterproof*, no-commitment Omnipod DASHTM System — or what we like to call, "Pod therapy"?
A tubed pump vacation with the Pod might be right for you or your child for many reasons:
The Pod involves less pain. One small pinch eliminates the need for multiple daily injections.

The Pod holds up to three days of continuous insulin, with the ability to bolus as needed.

The Pod's tubeless and waterproof* design won't get in the way of your summer activities. No need to disconnect for water play!

The Pod means less disruption in your daily routine. Pod therapy uses the same insulin as your pump — just with no tubes.

Insulin management is controlled via a Personal Diabetes Manager (PDM) that lets you set both basal and bolus doses and make adjustments to your insulin delivery on the fly.
It's easier than you think to get started on the Omnipod DASHTM System. It's commitment-free and doesn't involve any contract. The PDM is free, and you can purchase your Pods one box at a time, so you can switch back to your regular pump whenever you want.
This summer, take that tubed pump vacation and give the Pod a try. Call 800-591-3455 and mention "Pod summer" to keep pumping with a Pod. And don't forget to tag @myomnipod in your summer fun photos on Facebook or Instagram!
To learn more about pump vacations, check out T1 Everyday Magic.