Strongman Podder™ Rodney Miller Gives Kids with Diabetes A Lift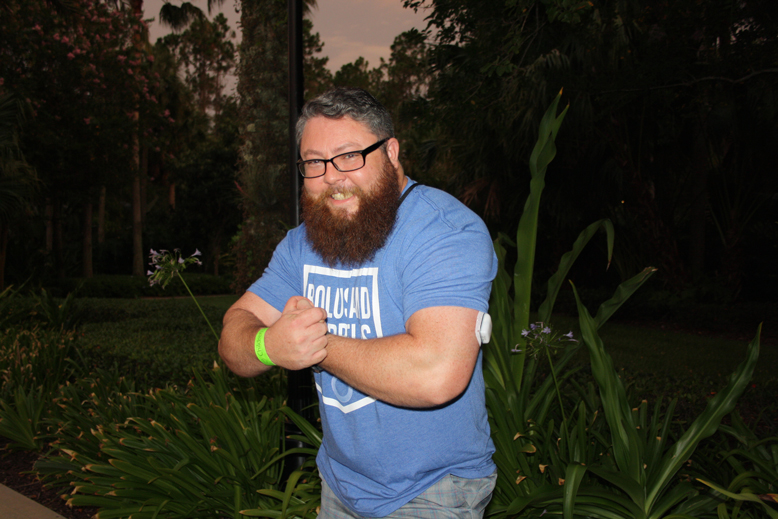 It's not every day you meet someone who can dead lift a car, bend a steel frying pan with his bare hands, or carry 200 pounds across a parking lot. But meeting someone who can do all of that with type 1 diabetes is downright impressive!
Introducing Rodney Miller, the 35-year-old Podder™ and Strongman Competitor from Midland, Texas. We caught up with Rodney at the 2018 Children with Diabetes Friends for Life gathering last summer in Orlando, just after he had dazzled a group of kids with his incredible strength, deadlifting 500 pounds for 10 repetitions!
"Having Type 1 is like having a superpower," he said to the group. "You manage an incurable disease, every single day. That's pretty amazing!"
Rodney is the founder of Bolus and Barbells, an organization that provides education about resistance training for those with insulin-dependent diabetes, as well as peer support for strength athletes at all experience levels. Bolus and Barbells holds events throughout the country, and Rodney speaks regularly at diabetes programs and camps for children, such as Friends for Life Orlando in July.
"When you meet another person with T1D, you have an instant connection," says Rodney. "That connection allows you to help others, and helping another human being is the single greatest thing you can do."
Rodney was diagnosed with type 1 diabetes when he was a very young child, and was on MDI (multiple daily injections) for most of his life. He used a tubed pump for a short time, then switched to the Omnipod® Insulin Management System earlier this year. He has also been using a Dexcom CGM (Continuous Glucose Monitor) for several years as well. Both systems help him maintain his blood sugar while training and competing in Strongman contests.
Rodney first became interested in strength-training when his wife was pregnant with his now-9-year-old daughter. The idea of becoming a father inspired him to be the best version of himself he could be, so he decided that physical fitness would be a key component of improving his overall health.
"I fell in love with being strong," says Rodney, who now competes in Strongman competitions all over the country.
In addition to being more physically active, Rodney is passionate about speaking to others with type 1 diabetes, and helping people like himself realize their full potential, even while managing this disease.
Rodney especially wants to inspire young athletes with type 1 diabetes, and leaves them with a key message at each of his events.
"When you show up to play a sport or compete in some way, you've already won," he says. "Because, you're doing something that no one else there has done. You're competing with diabetes."