Pods And Peaks: Hitting The Slopes With Riding On Insulin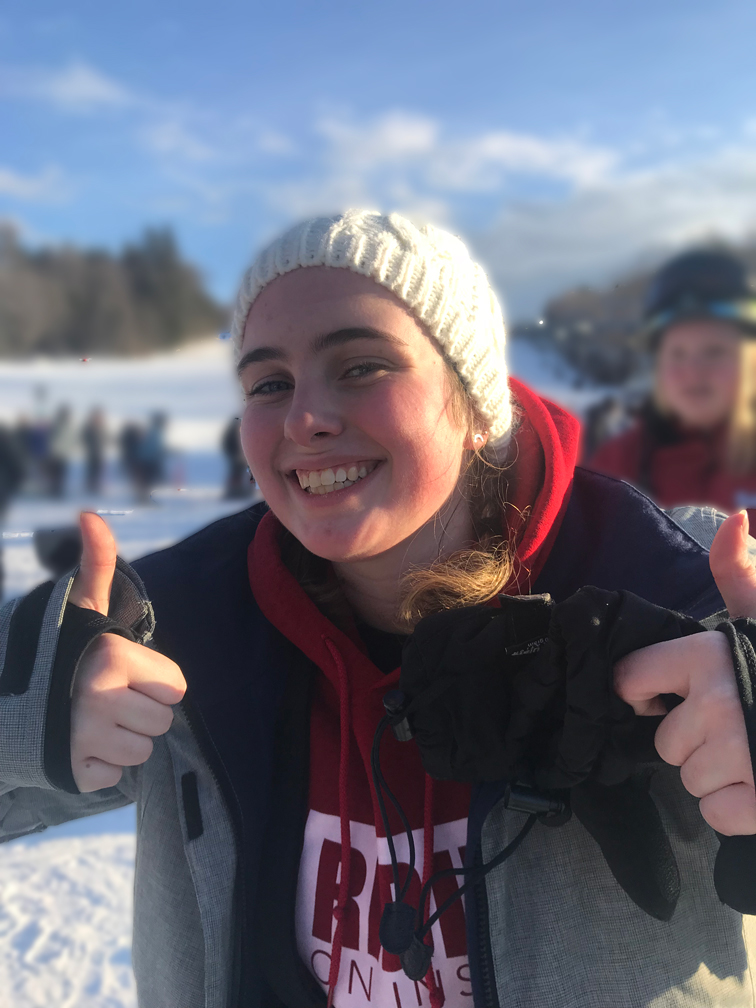 What do you get when you bring 60 or so skiers, snowboarders, and Podders together for a day on the slopes?
Gear. Lots and lots of gear.
As if skis, snowboards, helmets, parkas, gloves, masks, hats, goggles, snowpants, and several types of boots weren't enough, add to that Pods, PDMs, test strips, lancets, BG meters, CGMs, juice boxes, emergency glucagon and more, and you've got yourself quite a stash. If ski areas gave out prizes for the group with the most "stuff," the crew from Riding on Insulin would surely win.
But it's a task that hundreds of families willingly take on at winter "shred sessions" all over the country, year after year. Parents, coaches and kids pack their enormous bags and come together for a day of outdoor adventure, support and connection, not allowing a little thing like type one diabetes to get in their way.
This year, I attended Riding On Insulin (ROI) at Wachusett Mountain in Princeton, MA on February 3rd with my own Podder Miles and powder-seeking kids for the first time, and experienced the fun and empowerment so many other families have raved about.
"It's an amazing program," said Wendy Conway, New England Regional Ambassador for Riding on Insulin. "They really empower the kids and show them that diabetes doesn't define them, or stop them from doing what they want to do."
Riding on Insulin was founded in 2004 by Sean Busby, a professional backcountry snowboarder who lives with type 1 diabetes and uses the Omnipod® System to help manage his diabetes. Busby wanted to give back to the kids who had inspired him to continue snowboarding after his diabetes diagnosis at age 19.
Conway's 16-year-old twin daughters, Abby and Maddy, first attended the Massachusetts program as campers six years ago, and have returned every year since. They are now Squad Leaders, which means they are coaches-in-training, learning how to both teach the kids how to ski and snowboard while supporting those with diabetes. Since both of them live with type 1 diabetes, it's the perfect opportunity to get involved while giving back.
Meet the Podders
At the Wachusett ROI camp that day, the majority of parents said their kids used the Omnipod® System. One of those kids is Abby Conway. Abby has been a Podder for three years, switching from a tubed insulin pump to the tubeless Omnipod® System because it meant not having to disconnect while dancing competitively.
While 9-year-old Carpenter Berube attended the Wachusett ROI camp for the second year in a row, he was the newest member of the Podder community in attendance, getting acquainted with the Omnipod® System on day two of his saline trial.
Carpenter plays soccer, swims and mountain bikes, and for a long time, Carpenter didn't want to consider using a pump to manage his diabetes. But about six months after his diagnosis (roughly two years ago), he started pulling away from the active lifestyle he and his family had always enjoyed. Carpenter's mom Noel and his health care team began exploring different options for insulin pump therapy, but Carpenter was scared.
"I told him, 'you might be scared, I might be scared, but we're going to figure it out together,'" Noel recalled.
One day, Carpenter met a mountain biker like him who had type 1 diabetes, and saw that he used CGM technology to manage his diabetes. This helped Carpenter get over his fear, and he immediately selected the Omnipod® System as his insulin pump because of its tubeless, wearable form.
"He tried on the demo Pod, and forgot about it," said Noel, adding that he had left it attached longer than the recommended 24-hour minimum, just because he didn't realize it was even there.
Way to go, Carpenter!
It was wonderful to see Abby, Carpenter, Miles and so many other kids using the Omnipod® System to manage their blood sugar quickly and easily during a busy and fun day at the mountain. Insulet (the maker of the Omnipod® System) is a proud sponsor of Riding On Insulin, which is hosting 11 camps nationwide this season and a new mountain biking camp later this year.
"In the rest of their lives, they are different," said Wendy, "but not here. ROI lets these kids know they're not alone."
For more information about Riding On Insulin or to find a program near you, visit https://www.ridingoninsulin.org.