Podder™ Spotlight: On Broadway with Type 1 Diabetes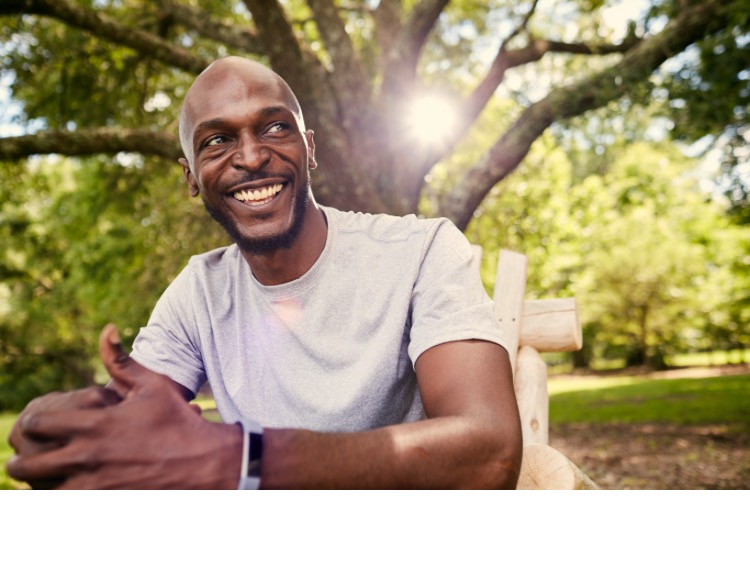 Imagine your blood sugar dropping to 40 mg/dL while performing onstage in front of 2,000 people. You cannot simply pop a few glucose tabs while singing and dancing without completely disrupting the professional performance and experience for your audience.
Instead, Kyle R. Banks was determined to endure until the curtains came down during his performance in the ensemble of Disney's Broadway production of The Lion King . This was a stressful and dangerous experience he has worked hard to never let happen again.
As a professional broadway actor with over 15 years under his belt, Banks lived without the demands and obstacles of type 1 diabetes. In 2015, at the age of 38 years old, he quickly found himself feeling worse and worse.
"I was misdiagnosed as a type 2 diabetic," explains Banks, who had just undergone a round of steroids to treat swelling in his vocal cords. His healthcare team theorized that because of his age (presumably too old to develop type 1 diabetes) and his weight (presumably far too lean to develop type 2 diabetes), his elevated blood sugar levels were hopefully just temporary and would return to normal after completing his steroid regimen.
Their theory was wrong.
"I was on metformin for a month but I just felt worse and worse," recalls Banks. "I was losing weight, feeling terrible, and trying to work through it the whole time, performing in a 3-hour broadway show every night."
The Right Diagnosis
By the time he was admitted to the hospital and properly diagnosed with type 1 diabetes, Banks' blood sugar was at 680 mg/dL.
"I was in the hospital for 2 days, and then I went right back to work when I was released."
Trying to learn type 1 diabetes management while rehearsing and performing in a 3-hour long broadway show proved to be an unexpectedly rough year for Banks. His managers and cast were all remarkably supportive, but the learning curve was still very steep.
"I was checking my blood sugar 15 times a day, at least 6 or 7 times during the actual performance, and was constantly crashing, having to drop out of scenes entirely to treat low blood sugars, and crashing again at the end of the night."
Even after switching from syringes to the Omnipod® System, the recurring low blood sugars were an undeniable disruption for the entire crew.
If Banks has to leave the stage to treat a low blood sugar, a replacement actor has to fill his place by first getting into hair and make-up, getting dressed, getting a microphone, etc. and it affects every department of the entire show.
"I remember one time at the end of the show in those first few months with type 1 diabetes, I checked my blood sugar and the curtain was coming down in 10 minutes. I didn't want to drop out just for the last 10 minutes of the scene," recalls Banks.
"I was determined to push through those last 10 minutes, but I was down to 25 mg/dL by the time the curtains came down."
Throughout that first year, in an effort to prevent constant hypoglycemia during performances, Banks was arriving for work with a blood sugar between 250 to 300 mg/dL.
"Even starting that high, I was still crashing by the end of the night."
He knew this wasn't an approach he could sustain because of the long-term effects of high blood sugars and the short-term effects of low blood sugars. He knew it wasn't healthy or safe. He was exhausted and frustrated.
"So I took a year off from working to just learn about my diabetes, and I'm so glad I did."
Returning to Work...with New Diabetes Knowledge
"Learning how to incorporate the Omnipod® System's technology into my life has really been a Godsend," says Banks, who returned to work after taking a year to focus on his diabetes.
"At first, I didn't understand how to take advantage of the temp basal settings and programming different basal rates," recalls Banks. "Now, I know how to maintain my blood sugar at 120 mg/dL and not crash. I can use the settings on my pump to decrease my basal rates as the activity increases during every show. I've also learned that I need to eat a small meal during intermission without any additional insulin."
"By the end of the show, I'm between 70 to 100 mg/dL," continues Banks. "Then I have another small meal after the show, again without additional insulin besides my basal. Learning just how much I need to reduce my insulin doses while performing has allowed me to continue working. This is an approach that is healthy, and safe, and sustainable."
He's also found that consistency is key when it comes to his food choices on performance days.
"I pretty much eat the same thing every time -- one of my favorites is a saute of spinach, chickpeas, mushrooms, and brown rice or quinoa."
His meal after the show is usually a black bean burger.
Backstage, Banks is always still prepared to treat a low blood sugar.
"In my dressing room, it's ridiculous all the snacks I have!" he laughs. "I keep a stock of what I've found works best for me, including Bobo Snack Cakes, Welch's gummy fruit snacks, and mini cans of Coke."
Despite having never been a soda drinker before, Banks has found that nothing seems to raise his blood sugar as quickly as Coke.
"I've tried other things but Coke works the fastest for me."
Wearing the Omnipod® System Onstage, in Character
"I definitely keep my Omnipod® System Personal Diabetes Manager (PDM) and Continuous Glucose Monitor (CGM) on silent during performances," explains Banks. "If I'm onstage, I give my CGM and PDM to one of the stage managers. They simply hold it for me so I can see it as soon as I'm offstage."
For scenes where his upper body or my legs are exposed, the wardrobe department has made flesh-tone covers that hide both his Pod and CGM sites.
"I can sneak a peek at the CGM as soon as I'm offstage, but never onstage," explains Banks. "Then I'd grab a snack or insulin if I needed to. Most of the time, I need a snack, not more insulin. But everything is right offstage so it's for me to grab quickly."
If it wasn't for the Omnipod® System's tubeless technology, Banks knows continuing his career as a performer would be more difficult.
"It's amazing how the body works and how this technology allows us to be normal," says Banks. "I'm so grateful for the research and the engineers that create all of it, allowing me to continue doing what I love to do. If I wasn't able to perform, I wouldn't be very happy."
Today, Banks lives in a beautiful farm town in upstate New York, a full two hours north of where he works in New York City.
"Once I was diagnosed with type 1 diabetes, I just needed more peace and calmness. Getting away from the city was the best decision I've ever made. I'm surrounded by farms, fresh vegetables, and a kind community. It's worth the drive."
Kyler Cares Foundation
Banks started a non-profit foundation dedicated to helping children with type 1 diabetes in New Orleans get access to life-changing diabetes technology like the Omnipod® System.
Kyle's heart belongs in New Orleans -- where he grew up and where his parents and extended family still live.
"I was already working with the Children's Hospital in New Orleans prior to my diagnosis, and during my year off from work," explains Banks. He reached out to them to see how he could potentially help children with type 1 diabetes.
"I quickly learned how much diabetes technology costs, and how many families cannot afford to provide it for their children."
This year, they will focus on New Orleans children with type 1 diabetes.
"We have our first fundraising event in September where we'll be streaming performances starring many of my friends from Broadway shows like Lion King and Hamilton."
The Kyler Cares Foundation raises money year-round to help children with type 1 diabetes get the insulin pumps they need in order to live a safe and full life.
Learn more about the Kyler Cares Foundation.