"I Need Insulin:" Omnipod® Helps Father with Type 2 Diabetes Overcome Fear of Needles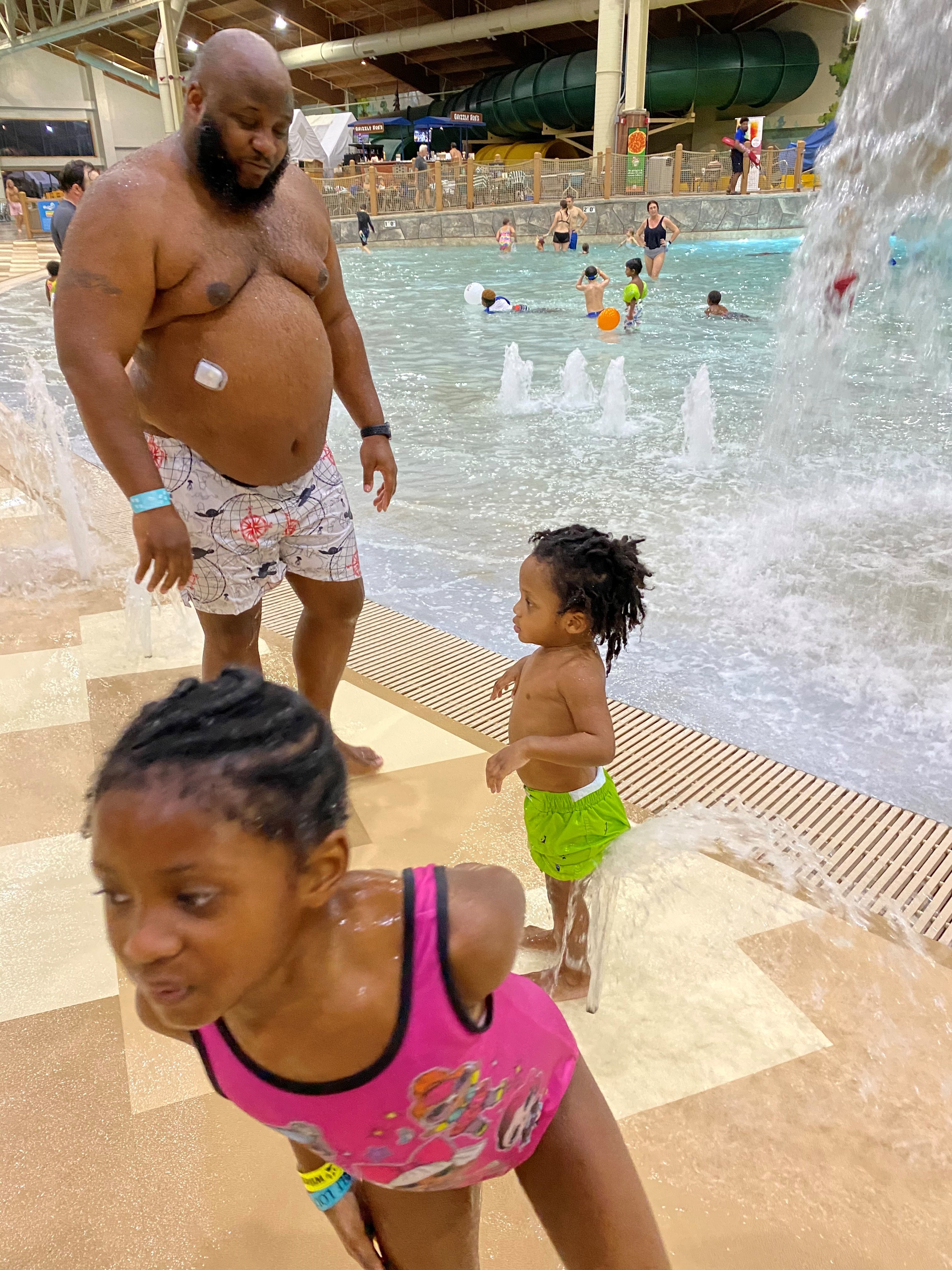 By the time Prince Blue was diagnosed with type 2 diabetes in 2016, his blood sugar was measuring at 800 mg/dL. Looking back, he realizes he hadn't been feeling well for over a year before then.
"I remember our trip to Cancun," recalls the now 38-year old retired police officer from Charlotte, NC, "and that's when the symptoms of frequent urination and tiredness were impossible to ignore."
Like many newly diagnosed patients with type 2 diabetes, Blue's healthcare team gave him a prescription for a common oral diabetes medication, a few sheets of paper on diet and exercise, and sent him home.
"Oh, that medication was awful!" says Blue. For many, the intense digestive side-effects of the oral medication were an unavoidable deterrent to taking it long enough to see benefits in his blood sugar.
"It was so bad. So bad!" he remembers. "I took it for a month, maybe, but I couldn't continue. I was a police officer and was having to take off all of my gear to use the bathroom every 10 minutes -- it was so bad."
Next, Blue tried taking Trulicity (a non-insulin weekly injectable diabetes medication), but was still struggling with very high blood sugars.
"I felt terrible, like I had the flu. My blood sugars improved a little but it was because I wasn't eating because of how terribly my stomach felt."
Starting insulin... with a fear of needles
Finally, after a year of struggling with non-insulin medications, Blue was referred to an endocrinologist who immediately suggested he begin insulin injections.
"But I don't do needles!" says Blue, whose fear of needles meant it would often take 30 to 60 minutes of trying to mentally gather the courage before every injection.
While he appreciated no longer having to endure the side-effects of metformin, his needle-phobia proved to be a significant obstacle, too.
"I started skipping my injections because I was so scared of the needles, which means my blood sugars were all over the place, especially while I was at work."
Looking at his blood sugars, Blue's endocrinologist knew something wasn't right because his blood sugars would come into a healthy range at times while also remarkably high for days on end, too.
"She said, 'What's going on? Your blood sugars are fine for a little while and then they're all over the place."
Symptoms of neuropathy were also progressing quickly, most noticeably in his fingers.
"I was only bolusing for bigger meals," explains Blue. "If I had a smaller meal, I'd tell myself I didn't really need insulin for such a small amount of food. My neuropathy went into overdrive because I was skipping insulin and my blood sugars were so high."
The pain and numbness in his fingers was so intense he was struggling to tie the laces on his sneakers. And touching something even as soft as hair felt like touching glass.
And then Blue saw an advertisement for the V-Go which delivers mealtime insulin at the click of a button (no syringes required) and basal (background) insulin.
Unfortunately, for the amount of insulin Blue needed, it became clear quite quickly that the V-Go wasn't the right fit for him.***
Simplifying Life with Bluetooth® Technology
"I noticed my endo -- who has type 1 diabetes -- was wearing a different kind of insulin device. The Omnipod® System! When she said it had 'Bluetooth technology,' I said, 'I want it now!'"
Within weeks, Blue began using the Omnipod DASH® System.
"Oh, I started feeling so good!" he recalls as his daily blood sugars came down to a safe range. "I gradually lost weight, I had more energy, and I wasn't skipping insulin for meals because it's so easy to press the buttons and dose every time I eat."
As for his fear of needles, it quickly became a non-issue.
"You only have to change it every 3 days**, and I can't even see the needle part of setting it up, so it was all good. I can swim with it*. Shower with it*. Wear it easily under my uniform. So much easier than taking shots," says Prince.
"Getting insulin when I need it…"
At first, he recalls his doctor setting him up with fairly aggressive doses of insulin to get his blood sugars down as quickly as possible, but as his blood sugar levels improved, his insulin doses also decreased.
"It was so easy to learn and to use. Everything is right there on the screen for you."
When Omnipod® came out with a touch-screen personal diabetes manager (PDM) -- instead of buttons -- Blue's ability to dose insulin became even easier. The difficulty he'd been having with buttons due to his neuropathy was no longer an issue.
"It feels like Omnipod® does 80 percent of the job for me because my biggest challenge was getting insulin when I eat," says Blue. "It calculates my meal doses, my correction doses, and I love that little food library of nutrition information."
While many with type 2 diabetes might fear taking insulin, or hesitate to take insulin via a device that is attached to you all the time, Blue says everyone should try it.
"I was at the swimming pool with my daughter the other day and a woman wearing a tubed insulin pump came up to me and asked about my Pod," recalls Blue. "When I told her it was a tubeless pump, she was so excited."
Today, Blue is working towards obtaining a master's in criminal justice with a focus on financial fraud. He's also getting a master's in sports management, hoping to someday combine both and help professional athletes better protect and manage their money. Along with being a devoted father, he's also found a little time to create episodes of his podcast, "Real Time with Prince Blue."
Most importantly, today Blue feels good.
"I need insulin, I know that now," says Blue.
Nobody has to do this alone -- join the Pod Squad to connect with fellow Podders who know what life with diabetes is all about!