7 Things to Love about the Omnipod DASH™ System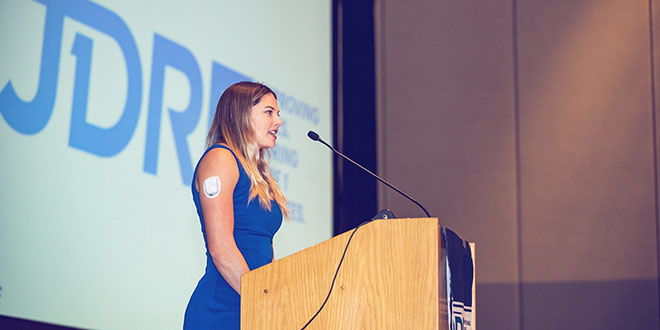 It was a dream come true when in 2012 I switched from a tubed pump to the Omnipod® System. I had spent years having to remove my pump while competing in track and field competitions and I would end up leaving the competitions with my blood sugars in the 300s. When I made the switch, it literally felt like a weight was being lifted off of my shoulders. For the first time since I was diagnosed in 2007, I was able to compete stress-free.
I felt similarly when I tried the Omnipod DASH System for the first time; I am 23 now, but it brought me back to the day I first tried the Omnipod System. When I think of DASH, I think of freedom and I think of living stress-free.
Here is what I love so much about the Omnipod DASH System:
1. The PDM looks like a Smartphone!
Now when you are using your PDM, it looks like you are just using a Smartphone to send a text- no more questions asked from others about what that device is/does.
2. Easier to fit into your bag or pocket
If you're like me, it seems like every time you go out the door you need to bring a million things. Sometimes I found it hard to fit everything into one bag, but I was so happy when I found that my new PDM barely took up any room in my bag. Or if you want to keep it even closer to you, it fits into your pocket just like a Smartphone!
3. CalorieKing and the food library are GAME-CHANGERS
This is my absolute favorite thing about the Omnipod DASH System. Now you don't have to go to nutrition labels and add up all of your carbs for a meal over and over. All you have to do is search the food and add it to your food library! You can even add custom foods and meals that already have all of your carbs listed for you.
4. No more batteries!
Before the Omnipod DASH System, I ALWAYS forgot to carry batteries with me or even have the right kind in the house. Several times I found myself having to go to the store to buy more at the last second, which was not always convenient. With DASH, I now just carry the charger in my purse so that I can either charge it at home or on the go if needed.
5. Precise carb ratios
When you're talking about your health and wellbeing, the amount of insulin being delivered into your body matters. Sometimes even the smallest change can cause your blood sugar to go too high or low. I was SO happy when I saw that DASH has precise IC ratios. For example, now instead of just delivering 1.50 units of insulin after a snack, you can deliver 1.25 or 1.60, etc. Even the smallest change makes a difference!
6. No integrated blood sugar monitor
Now with DASH, you can use the CONTOUR NEXT ONE blood glucose meter to manually check your blood sugar. After checking, it syncs via Bluetooth right to the Omnipod DASH System! Or, if you have a CGM like me, you can just enter your blood sugar into your PDM and it will calculate your correction for you.
7. The Omnipod DISPLAY™ App
You can now view all of your PDM information on your smartphone by using the Omnipod DISPLAY App! You can even use the find my PDM if you happen to lose it, which I honestly think is one of the best things about DASH.
I am a big fan of the Omnipod DASH System for this reason: it makes life easier. As a type one diabetic, that is all I could want.