5 Marathoners Take On NYC With Diabetes And The Omnipod System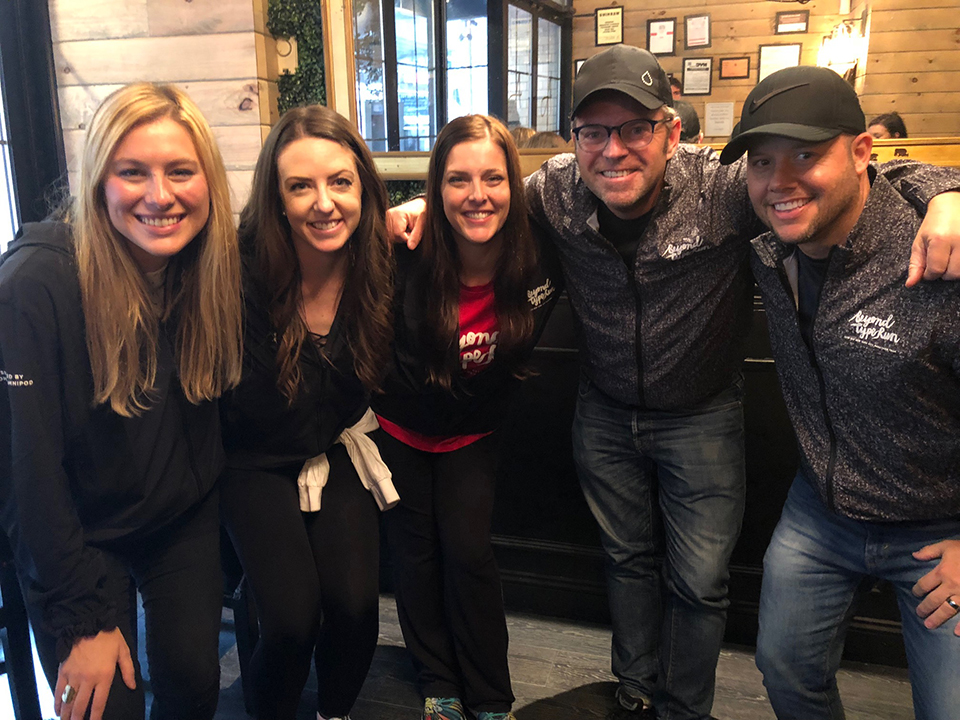 Less than 24 hours before embarking upon her first full marathon, 32-year-old Podder™ Torrey McKnight was nervous, but excited to show the world, and herself, that diabetes didn't have to keep her from pursuing her dreams.
"We all have something," said Torrey, at brunch with her Beyond Type Run teammates and sponsors from Insulet and Dexcom. "No matter what you're going through, if there is something you want to do, you should do it."
And so she did. On Sunday afternoon, the Los Angeles runner and nurse passed through Charity Corner at mile 23, on her way into Central Park to cross the Finish Line of the TCS New York City Marathon. As our group of Beyond Type Run supporters shouted loudly from behind the barricade, she looked up quickly when she heard her name – but nothing was stopping her. Torrey was on a mission to finish 26.2 miles, with her Omnipod Insulin Management System along for the ride.
As a co-sponsor of the Beyond Type Run team (a team of 21 adults, all living with type 1 diabetes, running for the non-profit advocacy organization, Beyond Type 1), a small group of us from Insulet spent the weekend in New York, meeting and supporting these incredible members of the diabetes community. We loved meeting the five American runners who use the Omnipod System and hearing first-hand, their reasons for running NYC for Beyond Type 1.
Megan and Gary: Sharing More of Themselves, For the Benefit of Others
Megan Hanson is both a Podder™ herself, and a caregiver of two young twin boys who also use the Omnipod System.
"When I was growing up, I never told anyone I had type 1. I was very quiet about it, because I didn't want to be different. It wasn't until my boys were diagnosed at 12 and 14 months old, that I started getting involved. I wanted it to be different for them."
In addition to being more involved with the diabetes community, Megan also started running after her twins' diagnoses. She made the decision to stay home with them to manage their diabetes, and running was the easiest way to incorporate fitness into her hectic schedule at home with the boys and their two brothers.
"Once I started, I couldn't believe I was capable of running, and managing my blood sugar, and testing…all that stuff that I thought would be too hard," said Megan.
Megan went on to run several half-marathons, and was hooked. When the opportunity to join the Beyond Type Run team to run a full marathon came up earlier this year, she knew she wanted to do it – for her boys.
"I thought it would be the best way to show the boys they are capable of anything," said Megan.
Gary Pilkington also once kept his diabetes to himself, so much so that some of his long-time co-workers didn't even know about his condition. But with a full marathon on his bucket list, and the Beyond Type Run team by his side, Gary has taken the opportunity to share his story, in hopes that it might help someone else struggling to come to terms with their diabetes.
"I've done a lot of research studies, but not much on social media. I've been resistant to sharing anything about my journey with type 1," said Gary, who lives in Las Vegas Nevada and got up at 3AM for his Saturday long runs to acclimate to the time change in New York. "This was an opportunity to come out of my shell, so that maybe it will help others who may feel alone."
Omnipod Gets Dave and Emily Back on the Road
Dave Holmes, captain of the Beyond Type Run team, was the only Podder™ who had completed a marathon before. However, it was before he was diagnosed with type 1 diabetes, and it was this diagnosis that made him stop running for a time, because it was too difficult to manage his blood sugar.
"I couldn't do a lot of long-distance running when I was on shots, because I would have to change my basal rate the night before," said Dave. "It was a lot to think about."
Since Dave started learning from other runners with Type 1 and using the Omnipod System, he's come back to running and was thrilled to return to NYC for his second marathon.
"One of the things I love about the Omnipod System, is I can change my basal rate an hour before my run. I can also make tiny little adjustments, like giving myself 0.1 units (of insulin), that keep me nice and stable."
Emily Trantum was diagnosed at age 30 just two years ago, and also credits the Omnipod System with getting her back into running. The Burlington VT resident said that Omnipod System has allowed her to really push the limits of her running.
"Before, when I was on pens, I was so sensitive to the insulin, I would constantly have lows," she said. "I could only run 2-3 miles without crashing."
Since Emily switched to the Omnipod System, she's been able to tailor her insulin delivery more precisely, to accommodate her activity level when she knows she won't need as much insulin on board.
"It's been a game changer for me. I'm very happy with the Omnipod System."
All five Podders™ finished the NYC Marathon, and we could not be more proud. Congratulations to Emily, Gary, Dave, Megan and Torrey – our U.S. Podder™ Beyond Type Runners! Thank you for sharing your incredible journey with our community. You've taught us all that anything is possible with diabetes, it just takes a bit more planning.