Four Podders™, One Family: Honoring Caitlin Lang On Mother's Day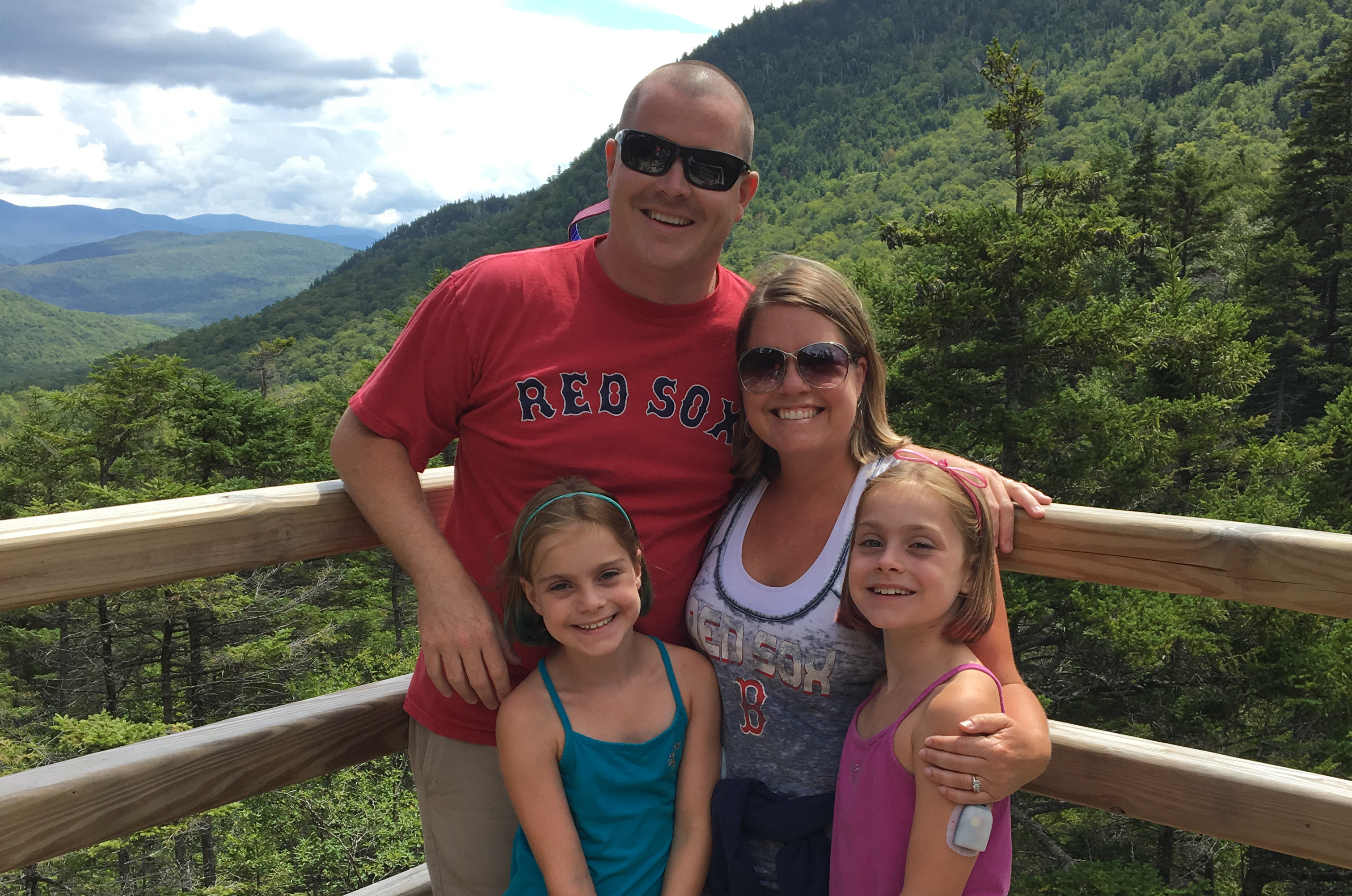 Caitlin's T1D Story
Patients, Partners, Caregivers, Supporters… we all have our challenges and celebrations. But Caitlin is a superhero with a wardrobe full of capes. Diagnosed at age 10, she and her parents knew nothing about T1D and had no family history. But her parents learned everything they needed to know, and she grew up ice skating competitively and living as normal a life as possible.
Fast forward to 2010… Caitlin was an adult, married to Kevin, with twin infant girls, Addison and Kayley. While Kevin had been diagnosed with Type 2 diabetes three years earlier, suddenly, he was showing signs of Type 1, and Caitlin suggested he see his doctor for another evaluation. Sure enough, Kevin was misdiagnosed originally, and was sent home with the news he had T1D, just like Caitlin.
"He was afraid of needles, but I helped him get used to it," said Caitlin of Kevin's initial response to his type 1 diabetes diagnosis.
About four years later, on their kids' fifth birthday, Caitlin noticed Addison was drinking a lot of juice throughout the day, and later that night, was up several times using the bathroom and complaining of thirst. Knowing these were clear signs of T1D, Caitlin checked her blood sugar and it was 400. She knew her daughter had T1D as well.
"At first, our local hospital sent us home because her blood sugar had come down and they would only do a urine test. But as diabetics, we knew what was happening," she said. "We had blood work done at our pediatrician's office and when the results came back, we went immediately to Children's. We caught it very early, and we knew all about diabetes and how to take care of Addison."
Six months later, Addison's twin sister began showing similar signs of T1D, and just as Caitlin and Kevin suspected, Kayley was diagnosed as well.
"I cried," said Caitlin, knowing that genetics plays a role in the likelihood of developing type 1 diabetes. "Both Kevin and I felt awful that we had given this to our children."
Super Mom and Super Family Fighting T1D Together
Living with T1D while supporting her spouse and caring for two children who also have diabetes means Caitlin is on "diabetes duty" 24/7, times four.
"I never really have a day off," she says. "It's a constant job that won't ever let me take a break."
Caitlin says the best thing about her family sharing this chronic illness is that they all understand what one another goes through when it comes to managing type 1 diabetes, whether it's the feeling of a low blood sugar that won't come up, or the pain of a site change, or the nuisance of stopping to check glucose levels.
"We learn from one another, and we are able to teach and support one another. It's our life, it's our family!"
While Caitlin is remarkably positive, she does admit there is one major hardship that comes with having a family of four with diabetes.
"Having to afford our closet full of diabetes supplies and insulin," she says. "Insurance helps, but it's not enough. We need to make these things our #1 priority when it comes to paying our bills."
The Omnipod® System Works for the Whole Family
Caitlin, Kevin, Addison and Kayley all use the Omnipod® Insulin Management System, but they didn't all start at the same time. Caitlin began using it back in 2008 after years of resisting insulin pump therapy. She said that it was her and Kevin's desire to have children, and her doctor's recommendation, that changed her mind.
"She told me I would be in better control during my pregnancy, and she was right! I delivered healthy identical twin girls, thanks to being on the pump." She added it was the tubeless feature that made her opt for the Omnipod® System over other brands, and when Kevin was diagnosed and decided to use an insulin pump also, he chose the same system because of Caitlin's satisfaction and success with managing her diabetes.
While Kayley and Addision initially used a competitor's pump due to their age, size and very low basal rate requirements, after a few years their parents switched them to the Omnipod® Insulin Management System because of its tubeless feature and its ability to stay connected during sports and water exposure.
"The girls are big ice skaters, and they love to swim too," she said, recalling how with their previous insulin pump, they would disconnect and go at least a couple of hours without insulin, resulting in "skyrocketing" blood sugar levels. "Being on the Omnipod® meant they would always be connected and their sugars would stay at a more steady level."
Today, Caitlin says her girls enjoy wearing the Pod more than their previous pump because at nine years old, they feel more stylish and comfortable not wearing something clipped to their clothing.
Working Hard for a Future Without Diabetes
As if this family didn't have enough to do, managing diabetes for four every day, the Langs have dedicated themselves to supporting type 1 diabetes research through JDRF, including participating in their local chapter walk each fall, and hosting their own annual golf tournament every summer. The Four of a Kind Golf Tournament began the year after Kayley and Addison were diagnosed and gets bigger and raises more money every year. This year, they will work extra hard to exceed their fundraising goals in honor of Caitlin's dad Frank Marino, who passed away earlier this year.
"He was a dedicated and hard-working man who fought hard to find a cure for me, my husband and his two beautiful granddaughters. We will honor his memory by continuing to fundraise for my family and all those who have T1D, until there is a cure."
The tournament is held at Southers Marsh Golf Club in Plymouth, Massachusetts and attracts people from all over the state to play golf or join the Langs for dinner and a raffle. In 2018, they raised almost $13,000.
A Mother's Inspiration as a T1D Patient and Caregiver
Caitlin Lang is an inspiration to all who have or care for someone with type 1 diabetes. Having diabetes herself, she says, makes her a better caregiver and support system for her husband and daughters because she understands what they have to go through to stay healthy.
But it is her family who inspires her most, she says.
"My family inspires me every day with their dedication, bravery, and most of all, their love and support for one another."
Her one wish for her family's future with T1D is that Kayley and Addison will see a cure in their lifetime.
-Amy Bevan