How Meal Planning Can Help People Living With Diabetes
How Meal Planning Can Help People Living With Diabetes
Written by Susan Weiner, MS, RDN, CDN, CDCES ,FADCES
Trying to figure out what to eat when you live with diabetes can be a challenge! You may have received nutrition education and guidance from your health care team, certified diabetes care and education specialist (CDCES) or well-informed diabetes peer-support group. However, you may also be bombarded with an endless supply of nutrition information which could be mis-information online, or perhaps you are receiving unsolicited meal-planning advice from well-meaning family and friends.  
There is no one-size-fits all meal plan for everyone who is living with diabetes. The good news is that a personalized and individualized meal plan can serve as your guide for food selection.  
Monitoring your carbohydrate intake and eating a nutrient dense diet packed with fiber, protein, vitamins and minerals, can help improve your blood glucose levels. This will boost your energy and help you maintain a healthy weight.  Meal plans should consider your health goals including heart health and time spent in target blood glucose range, culinary preferences, cultural traditions and food access.  
Meal Planning Methods for People Living with Diabetes
There are several meal planning methods that can help you improve your overall health, blood glucose levels and guide your food choices. No matter which meal plan you select, try to incorporate these helpful nutrition suggestions every day: 
Include more green leafy and colorful vegetables which are "non-starchy" or naturally lower in carbohydrate 

Minimize added sugars and refined grains such as white flour foods, sweets and sugary drinks 
Choose whole foods over processed  
Here are a few meal plans to choose from:  
The Plate Method
The diabetes plate method is a simple way to guide you to fill your plate with low-carbohydrate, non-starchy vegetables and lean protein while keeping the amount of carbohydrate you consume to a moderate amount. Since carbohydrate containing foods raise your blood glucose levels, this is a great way to plan your meals.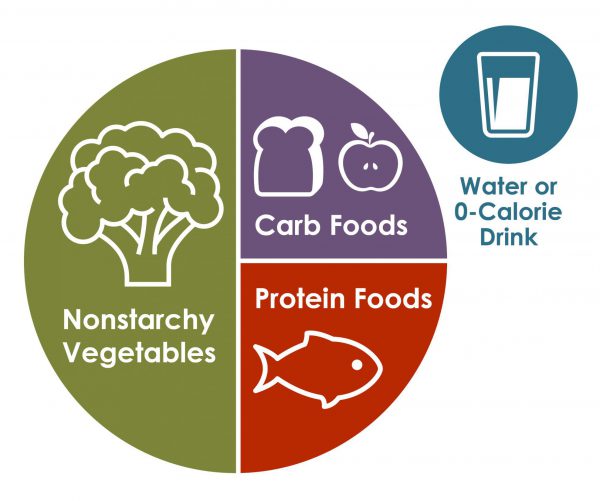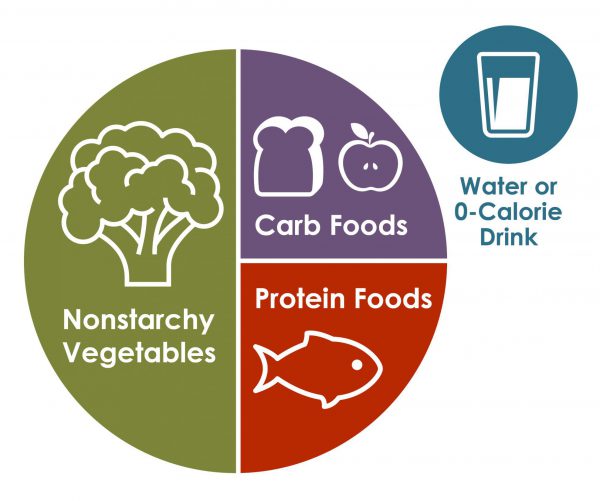 Source: Centers for Disease Control and Prevention (3)
Try to use a 9-inch dinner plate. If you use an oversized plate, you may eat more food than you need.  
Fill half your plate with non-starchy vegetables. 
These veggies are high in fiber, vitamins and minerals and naturally low in carbohydrates. They include lettuce greens, spinach, asparagus, broccoli, carrots, and tomatoes.   

Fill one quarter of your plate with lean protein foods. 
Protein foods do not contain any carbohydrate and therefore have minimal impact on your blood glucose.  Choose chicken, fish, lean meat, eggs, and cheese. For plant-based diets, try tofu or tempeh. 

Carbohydrate containing foods should be limited to one-quarter of your plate.
Whole grains such as whole-grain bread or pasta and brown rice have more fiber, vitamins, and minerals than white flour foods. Other great choices are starchy vegetables (potatoes, corn, and peas), beans/legumes, fruit, yogurt, or milk. 

Choose water as your beverage.
Water is the best choice because it contains no calories or carbohydrates and has no effect on blood glucose. Other zero or low-calorie drink options include: unsweetened tea or coffee (hot or iced), sparkling water, and seltzer water.  
Reduced Carbohydrate Eating Plan
If you are trying to reduce your carbohydrate intake, choose foods that have a minimal effect of raising blood glucose levels such as proteins, non-starchy vegetables and healthy fats, while incorporating some of your favorite foods in a low-carb form. For example, instead of eating traditional pasta, try spiralized zucchini noodles or spaghetti squash. Try cauliflower rice instead of regular rice. These are easy and delicious choices! 
Here are some foods with a lower carbohydrate content that you may consider including daily:  
Non-starchy vegetables: These are naturally very low in carbohydrate and calories.  Feel free to fill up on these foods.  Examples include salad greens, broccoli, cauliflower, cucumber, carrots, cabbage, onion, tomato, zucchini, spaghetti squash, asparagus, and mushrooms. 

Protein: lean meat, poultry, fish, shellfish, eggs, canned tuna or sardines, cheese, nuts, seeds, edamame, tofu 

Fat: nuts, seeds, oils, avocado 
Smaller amounts of fresh fruit, beans/legumes, and dairy: These healthy food choices are higher in carbohydrate.  If you are trying to reduce your carbohydrate intake, choose smaller amounts of these foods.  
Limit these foods that can be higher in carbohydrate:   
Grains (e.g. wheat, rice, oatmeal) and foods made from their flours (e.g. bread, pasta, crackers) 

Starchy vegetables: Corn, peas, potatoes and winter squash (acorn, butternut) 

Sweets/Desserts  
Sugar sweetened beverages and soda  
If you are a person living with diabetes and are considering following a low or very low carbohydrate diet, it's important to discuss this with your health care team, as you may need to adjust certain medications (i.e., insulin, sulfonylureas and meglitinides) to reduce the risk of hypoglycemia (low blood glucose).1  
Counting Carbohydrates
Counting carbohydrate grams may help you plan your meals and manage your blood glucose levels. Understanding carbohydrate counting is useful if you take mealtime insulin and plan your meals using an insulin to carbohydrate ratio. When counting carbohydrates, it's essential to understand and read food labels, which list total carbohydrate grams, fiber grams and other nutrition information per serving. Understanding food servings (and portion management) is necessary in order to properly count carbohydrate grams for your meals and snacks.  
Along with your health care team, you can determine how many grams of carbohydrate are recommended for your meals and snacks. Start to familiarize yourself with which foods contain carbohydrates and the serving sizes.  
There are a number of apps and resources available to help you count carbohydrates (MyFitnessPal, Carb Manager, MyPlate: Calorie and Carb Counting, Calorie King). For more information on carbohydrate counting, common carbohydrate containing foods, and a sample carbohydrate counting template, check out our Carbohydrate Counting Guide.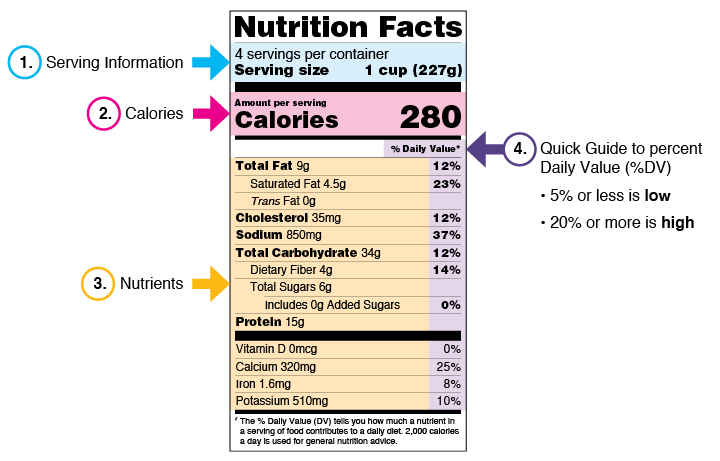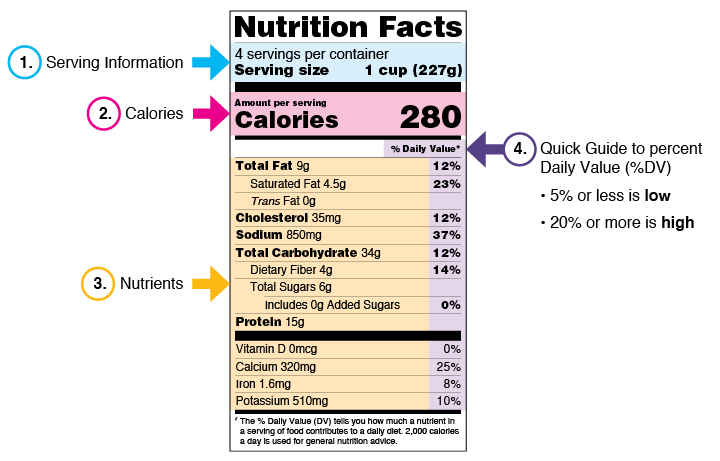 Source: https://www.fda.gov/food/new-nutrition-facts-label/how-understand-and-use-nutrition-facts-label
Plant-Based Meal Plan
A plant-based meal plan includes whole grains, legumes (beans, lentils, peas), fruits, vegetables, nuts and seeds. It is higher in carbohydrates than many other meal plans, and is also rich in fiber, vitamins and minerals.  
A vegan meal plan excludes all animal products and includes grains, legumes, fruits, vegetable, seeds, nuts and nut butters.  A vegetarian meal plan may add egg (ovo-vegetarian) or dairy (lacto-vegetarian) or fish (pescatarian) foods.  
The potential benefits of following a vegetarian meal plan include: reduced risk of diabetes, hemoglobin A1C reduction, weight loss and lowering of low-density lipoprotein cholesterol (LDL-C).4,5
Mediterranean Diet Meal Plan 
A Mediterranean eating plan includes foods from countries that are located around the Mediterranean Sea and suggests traditional foods from that region.  
This meal plan includes minimally processed whole grains, fruits, vegetables, legumes, herbs, spices, nuts, seeds and extra virgin olive oil. It also includes fish, beans and seeds along with some poultry and meat. Wine can be included while red meat and sugary desserts are limited. 
The potential benefits of the Mediterranean diet include: reduced risk of developing diabetes, A1C reduction, lowered triglycerides and reduced risk of heart disease.5 
Meal Planning Tips
Whether you choose a reduced carbohydrate, plant-based, or Mediterranean style of eating, here are some nutrition tips, tools and meal-prep techniques you can use when you plan meals.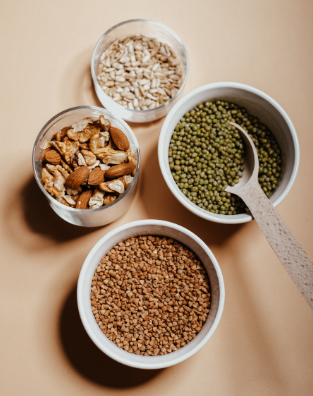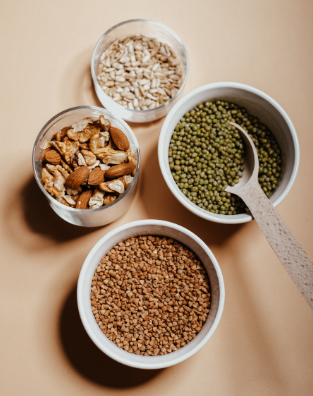 Include high fiber foods
Fiber may help to reduce cholesterol levels, improve blood glucose levels, help you feel full longer, lower your risk of cardiovascular disease and improve bowel health. Women should eat 25 grams of fiber per day and men 38 grams per day. If you are currently eating a low fiber diet, increase your fiber slowly and drink plenty of water! 6,7,8 
High fiber foods include:  
Beans/legumes 

Broccoli 

Dark green leafy vegetables 

Nuts 
Include heart-healthy fats
Heart-healthy fats may lower your cholesterol while providing essential nutrients. 9  Heart-healthy fats come from plants and fatty fish.  
Some examples include:  
Olive oil 

Oil made from nuts (e.g., peanut oil) 

Nuts and nut butters (e.g., almonds, walnuts, pistachios) 

Avocado 

Seeds (e.g., pumpkin and sunflower seeds)  
Fatty fish rich in omega 3 fatty acids (e.g., salmon, mackerel, herring, lake trout, albacore tuna)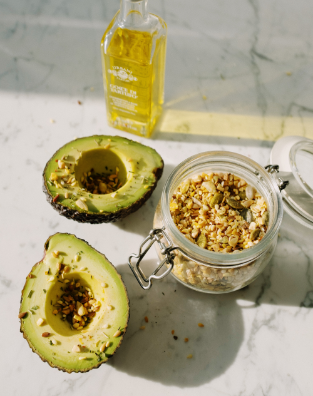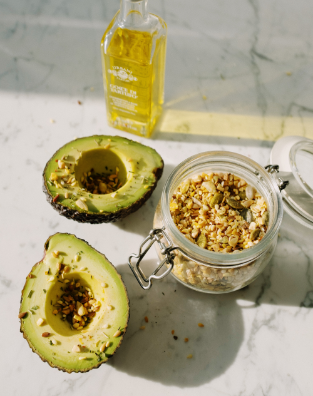 Chop and dice in advance
Try to do as much food prep work in advance for the following day. If tomorrow night's dinner requires chopped celery, onions, and grilled chicken, make sure that it's all ready to go the previous evening. Store raw meat, poultry and seafood in separate containers or tightly sealed, labeled storage bags. No need to break the bank when hunting down kitchen-organizing containers and supplies. Dollar and odd-lot type stores are a treasure trove for these items. 
Prepare enough of your favorite dish for a few nights
Freeze two portions and serve the other two on alternate nights. For example, you can have one serving on Monday and the other on Wednesday evening. The following week you can defrost your delicious creation on Tuesday and Thursday nights for dinner. Make sure to clearly mark all freezer foods with the name of the dish and the date of the preparation.  
Decide what you're going to have for breakfast and get it ready
Set the coffee or tea pot for your morning brew. Get out utensils you know you will need. Hard boil eggs for the next few days. You will shave minutes off your precious morning if you have breakfast ready to go before you go to sleep.  
Select a place for saving and storing recipes
Instead of trying to remember recipes, save them in a designated place that you can easily access. It could be a folder on your computer or in a binder in your kitchen.  
Get organized
Organize your pantry items by grouping them according to the principle of "like with like." Spices in one place. Canned items in another. Non-perishable, pre-portioned, low-carb snacks in another (for example, almonds, walnuts, sunflower seeds or seasoned tuna packets). This method will help you see everything you own and avoid duplicate purchasing.  
While it may seem like a challenge to adjust your eating habits, you don't have to do it alone! Please reach out to a registered dietitian/nutritionist (RDN) or CDCES, so you can collaborate on a healthy meal plan together. Working with an RDN/CDCES can help you develop a meal plan specific for your nutrition and health goals.  They will take into consideration your food preferences, schedule and lifestyle. While the idea of adjusting your food plan may seem a bit overwhelming at first, a healthy eating plan may reduce or prevent medical complications down the road.