Podding All the Way! Christmas In New York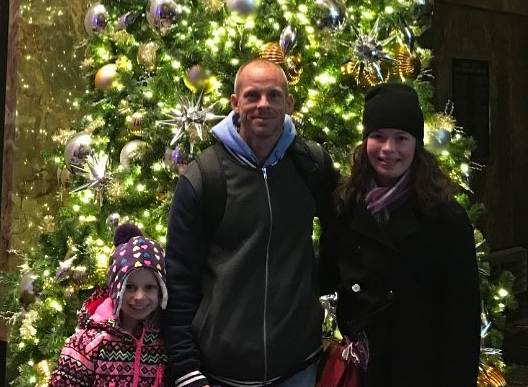 So as we came to the end of the year, I had an internal dilemma: what do I get my daughters for Christmas? As they've gotten older, I've been more deliberate about creating memories with them instead of simply buying things that can be disposed of after the novelty wears off. After much discussion and review of my finances, I decided I would plan a trip to New York City to take in the sights and sounds of Christmas. With that, as always, the focus on my health had to be a priority. Planning a daily routine in your normal habitat is one thing; doing so in a totally different environment is another animal altogether. Packing extra Pods, having insulin and test strips, planning meals at weird times due to tourist issues—all those things had to be addressed. If I'm 500 miles away, walking into a drug store to get my equipment would not be the same as my local pharmacy at home. But I knew it would be worth it, and my daughters (thankfully) are very good travelers with a keen knowledge of when my glucose level drops. So I bought the plane tickets, and set the wheels of our trip in motion.
After landing in New York and finding our place to stay, we dropped our bags and headed into Times Square, immediately caught up in the spectacle of the big city with the lights, sounds and people everywhere. I brought my trusted black backpack filled with an extra Pod, my T1D supplies, orange juice and CLIF Bars, in addition to my regular things. We found a food court that served dinner quickly, allowed me to check my blood glucose level and eat a satisfying meal. I made sure not to bolus since I would be walking a lot, and it would only cause the blood glucose level to decrease.
The next day, we were up early for a full day, touring the Empire State Building, Intrepid Space Museum, 9/11 Memorial, and the Statue of Liberty. Again, I was packed for the day, and made sure to eat more carbs than normal since I would be walking a lot. It was also important not to become hypoglycemic with the girls; on these occasions, rare as they are, I tend to let my blood glucose levels run to 180 if needed so I can keep a steady base. It worked well as we went to and from sites, not having to stop to refuel, and my blood glucose levels stayed in their desired range.
On the final day, we had a more relaxed outing, touring the Museum of Modern Art and walking in Central Park before heading home. On this day, I ate a little less and bolused more since the pace was much less active. It all came together beautifully, with no extreme highs or lows. As we boarded the plane to head home, I relaxed with a sense of joy of the great time we had, and that my health was not an obstruction.
Happy Holidays!