Joy in Maui: Running 50 Marathons With Diabetes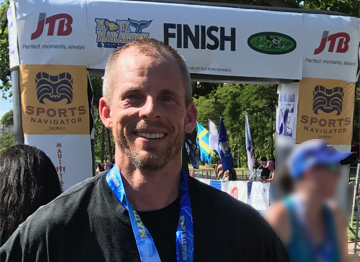 Have you ever felt pure joy? Something that radiates from your inner being and throughout your body until you feel like your skin is dancing? Something that plants a permanent smile across your face that can't be removed no matter what? Adults tend to lose that sensation. We become conditioned not to show too much emotion or be viewed as silly or childish, so we push it down and rely on those "mature" responses. I'm no different. I've been known not to show a lot of emotion, to be reserved. But there are times when you have to discard that self-consciousness and just play, have fun and celebrate.
For those who've been reading my blog posts, I've talked about running a marathon in all 50 states with Type 1 Diabetes. It's a journey I began in 2000 and labored to complete despite the trials and tribulations that come with this life-threatening disease. On October 13, 2017, I boarded a plan that touched down in Maui, Hawaii thirteen hours later, ready to tackle my last race. After checking into my airBNB home and attending the race expo the next day, I settled in for a good night's sleep, ready for this last run.
On October 15, I woke up excited. Yes, it would be a warm race, yes there would be challenges, no I was not taking anything for granted. But I was happy. As a diabetic, I have to weigh the risks of everything I do in life, analyzing how will it impact my day-to-day health. Life becomes a series of practical decisions, removing joy from my day. Running was something that always required those decisions, but it always provided me with joy, which motivated me to make those decisions. October 15 was no different, but there was an extra level of anticipation that came with it ̶ that incredible sense of realizing your dream, and the chance to play, have fun and celebrate. And for 26.2 miles, I did just that, moved to tears many times during the course of the race as thoughts of previous marathons, training runs, and life events entered my mind. There were constant reminders along the way about how far I've come, literally and figuratively.
The race began at 5 am in the dark to beat the Hawaiian heat, running all the way to the resort town of Lahaina on the western coast of Maui. I ran with a couple from Portland, Oregon who were there to run a marathon and enjoy the beautiful island like we all were. I enjoyed conversation with them until mile 20, when the sun rose overhead and the island heat permeated the air. I felt good despite being sweaty and tired, emboldened by the proximity of the finish line. Only six miles to go. I shuffled on, passing sleepy tourists and exhausted fellow runners, pointed straight to the finish line. Winding through those last few miles, I reached the 26 mile marker and stopped, gathering my breath and choking back tears.
Then the joy came.
I don't think my feet ever hit the ground those last 200 yards until I crossed the finish line, flush with fatigue and a huge smile painted across my face. My Omnipod held up well, despite running for so long in the heat, and my glucose levels stayed in check throughout the race. All in all, a tremendous cause for thanks and that feeling of pure joy, which elicited just one word from my exhausted brain and body...
"YES!"
(I think that says it all.)