The freedom to live your life with less interruptions.
First, let's unpack pump therapy
Put simply, insulin pumps continuously deliver short acting insulin. They do this by inserting a small cannula into your subcutaneous tissue. This cannula constantly infuses precise amounts of basal insulin as well as your bolus insulin when needed. This constant infusion reduces the need for multiple daily insulin injections and may simplify your diabetes management1.
There are two types of insulin pumps: tubed pumps or patch pumps, such as the Omnipod DASH® System.
Patch pumps
A patch pump, such as the Omnipod DASH® System has no tubing and is applied directly onto the skin and will need to be changed every 3 days**2. The cannula is automatically inserted into the subcutaneous tissue at the push of a button on a hand held device.3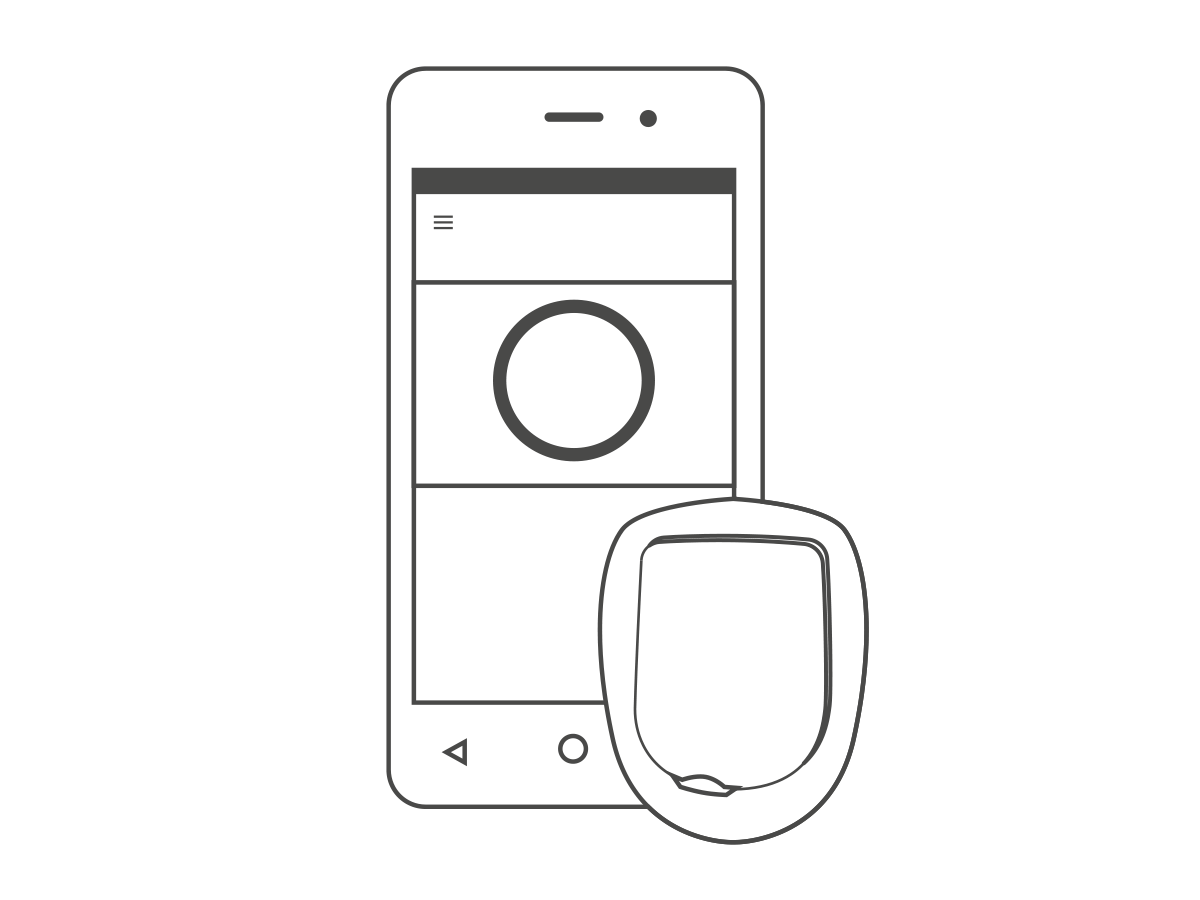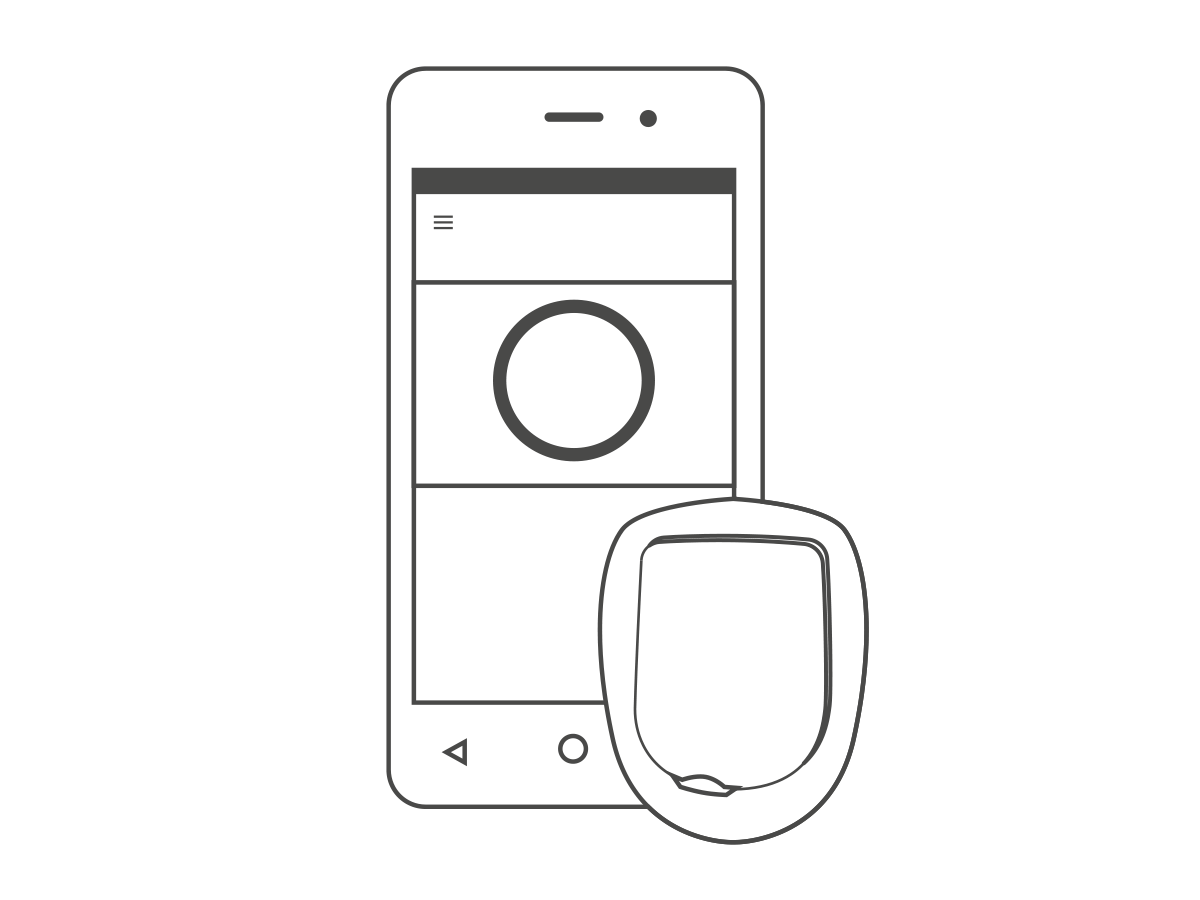 Omnipod DASH® System
Tubed pumps
On tubed pumps, the cannula is connected to the pump with a tube. The insulin is then pumped into your subcutaneous tissue though the cannula. These pumps are usually clipped onto a belt or placed in a pocket.3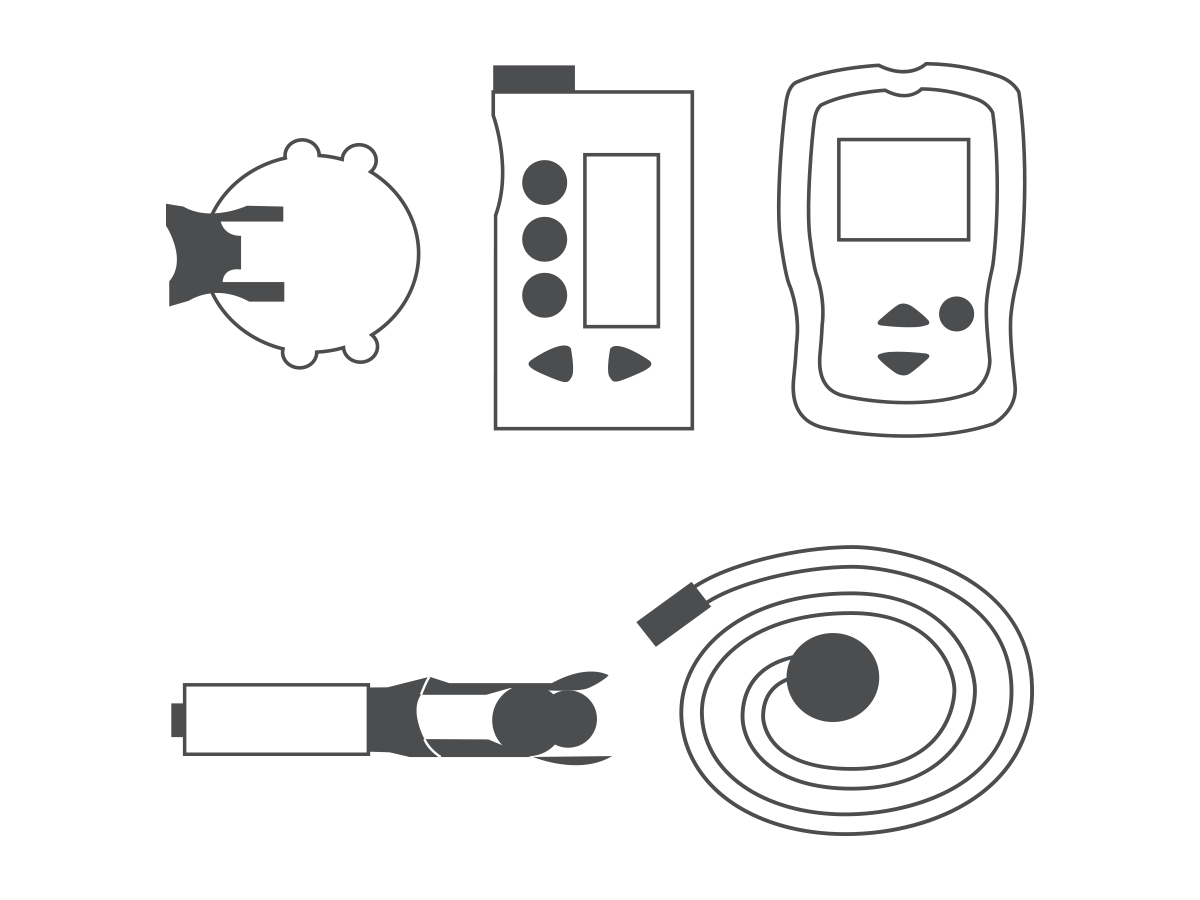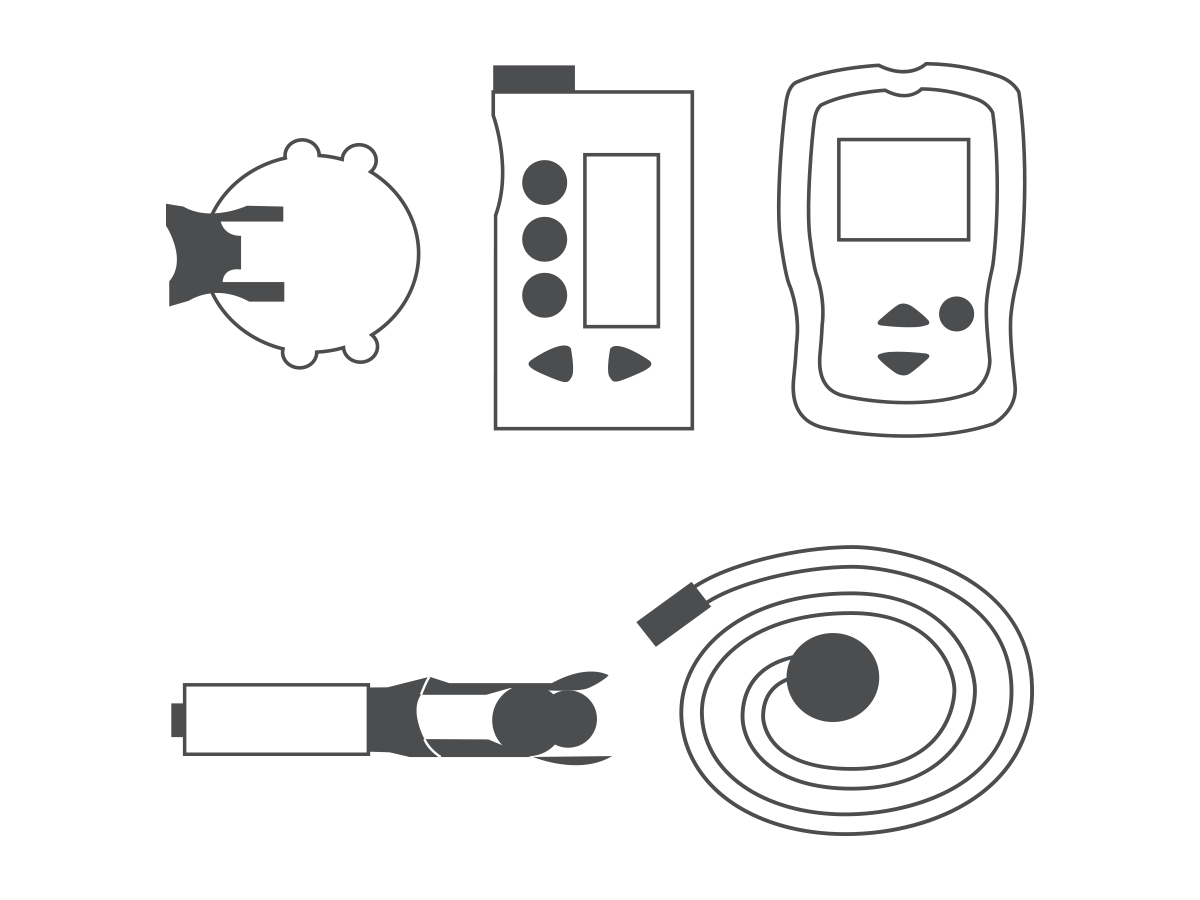 Tubed pumps
"It`s the freedom I get from being on a tubeless pump."
– Khalid
Omnipod® Brand Ambassador
Here's a quick breakdown of the Omnipod DASH® System and its main components
A Tubeless, Waterproof***
Pod Free yourself from daily insulin injections, tubing hassles and wardrobe compromises.
A Touch-Screen Personal Diabetes Manager (PDM)
Discreet insulin delivery with a few finger taps.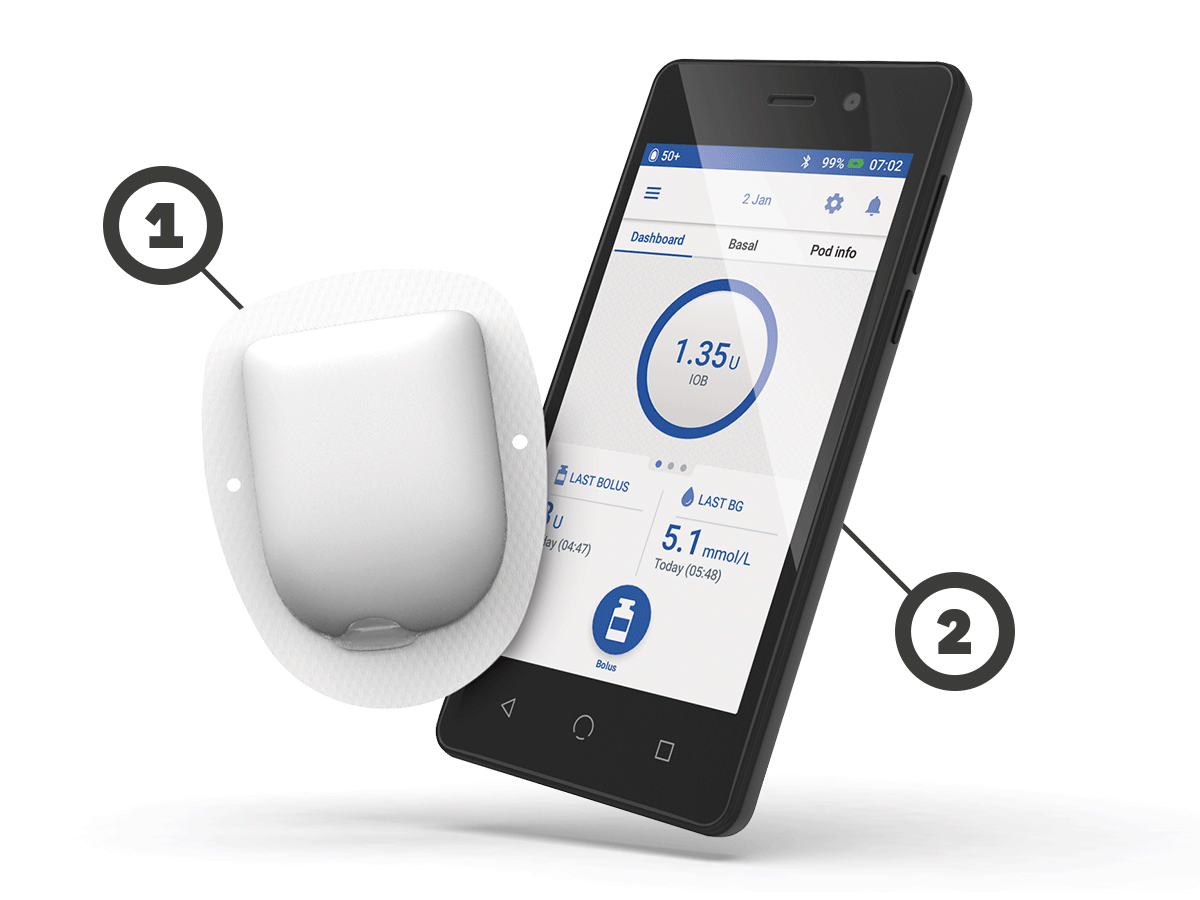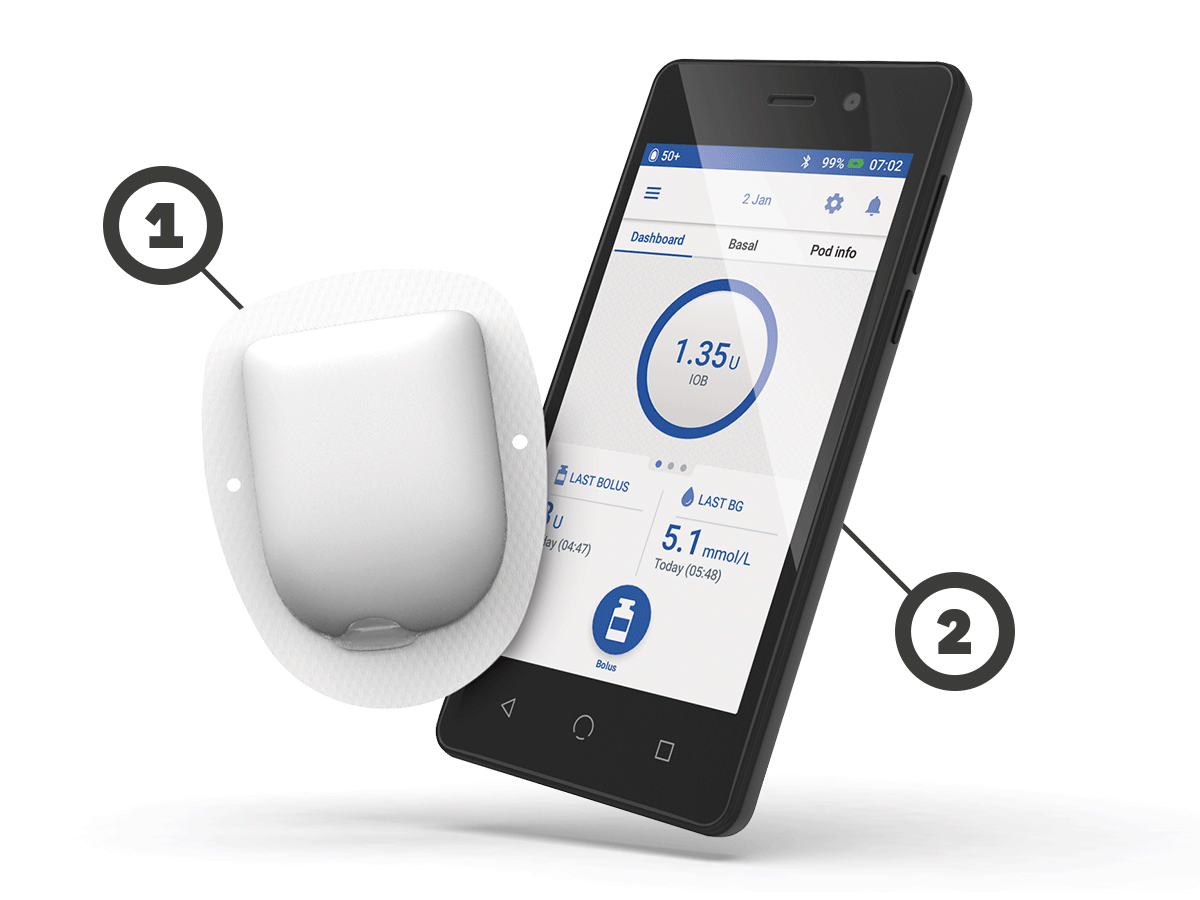 How do I know if choosing a pump is the right choice for me?
Consulting with your healthcare provider about the suitability of pump and Pod Therapy for your diabetes management could be the first step towards simplifying your diabetes management.

With Pod and pump therapy you may benefit from:
Personalized and adjustable basal rates4
Alerts when the reservoir is low on insulin
Correcting high blood glucose levels after meals or snacks
through manual bolus4
Improved quality of life5
Reduced diabetes distress5
***The Pod has a waterproof IP28 rating for up to 7.6 metres for 60 minutes. The PDM is not waterproof.
"The first time I had the Pod on I couldn't stop dancing …"
– Myrthe
Omnipod® Brand Ambassador
What are my next steps?

Always consult your healthcare provider on the suitability of pump or Pod Therapy to manage your diabetes. When discussing with your healthcare provider, it is important that you speak about your unique lifestyle needs.

For example, if you are very active, you might benefit from using a Pod as there is no need to disconnect your Pod when you are taking a shower, or going for a swim, which can result in a disruption in insulin delivery6.

The Omnipod DASH® System may help simplify your diabetes management. The Pod's automated cannula insertion is virtually pain-free, allowing you to deliver precise amounts of insulin 24 hours a day.

The Omnipod DASH® System may also help to simplify your day-to-day life by letting you easily calculate your bolus through the bolus calculator1, reducing the need for mealtime math. The intuitive interface of the Personal Diabetes Manager (PDM)1 was developed in conjunction with real-life Podders™ to make it as simple and intuitive as possible.
Considering the Omnipod DASH® System
Sign up to one of our live demos with an Omnipod® representative to find out more about the Omnipod DASH® System.  
You can experience freedom and continue to do the things you love most.


Here's what actual Omnipod DASH® System users have to say
"My favourite thing is it's tubeless but also it's so discreet. It's made diabetes less of a chore."

Jade, Omnipod DASH® System user
Past commercial relationship
Speak to your healthcare professional about insulin pump or Pod Therapy as a possible treatment option for your diabetes management. On the next page you will find some helpful tips on how to make the most out of your appointment.
Order your Pod Experience Kit*
*Needle-free, non-functioning sample Pod.
How to make the most out of your doctor's appointment
Speaking to your healthcare provider about pump or Pod Therapy can be a new experience. Here are a few tips that may help get the conversation started.
Plan Ahead
Share your interest in pump or Pod Therapy with your healthcare provider and prepare any questions you may have about your treatment options.
Logging
Keep a log sheet with detailed records of your insulin doses and carb intake for a few weeks before your appointment. This can be helpful when talking about your diabetes management and treatment options.
It can also help you to identify and demonstrate any issues you may be experiencing with your current diabetes treatment with your healthcare provider or nurse.
Plan the Agenda
As you review your logbook, you may see some challenges you have experienced when trying to manage your blood glucose levels on a daily basis. (Eg, sports, sleep, or unpredictable schedules)
The next steps is to define the agenda for the meeting. So keep a few questions in mind to ask your healthcare provider or nurse as this will be the perfect opportunity to do so.
In the meantime, you can order your free non-functioning sample Pod* and try wearing it yourself to see how small and discrete it actually is.
1: Argent - US Consumer Survey. Data on fi le. Jan 2018.
2: Ly TT, et al.. J Diabetes Sci Technol. 2019;13(1):20-26.
3: Juvenile diabetes research foundation. Insulin pump therapy.
https://jdrf.org.uk/information-support/treatments-technologies/insulin-pump-therapy/. Accessed April 19, 2021.
4: Omnipod DASH® System [Resource Guide]. 2020.
5: Polonsky WH, et al. Diabetes Technology & Therapeutics. 2016;18(10):664-670.
6: Zisser, H. MD. 2008 by the American Diabetes Association. Quantifying the Impact of Short-Interval
Interruption of Insulin-Pump Infusion Sets on Glycemic Excursions
7: How Innovation May Reduce the Complexity of Administering Insulin Therapy. Data on fi le.
*Pod Experience Kit contains a needle-free, non-functioning sample Pod.
**Up to 72 hours of insulin delivery.
***The Pod has a waterproof IP28 rating for up to 7.6 metres for 60 minutes. The PDM is not waterproof.

**The Omnipod DASH® System user testimonials relate to accounts of individuals response to treatment with the Omnipod DASH® System. The accounts are genuine, typical and documented. However, the individuals response does not provide any indication, guide, warranty or guarantee as to the response other persons may have when using the Omnipod DASH® System. The response other persons have could be different. Please speak to your diabetes healthcare professional to assess your suitability for the Omnipod DASH® System.

All screen images are examples and are for illustrative purposes only.