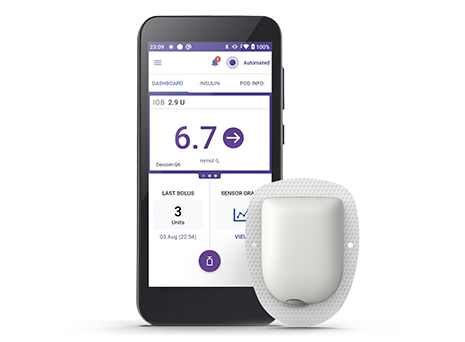 Omnipod® 5
Omnipod® 5 is an Automated Insulin Delivery (AID) system that integrates the Pod and controller with the Dexcom G6 sensor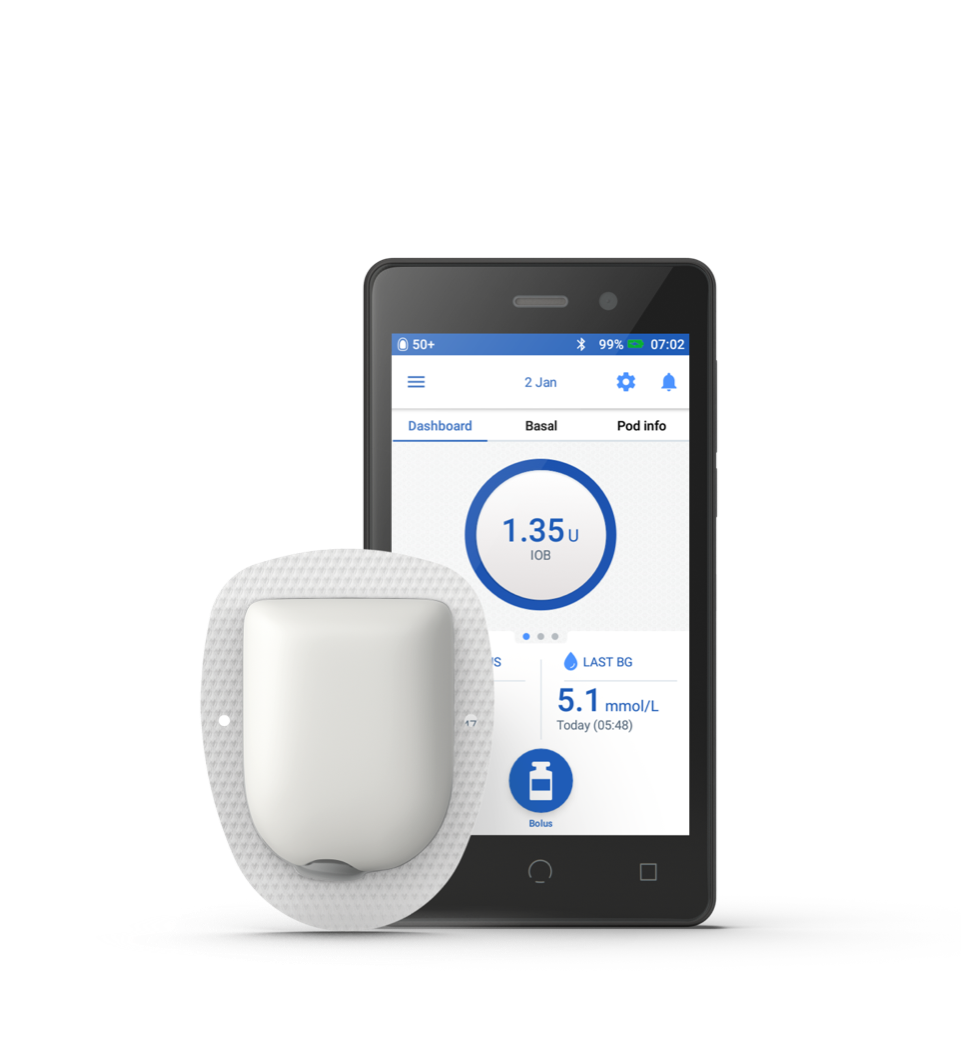 Omnipod DASH®
Omnipod DASH®ensures the Pod is still accessible for those patients that are not suited for an automated system or feel more comfortable adjusting their insulin dosing via their personal diabetes manager (PDM)
Omnipod® 5 Automated Insulin Delivery
With Dexcom G6 and SmartAdjust™ technology to proactively manage insulin delivery every 5 minutes using a customised glucose target*†1,2
 
The first tubeless, on-body AID system integrated with Dexcom G6 suitable for children from 2 years‡
 
Improved glycaemic control and improved patient-reported outcomes including improved sleep quality vs prior therapy in parents of children from 6 years†1-3
* When used in automatic mode with Dexcom G6 CGM, the Omnipod® 5 System makes adjustments to insulin delivery every 5 minutes based on the user's current continuous glucose monitoring (CGM) value, glucose values predicted 60 minutes in the future, glucose trend and past insulin delivery to bring glucose to a user-defined target. Glucose targets range from 110–150 mg/dL, (6.1–8.3 mmol/L) in 10 mg/dL (0.55 mmol/L) increments.
† Results from two pivotal single-arm, multicentre, prospective studies in participants with T1D aged 6–70 years (112 children aged 6–13.9 years and 129 adolescents/adults aged 14–70 years) and 80 very young children with T1D (2.0–5.9 years).1,2
‡ The first AID system to be CE marked that is integrated with the Dexcom G6 sensor.

See the clinical data: Glycaemic control and patient-reported outcomes with Omnipod® 5:
What are Podders® saying about Omnipod® 5? See the patient testimonials.
The Omnipod DASH® System?
Help your patients manage T1D with an easy-to-use insulin delivery system and support them in improving glycaemic control.*4-6
View this short video to find out more about Pod Therapy and learn how the Omnipod DASH® Insulin Management System could benefit your patients.
* As seen in real-world studies of people with T1D using the Omnipod DASH® compared to their previous multiple daily injection (MDI) treatment.
See the clinical data: Glycaemic outcomes with Omnipod DASH®:
What are Podders® saying about Omnipod DASH®? See the patient testimonials.
Prescribe flexibility, freedom and convenience for your patients
We believe in freedom of choice
For people with type 1 diabetes, we know that choosing an insulin pump for the first time or changing from an existing one is not an easy option. 
We are also aware that four-year warranties on insulin pumps are typically viewed as 'lock-in' periods and a potential barrier to patient choice.  
That why we strive to take steps to facilitate flexibility and reduce 'lock-in' periods with the Omnipod DASH® System.  
The actual steps we take may vary by location, to understand more on how we do this; contact your local Omnipod® Representative or request a call-back. 
Arrange a meeting with an Omnipod® representative
Do you have questions about Omnipod®? Our team is happy to provide you with the information you need and help you to determine which of your patients could best benefit from Omnipod®.
Be the first to know
Stay up to date and be in the know when it comes to all things Insulet. By signing up for our mailing list, you will be in the know when it comes to training and events, Omnipod® published data and first-hand experiences from Podders®.
References: 1. Brown S et al. Diabetes Care 2021;44:1630-1640. 2. Sherr J et al. Diabetes Care 2022;45:1907-1910. 3. Polonsky WH et al. Diabetes Technol Ther. 2016;18(10):664-670. 4. Purkiss et al. Argent global services report. 2018. 5. Brown RE et al. Diabet Med 2020:e14420. Advance online publication. 6. Mehta AN et al. Clinical Diabetes 2021;39(1):72–79.