Diabetes and Cycling- Hints and Tips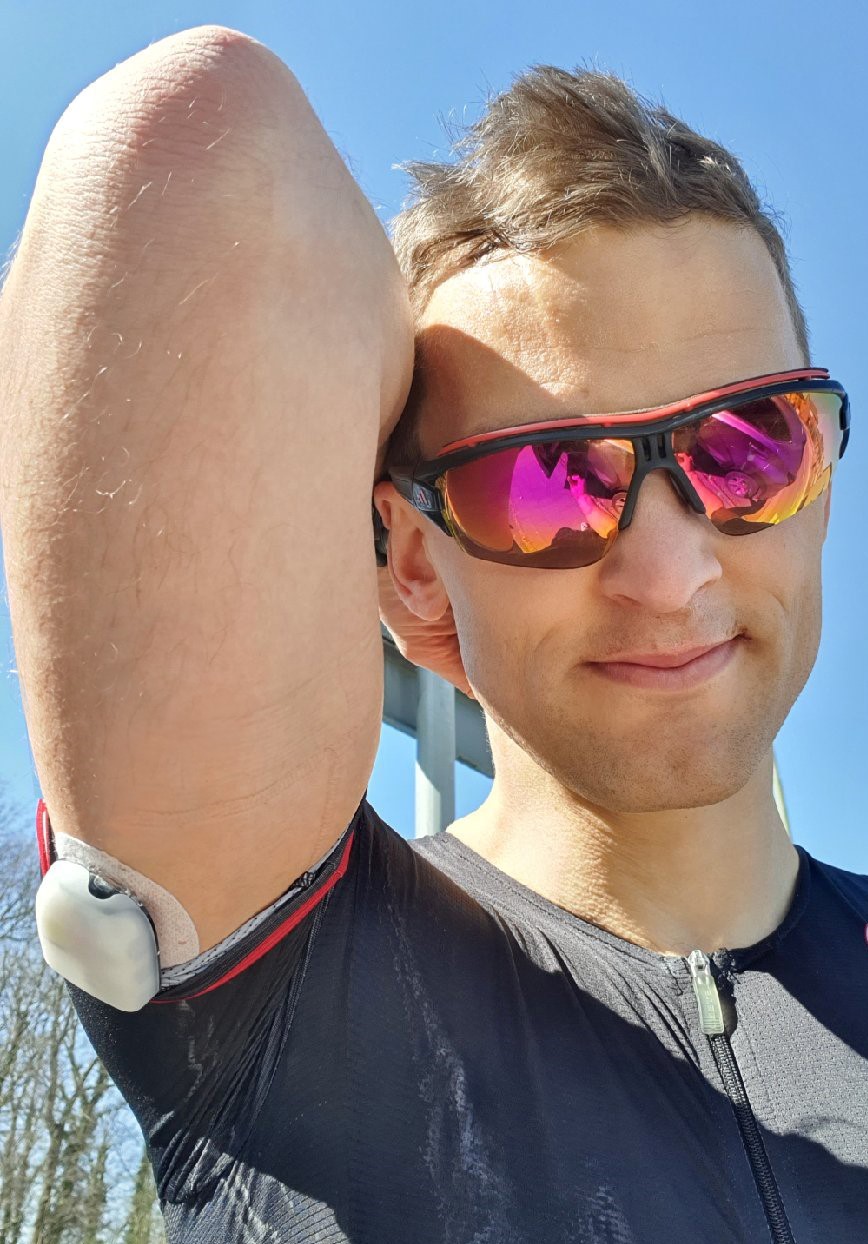 David van der Vloet is from Belgium and an avid cyclist and triathlete. He also lives with Type 1 Diabetes. He has just returned from Austria where he completed the Ötztaler Radmarathon - a gruelling 230km single-day cycling challenge through the alps, crossing 4 mountain passes with over 5500 metres in total elevation gain. Nevertheless, he is already preparing for his next challenge -  a 7-day bike ride from his home town in Belgium all the way to the infamous Mount Ventoux in France. Here, he gives his experience and some advice for those with Type 1 Diabetes who are considering taking up cycling.
"When I was asked to write out my tips and tricks for cycling with Diabetes, I was happy to accept. However, when I started thinking it through, I soon realised it was no easy task. The thing is, I would love to be able to tell people exactly what to do, what to eat, how much insulin to deliver, to have the perfect bike ride without hypers or hypos, but it just does not work that way. Every person with Diabetes is different. We all have different carbohydrate and insulin sensitivities, different glucose responses to exercise, and different preferences. People also train at different intensities and at different times of the day, and all of these factors have an impact on your glucose control. So what works for me would not necessarily work for other people with Diabetes..."
"That said, there are a few things I would recommend to anyone who lives with Type 1, who wants to take up cycling."
Understand your body
"First of all, start with a short ride to test how your body reacts to the sport. Make sure you keep track of your sugar levels and see how they change. Once you get an understanding of how your glucose responds to exercise, you can start going out for longer rides and increase your mileage. I remember when I first began my cycling career I found an easy 20km course from my house that took me about 45 minutes to complete, and I did it about 2 to 3 times a week. It was a great way to start, and I was never far from home in case anything went wrong."
Remember to come prepared
"Secondly, always take your emergency Diabetes kit with you so you can respond to highs and lows on the go. It may also be a good idea to find other people who can join you for the ride and can assist you if they need to. I joined a local group of people with Diabetes for a weekly bike ride when I started cycling, which was a great opportunity to have fun and share insights about Diabetes management at the same time."
Trial and error
"Thirdly, trial and error is your friend. Finding a balance between carbohydrates, insulin delivery and exercise intensity may seem a challenge but if you go out and take it slowly, and speak with your healthcare professional about any questions you have, you can start to understand your body's needs and build the foundation to progress from. My first race was definitely a challenge- high sugars, cramps and dehydration turned it into a day full of suffering. But I also learned some very important lessons about Diabetes management, that I was able to start to apply to my second and third race, and so on." 
Technology
"Another thing that has been very important to me is Diabetes technology. Personally, I use a tubeless insulin pump called the Omnipod DASH® Insulin Management System. It helps me regulate my insulin delivery and I can use the temporary basal feature to adjust my basal insulin during exercise. Over time and after consulting with my healthcare team, I have managed to find the basal adjustments that work for me for specific types of rides and races, which gives me a better peace of mind and less of a worry that my glucose levels will be all over the place. I also find it easier to bolus insulin during exercise, since it is much easier to use on the bike than trying to inject with an insulin pen."
David is an Omnipod® Brand Ambassador with an ongoing commercial relationship with Insulet.
Just go out and do it
"Finally, the most important thing is to just go out and do it. Yes, exercise can be challenging to manage for people with Type 1 Diabetes, but it is also hugely beneficial for your body and mind. My cycling has really improved my fitness and I have more understanding of my Diabetes management. In the long term I know it is helping to protect me from the complications many people with Diabetes may experience as they age. I also just feel better when I exercise, and it gives me more energy to take on the rest of the day. You don't need to become a triathlete or take part in the extreme challenges that I do, but get out there and see for yourself, who knows how far you may go!"
Before starting any kind of new physical activity and before making any adjustments to your insulin therapy, consult with your healthcare professional.
This article is not a substitute for medical or healthcare advice, recommendations and/or services from a
qualified healthcare provider. This article may not be relied upon in any way in connection with your personal healthcare, related decisions and treatment.
All such decisions and treatment should be discussed with a qualified healthcare provider who is familiar with your individual needs.