My Journey To The Omnipod DASH® System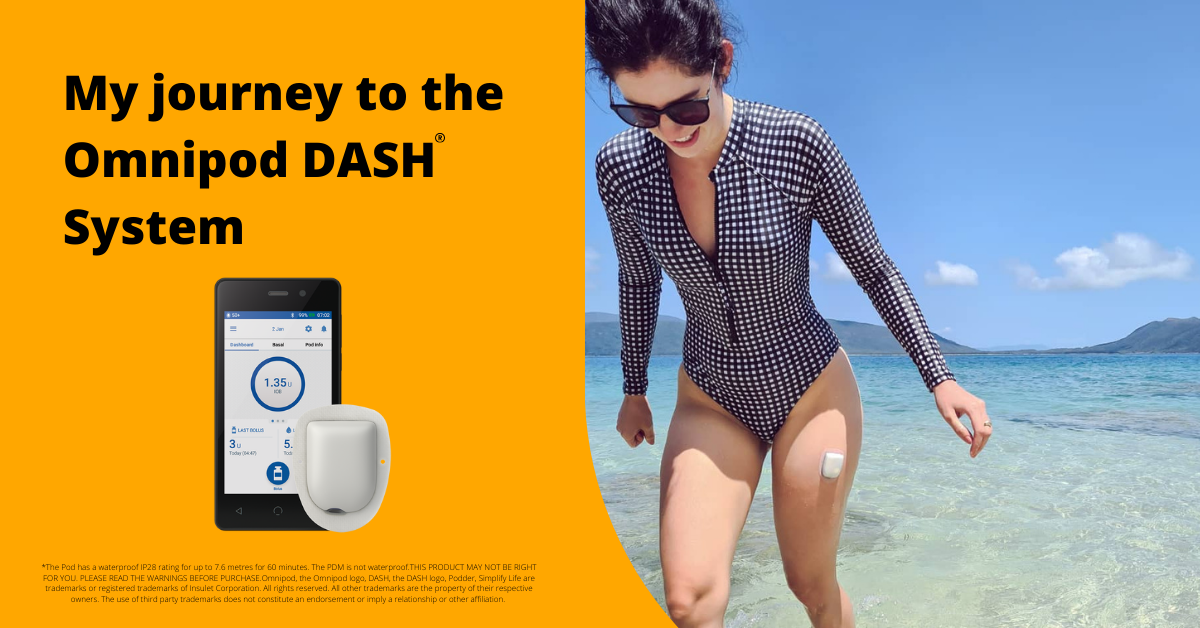 Hi there! Jenna here from Far North Queensland bringing you a blog on my personal experience with the
Omnipod DASH® Insulin Management System
. Since September 2021 I've been on the Omnipod DASH® System, and I can honestly say, hand on heart that I'm absolutely in love with it. I was diagnosed with Type 1 Diabetes at the age of 19 in 2012 and have lived with diabetes now for 10 years. Before the
Omnipod DASH® System
, I was doing multiple daily injections since being diagnosed.
I've used Continuous Glucose Monitoring Systems (CGMS) now for 5 years and they've been a life changer. My GP would often try to encourage me to go on an insulin pump for better management but I was always hesitant. As a young woman, having a CGMS constantly on me was as far as I was willing to go with technology on my body. The thought of having tubing and a pump device being worn constantly under clothing in addition to the CGM really didn't appeal to me and I'd wiped the idea of it from my mind quite quickly.
As I'd scroll through Instagram images from the online diabetes community, I'd often come across the
Omnipod DASH® System
, a tubeless insulin delivery system – wow. I didn't dive further into it as it wasn't available in Australia. Fast forward a few years and Aussies got the very exciting news that Omnipod® was coming to Australia!
Again, the thought of managing my diabetes differently with more technology was daunting. I wasn't sure if I was ready for that big leap. Fast forward to now and that big leap wasn't so big after all. In case you're in the same position as I was, I have highlighted some of my initial thoughts around the Pod and my experiences in the first week.
Pod Research:
I enjoy reading experiences from the fellow people with T1D on the online diabetes community. I saved many posts of people using the Pod as I like hearing straight from the horse's/Podders® mouth. I didn't do much research on how to use the Pod as I knew I would learn a lot from my Pod start with my diabetes clinic. Although, the team at Omnipod® have a great set of
how to videos
.
One thing I enjoyed was having a supportive clinic, it really makes the transition to the Pod so much easier. Handy hint – make your Pod start appointment from lunch time onwards. My appointment was at 8am which meant when my Pod was ready to be changed 3 days later, my 4-hour pre warning alert went off 4am (rookie error).
Nerves:
Of course I was nervous, change is a big thing – but it was a welcomed change as I knew it was going to be good for me. However, after appointments that week with my clinic and support from the
Omnipod® Customer Care Team
I was feeling much more confident by the end of the week and started experiencing the benefits of using the
Omnipod DASH® System
.
The
Personal Diabetes Manager (PDM)
is really user friendly, and my clinic took care of setting up my doses and monitoring my levels to make any further adjustments. For me that was the biggest relief of all in that first week – the fact that I wasn't expected to take care of trouble shooting, that I was able to work with the professionals.
Pod insertion process:
Every 3 days a new Pod needs to be applied – Which worried me at first, but the PDM gave me a step-by-step instruction on how to apply a new Pod each time. Like everything new, I was conscious of doing everything right and therefore slower at changing a Pod, but as they say, practice makes perfect and the process literally takes me a few minutes now. The cannula is amazing, I didn't find it painful at all and it is as simple as pushing a button on the PDM and in it goes.
Size and placement:
Size wise, it's all about finding the site locations that work for you. The thing that I really loved hearing was that you can place the Pod almost anywhere you can inject insulin. With some diabetes devices I've found it really challenging when you find out there is only a few areas approved for use. The ability to be flexible with site positions was a big relief and I'm really making a conscious effort to rotate my sites each time. The PDM has a site tracker which is convenient for remembering where you've put your previous Pod (of course, I have my favourite spots!).
For now, I'm going to let you digest the information above. If you're sitting on the fence as to whether or not to try the Pod, I found the following quote very fitting when I was in the process of contemplating changing from manual injections to the Pod. "You don't fear change. You fear the unknown. If you knew the future would be great, you would welcome the change to get there. Well the future is great. Proceed." – Joe Vitale. For me, life with diabetes has certainly gotten better since the Pod and I look forward to telling you how in my next blog.
In the meantime, if you have any questions at all regarding my experience on the Omnipod DASH® System, please feel free to message me on my Instagram page @typeonevibes. I look forward to talking to you!