Simplify your diabetes around the world with Omnipod DASH®!
Omnipod® Australia Travel and Adventure Guide to help you on your next journey!
Are you planning a trip with your Omnipod DASH® System for the upcoming holiday season? Too easy! With your Omnipod DASH® Insulin Pump System, you will be able to simplify your diabetes management. The following information will help you plan your trip.
In addition to the checklist below are a few handy tips and tricks provided by Australian Podders like you, such as Jenna and Cruz, who feature on our Podder Talk™ Blog.
We have also shared some travel resources (below) which explain your use of the Omnipod DASH System Pods and Personal Diabetes Manager to airport security staff. These can be signed by a healthcare professional, and are found directly in our Podder® Resource Guide, found on pages 37 – 38.
Further information surrounding Airports and Flying/Security can be found on pages 164 – 165 of the User Guide.
Travel Resources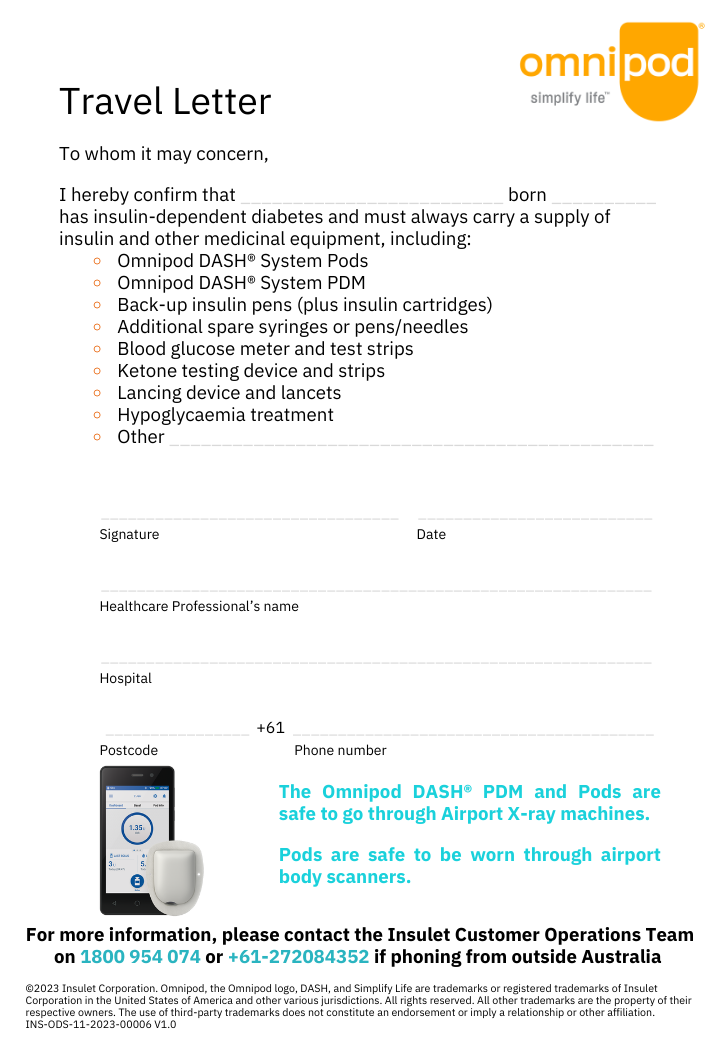 Travel Letter Template Omnipod DASH® Australia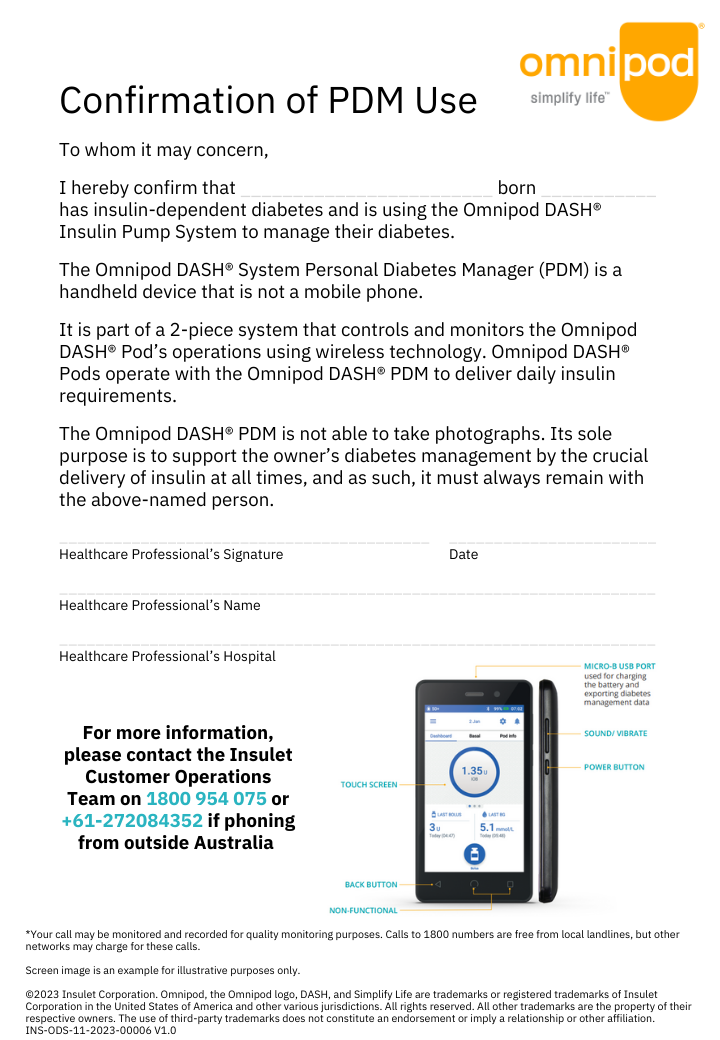 Travel Letter Template Confirmation of PDM Use Omnipod DASH® Australia
Important Travel Advice
Pods and PDMs can safely pass through airport X-ray machines (see the "Omnipod DASH® System Notice Concerning Interference" on page 182 of the

User Guide

).

Pods are safe to be worn through airport scanners.

The Omnipod DASH System is safe to use at atmospheric pressures typically found in airplane cabins during flight. The Omnipod DASH System can be used at atmospheric pressures as low as 700 hPA, which is lower than the typical pressure in airplane cabins.

If travelling to a different time zone, ensure you have adjusted the time/time zone in the PDM to ensure the correct amount of insulin is given at the correct time of day – ask your healthcare professional for guidance.

Your Pod is waterproof*, so you are free to go swimming without disrupting your insulin delivery. Remember to rinse your Pod with fresh water afterwards and gently pat it dry. You should check regularly that the Pod is still firmly attached and in place. It is important to protect your insulin from extreme temperatures that can impact its effectiveness. Remember to keep your Pod out of direct sunlight and avoid saunas, steam rooms and Jacuzzis.
Travel Checklist
Medical Supplies and Equipment
Sealed DASH® Pods – enough to cover duration of holiday (plus spares!)

Insulin vials – as above (remember to carry in your hand luggage in a clear plastic bag)

PDM and a back-up PDM (if available)

Back-up insulin pens/cartridges (long and short-acting insulin)

Spare syringes or pens/needles

Blood glucose meter/back-up meter
Testing strips (for both meters)

Ketone testing device and strips

Lancing device and lancets

Glucose tablets or another fast-acting source of carbohydrate

Glucagon emergency kit and written instructions for administering an injection if you are unconscious
Documentation
When travelling, especially when headed overseas, having proper documentation of your condition is extremely important. See the documents suggested to take and keep with you at all times during travel:
Travel letter from your diabetes health care professional covering the medical supplies and equipment you are required to travel with

Prescriptions for all the medical supplies that you are carrying

List of your latest Omnipod DASH® System settings as well as for Multiple Daily Injections (MDI) – including basal rates/ target BG, insulin : carb ratios and insulin sensitivity correction factors

Travel insurance

Emergency contact details