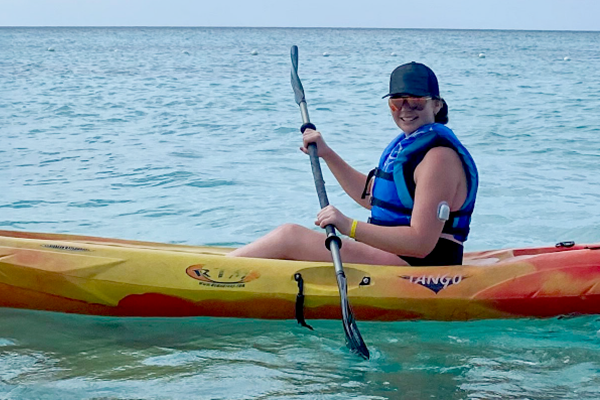 Helping you to make the most of your Omnipod DASH® System
The Omnipod DASH® Support Program has been designed to make your transition to the Omnipod DASH® System as simple as possible. The program offers a range of value-added services to help you make the most of what the Omnipod DASH® System has to offer. 
For more information about the individual services and their availability, contact
Customer Care: 1-855-POD-INFO (1-855-736-4636) or email us at: [email protected]
Pod Experience Kit*
Try out a free, needle-free, non-functioning, tubeless Demo Pod at home to get the feel of the Omnipod DASH® System before getting started.
*The Demo Pod is a needle-free, non-functioning, Pod that can be worn for up to 3 days (72 hours).
Video Tutorials
Do you have questions on how to use the Omnipod DASH® System? Our helpful training videos walk you through priming and activating your Pod, checking your blood glucose, managing your Personal Diabetes Manager's alerts, and more.
Educational and Training Resources
How-to videos, resource guides, troubleshooting and tips, and additional educational and training support are available — 24/7 access to educational resources here.
Pod Orders
Pods can now be ordered online directly through Diabetes Express. 
Data management with Glooko®
Glooko® allows you to review your diabetes data on your smartphone or personal computer in easy-to-understand visualizations, see the impact that activity, medication, and carbs have on blood glucose levels, and easily share data with your care team for better support.
Pod Disposal Program
The program comes at no cost to you, but can help have a positive impact on our environment.  By returning your used Pods through our pre-paid disposal program you can help minimize landfill and remove hazardous waste. 
Our Role in the Diabetes Community
Our insulin management system has already helped to improve the lives of many individuals across the globe, and we're not stopping there. Through partnerships with a number of professional medical organizations and diabetes non-profit organizations, we support the diabetes community's efforts to increase awareness, improve access and accelerate innovation.