What's not to love about Omnipod?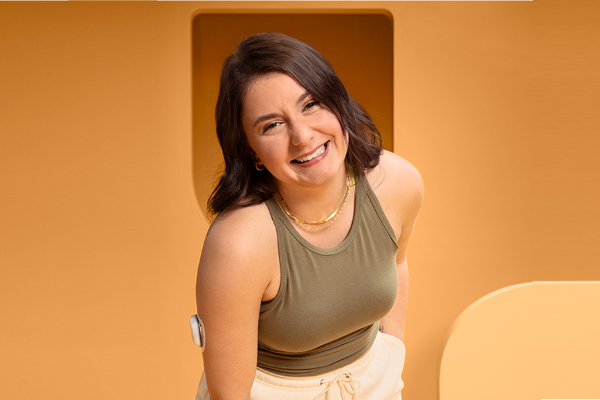 It's time to try Omnipod DASH®—the tubeless, wireless, waterproof* insulin management system that provides continuous insulin delivery for up to 3 days. Omnipod DASH® is now covered** for people with type 1 diabetes across Canada. 
Whether you're looking to make the switch or just get more information, we're here to help. Use the forms below to connect with our team of Customer Care Specialists.  You can also order a free Pod Experience Kit that includes a non-functioning, needle-free Demo Pod to experience how a tubeless Pod feels.
Multiple Daily Insulin Injection-proof design
Deliver insulin through the wearable Pod.
Tangle-proof, tubeless system
Leave doorknobs in your dust, no fanny-packs or pockets required.
Math-proof calculations
Less mealtime math with an integrated bolus calculator OR presets.
Check your Coverage in 3 easy steps.
Step 1. Complete the short Patient Information Form below and hit the SUBMIT button.
Step 2. After submitting the Patient Information Form, you will receive an email with an important link to provide additional information and electronically sign the document. Please remember to complete the form or your request will not move forward. 
TIP: If you haven't received a link within an hour, try checking your junk or spam folder.
Step 3. After you've completed and submitted the online form, you'll be connected with one of our Customer Care Specialists who will help you get started and investigate your coverage.
Interested in Trying Out a Demo Pod?
You can request a free Pod Experience Kit.
Simply complete the Pod Experience Kit (PEK) form below and we will send you a free Pod Experience Kit (PEK)
What's included in the PEK?
The kit includes a non-functioning & needle-free Demo Pod

The Demo Pod can be worn almost anywhere you would give yourself an injection for up to 3 days (72 hours) without injecting or receiving insulin
The Demo Pod gives the wearer an idea of the size, the weight, and how it is worn on the body
The PEK also comes with a brochure that helps you understand how Omnipod® works.
The PEK does NOT include a Personal Diabetes Manager (PDM)
Please read our Privacy Policy for details on how we manage and protect your information below. We value your privacy and appreciate the trust you place in us by providing it.
Any questions?
If you have any questions – about how the system works, what you can do with it, and even how to order it – you can find most answers on the Omnipod DASH® or the Omnipod® Insulin Management System pages. If you have any additional questions, give us a call at 1-855-POD-INFO (1-855-763-4636) or email us at [email protected].

We're happy to help!