How the Omnipod DASH® System may help improve Quality of Life1
Prescribing freedom with the Omnipod DASH® System
When treating people living with T1D, one of the considerations is their ability to be healthy, comfortable, and enjoy life events. Fortunately, the Omnipod DASH® System, which consists of a lightweight, smartphone-like Personal Diabetes Manager (PDM) and wearable pod2, has been shown to increase Quality of Life1, while also demonstrating improved glycaemic control in people with T1D1,3,4,5 and associated with reduced acute complications in real world studies.6
Efforts to prevent complications of diabetes often overlook its effect on Quality of Life (QoL)7
When treating T1D, improvements in treatment satisfaction are often viewed as improvement in overall QoL. This fails to take into account the limited scope of the satisfaction measure. To measure quality of life, it is necessary to not only take into account treatment satisfaction but also the impact that diabetes and its treatment can have on other factors that could affect Quality of Life.7
The Omnipod® System decreases diabetes distress while increasing QoL1
The Omnipod® System showed improvement in overall QoL and reduction in diabetes distress, supporting patient well-being.1
Perceived change in diabetes related stress: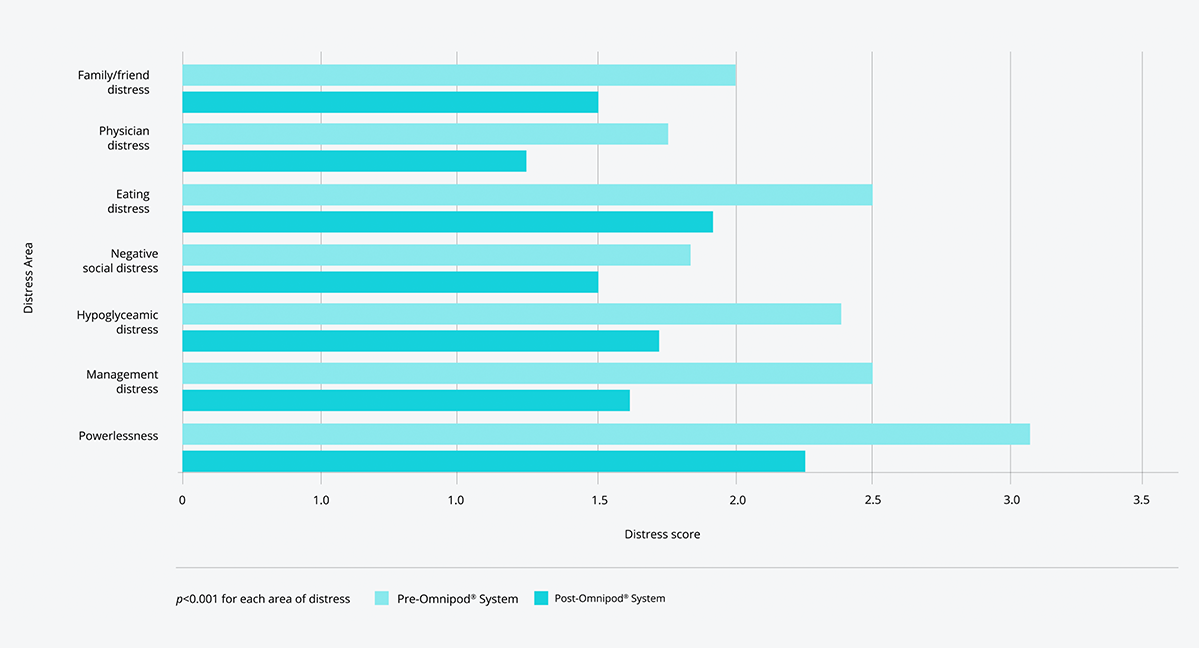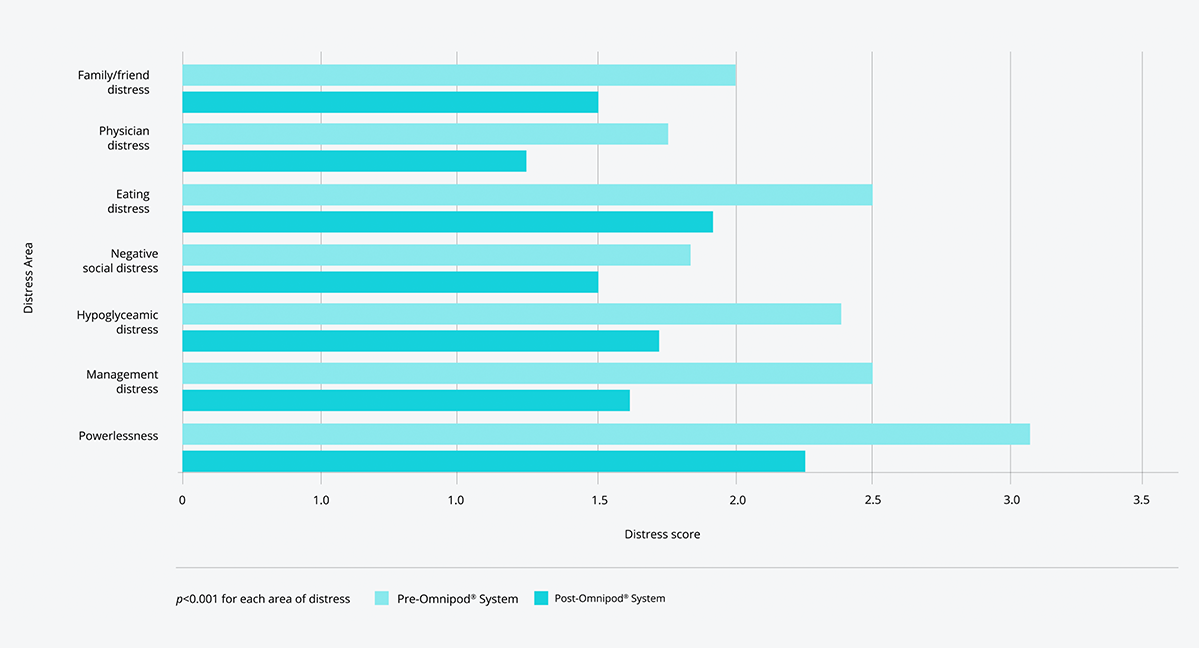 Percentage of patients reporting improved QoL in a US survey1
97% of US Podders® would recommend the Omnipod® System to a friend8
In an Omnipod® System survey, conducted after 30 days of use, the vast majority (97%) of Podders® said they would recommend the system8 to a friend.
US customer satisfaction survey8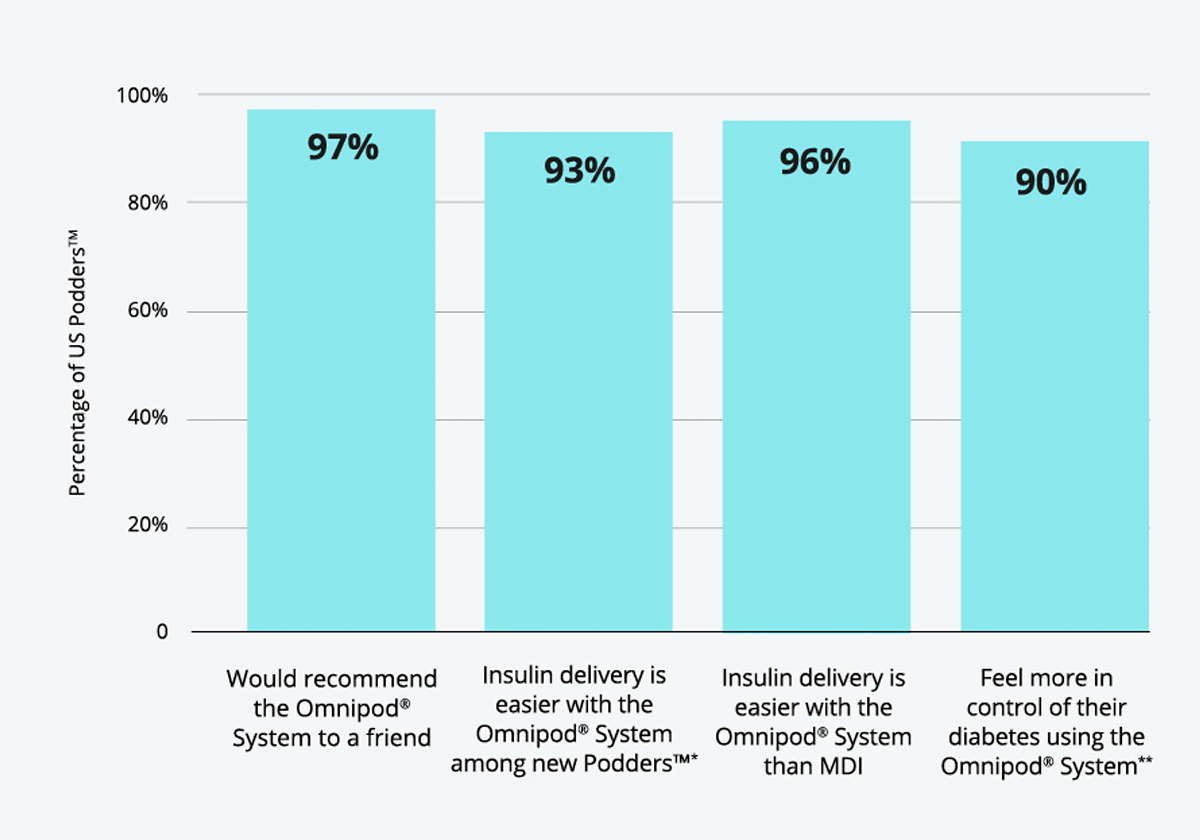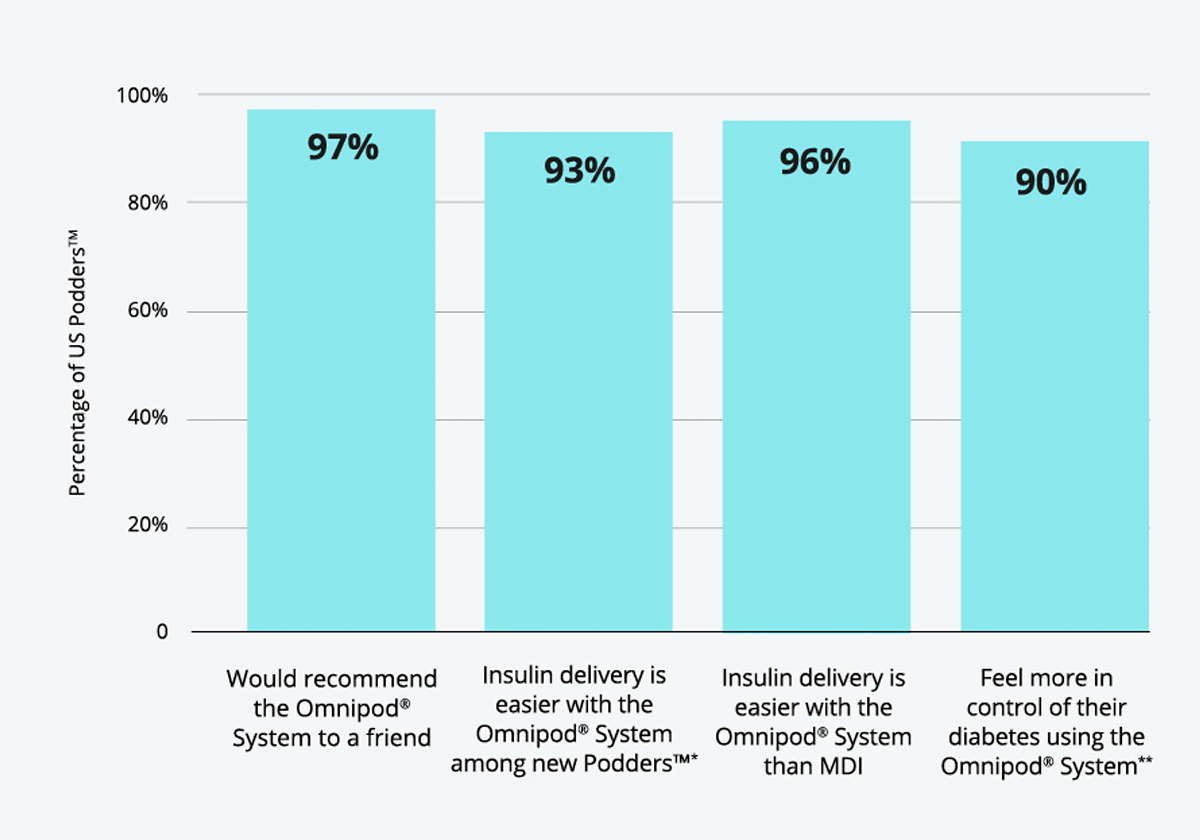 Could your patient's insulin delivery experience be improved with the Omnipod DASH® system?
Hear from patients with insulinrequiring Type 1 diabetes using the Omnipod DASH® System
Find out more about their experiences using this innovative insulin delivery method.
See other data
Providing a perceived increase in Quality of Life1, the Omnipod® System has also been associated with improved glycaemic control3,4,5 and a reduction in acute complications of diabetes.6
Contact our Medical Affairs team
At Insulet, our aim is to keep on improving the lives of those living with T1D. With this in mind we aim to generate real-world data to provide further evidence on the efficacy of Pod Therapy. If you want to know more about our current trials and development pipeline do not hesitate to contact our Medical Affairs team at [email protected]
Arrange a meeting with an Omnipod® representative
Do you have questions about the Omnipod DASH® System? Our team can provide you with the information you need and help your patients to get started with Omnipod DASH® System.
Be the first to know
Stay up to date and be in the know when it comes to all things Insulet. By signing up for our mailing list, you will be in the know when it comes to training and events, Omnipod® published data and first-hand experiences from PoddersTM.
References: 1. Polonsky WH, et al. Diabetes Technol Ther. 2016;18(10):664-670. 2. Omnipod DASH® Insulin Management System [User Guide]. 2020. 3. Mehta AN, et al. Clinical Diabetes. 2020 4. Brown R.E. et al. Diabet Med. 2020 Oct 11:e14420. Advance online publication. 5. Layne JE, et al. J Diabetes Sci Technol. 2016. 10(5):1130-5. 6. Biester T, et al. Diabetes Technol Ther. 2021. 7. Bradley, C. et al. Diabetes Metab Res Rev. 18: S64-S69. 8. Insulet Customer Satisfaction Survey. Data on file. Dec 2017.